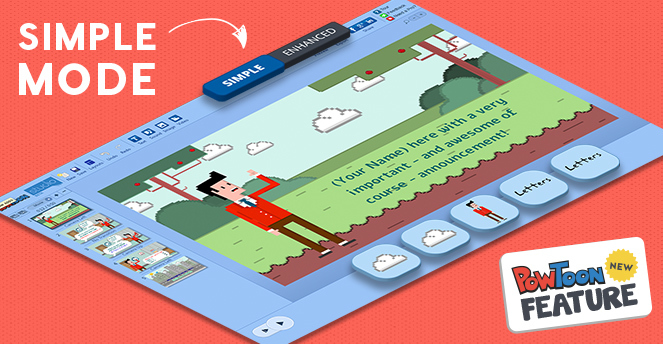 Announcing Simple Mode – Creating a PowToon just got 150x Easier
Every so often a tool is created that is so different and so unbelievably useful that it actually changes the way society functions.
First came the spork – it scooped and punctured at the same time.
Then came the remote control – you could watch TV and maneuver drones with a single click.
Next was Steve Jobs – he created a cell phone with only one button.
Now comes the most epic of them all: Simple Mode!
The most ridiculously easy way to create presentations and animations. Seriously, you can now make a Powtoon while riding your bike… (and we'd love to see pictures of that).
In Simple Mode, all the little design details take a back seat while the main functionality stars front and center. We simply took the awesome PowToon platform, that you know and love, and added a punch of awesomeness Bam! so that your experience is cleaner, faster and more focused. And, who doesn't like a nice clean space to work from!?
Let's face it, it takes a decent amount of time and effort to create a great presentation or video.
I mean, you have to write up a killer script, choose the right images, make sure your timing is perfect and end it all with a killer call to action; in order to engage your audience and add a wow factor. And it doesn't matter whether you're a business professional using PowToon for work, or a teacher engaging your students in the classroom. There's a lot that goes into making an awesome video or presentation, so the last thing you should have to worry about is actually building your animation. That part should be taken care of, it should be a piece of cake and that's why the PowToon scientists worked through sleepless nights to create Simple Mode, for our loyal and amazing PowToon Tribe.
The idea was to create a Platform that is Fill-in-the-Blank Easy…. and Simple Mode does just that; it allows you to create videos faster, smarter and more productively without even trying. No designers needed, no animators. Just you and a few minutes playing with PowToon's awesomeness.
How Simple Mode Works
When creating your awesome presentation or video in Simple Mode, the detailed customization tools will actually DISAPPEAR (bye, bye icons) so that you are left with a clean space that focuses on your primary characters and text. This option is available whether you are starting a blank PowToon from scratch or you have chosen one of our many templates from our template collection. At any point in the PowToon creation process, you can add special effects and customization by simply switching to ​ 'Enhanced mode;' With one click you are back in the more advanced studio. But why am I going on and on when you can see it for yourself.
Simple Mode – How to Create PowToons 150x Faster
Check out this visual guide to see how simple mode works, and then… GET STARTED !
Simple Mode vs. Enhanced Mode
Enhanced mode is the awesome studio that you know and love, loaded with cool features and functionalities.
Simple mode looks almost exactly the same as the original Studio, (AKA enhanced mode) but with one main difference: A disappearing act! the Asset Library, Timeline and Navigation bar disappear so that you can focus on the key elements of your PowToon! It's important to note that during the entire process, your canvas is untouched. Simple mode works by changing the functions AROUND your canvas.
Navigation Bar
When you want to add Text, Sound, Images or Video, simply click on ​ 'Enhanced Mode' and all the functions will appear. If you click on one of these icons in ​ 'SImple Mode' then don't worry, you will get a ​ 'Wooahh Partner' pop-up guiding you back to Enhanced Mode!
Swap Images
If you replace the character or prop in your scene then click the'Swap' icon and the Asset Library will magically appear! Go ahead and replace your current object with a different one!
I just swapped Mr. Cartoon Man with a Panda! That took one second! Now I'm automatically back in Simple Mode!
Layouts – Change the Scenes on your Sides
Think of'Layouts' as the instant scene-maker. Click on the ​ 'Layout' icon or the ​ '+' and a window will pop up showing you all our different themes and pre-made scenes. You can create a scene with pre-arranged text, images or video.
That's it. You have just made your own Powtoon 150x faster with Simple Mode – the world's easiest and quickest animation making tool!
What do you guys think!? Does Simple Mode make PowToon an easier platform? What additional features would you like to see?
The following two tabs change content below.
Howdy! I'm not actually a cowboy but I'm Super excited to be here, honing in my science background plus marketing experience to help show the world how anything you wish, dream or say, can be made more awesome with Powtoon!
Latest posts by Nirel Matsil (see all)