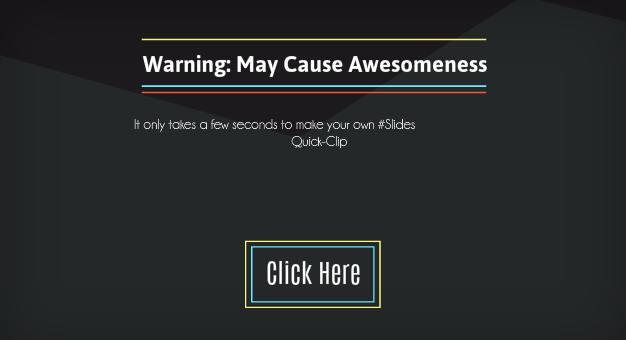 Behind the Scenes: PowToon #Slides Quick-Clips
Hey PowTooners!
We're so excited to introduce you to a fantastic new feature of #Slides that has just been released, and we would love to hear your feedback.
The PowToon Scientists have spent a lot of time developing our patent pending Clip-A-Vid feature, which lets you easily embed video in your #Slides presentation and crop the exact seconds that you want to use, and we are very excited to hear what you think.
To test the power of this new feature I created a #Slides presentation that consisted of several slides with nothing more than "one sentence per slide" (to focus the audience), followed by a 5-25 second video clip emphasizing the point I'm trying to make with "one liners" from well known movies.
The Result: It brought the house down! People were sitting on the edge of their seats waiting to see what I had to say and which clip I would use for my next reference. I don't think I've ever had that kind of engagement in a presentation before.
This experiment sparked an idea. What if we allowed people to create their very own #Slides "Quick-Clips":
Slide 1: One Sentence to focus the audience
Slide 2: Video clip relevant to the subject matter
Slide 3: Call to action with a hyperlink to a web page
Since stumbling upon this idea I have tested Quick-Clips in the following scenarios and it proved to be extremely powerful and worked like a charm:
Event and meeting invitations
Giving my son study videos to help with his homework
Motivational messages
Messages to my wife and loved ones
Connecting with friends over a movie bond
Here are a few AWESOME Quick-Clip examples to give you a better idea of what this new technology can do!
Quick-Clips
1) Helping my son with his homework
2) A message to my wife
3) A message to a friend or loved one

We hope you have enjoyed your behind the scenes look at PowToon #Slides Quick-Clips and we can't wait to hear what you think. Can you see the many uses for Quick-Clips? We think this could really set #Slides apart from all other presentation softwares on the market.
Please write us a comment in the comment section of this post. Your feedback is incredibly important to all of us here at PowToon and we really appreciate the time you take to help us all out.
Stay Awesome!
The following two tabs change content below.
PowToon's Social Media/Online Marketing Manager extraordinaire who loves to provide the PowToon Community with amazing, fun, engaging, and informative content!
Latest posts by Jordana Pepper (see all)