The Dollar Shave Club Viral Video – How To Make A Viral Video
Read Time:
7
minutes
Here are 15 easy-to-use 'Attention Hacking' viral video strategies that can turn even the most boring product in the world into the most sought after brand on the planet…
(Which of these 15 Hacks speaks to you the most and why? Comment below, I'd love to hear your genius insight.)
How do you get the entire world buying your product and sharing it virally with others...in just over a minute?​ Because The Dollar Shave Club took one of the most boring products on earth (razors) and turned it into a viral phenomenon.​ By the time you finish reading this post and watching their video (the link's below) – I bet you'll be whipping out your wallet to get one of their razors…even if you don't shave.​
This video is that good.​ In 1 minute and 33 seconds they used 15 specific Attention Hacks to make their video go completely viral (15 million views and counting).
Because you're part of the PowToon Tribe, you deserve to have the best video marketing strategies and Attention Hacks in the entire freaking world. Want these 15 Hacks? They're now yours – go ahead and put them to use in your next video right away.​ So here you go:
15 Viral Video 'Attention Hacks' To Help You Create Wild Success
1. Begin With 'The Bond' – Personal Direct To Camera Intro​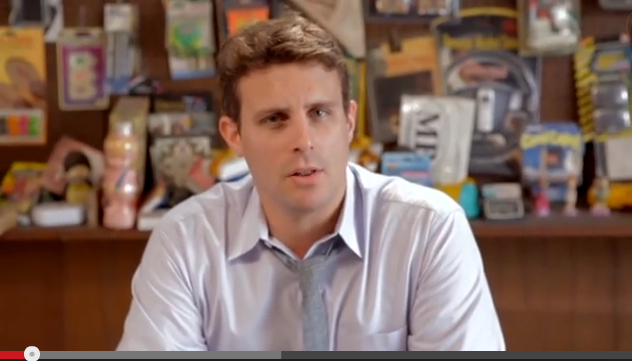 ​ "Hi, I'm Mike, founder of Dollarshaveclub.com"
That's right, in our new world of business we focus on building relationships.​ There's a lot of psychology in the 'Direct To Camera' approach, because the brain can't tell the difference between the video and a real human.​ Which is why we go nuts when we see someone in 'real life' after seeing them on the big screen. We feel like we know them, just by seeing them on a screen.
Voice overs with personal pictures work extremely well too.​ The personal bond in business is crucial. Which is why Coca-Cola spends Millions on their Social Media campaigns – they're trying to create a 'personal relationship'.
2. Consistent Movement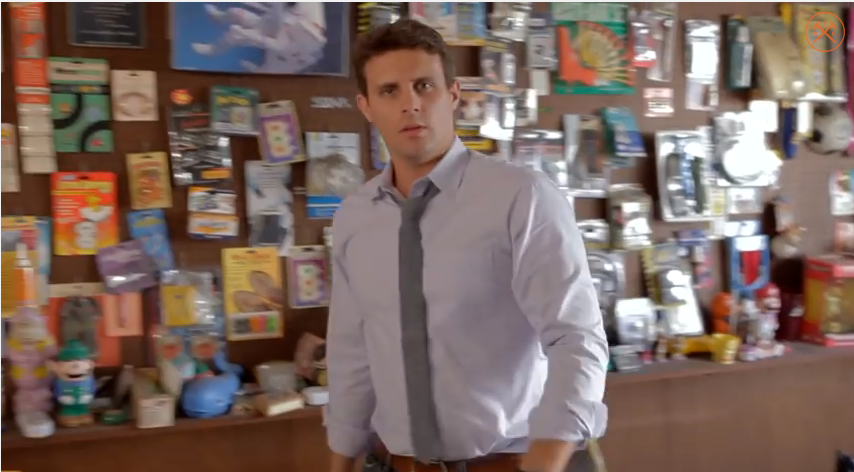 The movement keeps your attention. The opposite would be staring at a guy in front of a wall doing nothing.​ Boring.
Movement = Attention Hacking.​ Consistent movement can be with a video guy or with​ Powtoon​ type of transitions and camera shifts.
​
3. Arouse Curiosity
"So what is Dollar Shave Club?"​ Wait – we never even heard of Dollar Shave Club – so why do we want to know about it?
Mike's a real Jedi because he used a classic Attention Hack:​ 'Plant The Seed'.​ He asked about something that in your mind didn't exist a second ago.​ But he planted it – and now the curiosity is growing.
It's even a double hack – because he planted the seed and then asked about it.​ Brilliant.
4. Your Irresistible​ Offer
"For $1 a month we send you high quality razors right to your door"
I hope your MBA gave you a whole semester on Irresistible Offers and Ultimate Value Propositions – because that my friend is how it's done: solve a specific ongoing problem (buying expensive razors every month) with an irresistible offer (high quality razors for $1 delivered to your door).
No fluff folks, that's a marketing sentence worth studying.
5. Overcome Objections…With Humor
"Are our blades any good? No, they're F**ing great."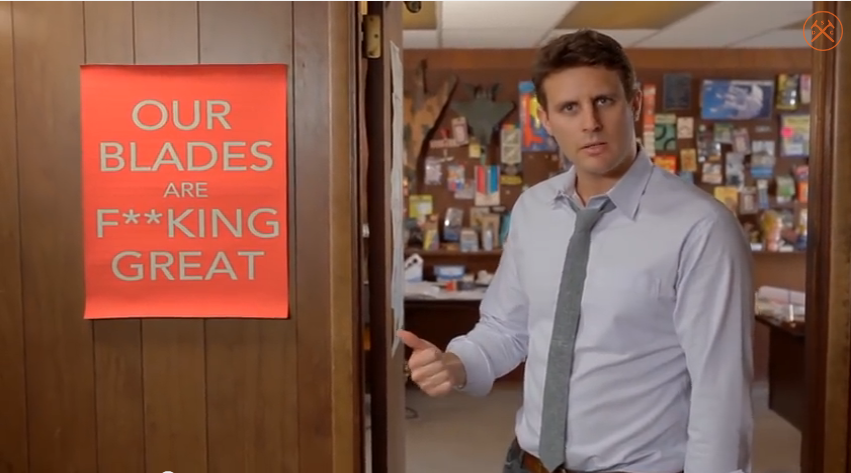 An objection to this service after all is:​ "How good are the blades?"​ Hilarious answer:​ "F**ing great."​
There's also a secret in how Mike uses his voice here.​ He uses an 'Authority' tone. Even though he's being quite funny – he uses the 'Authority' tone in his voice.​ So while the words are funny – the voice tells my brain it's quite serious and true.
How you leverage your Vocal Tone is a real attention hacking secret…more on that in upcoming posts.
6. Your Value-Add In Metaphor
"It's so gentle a toddler can use it."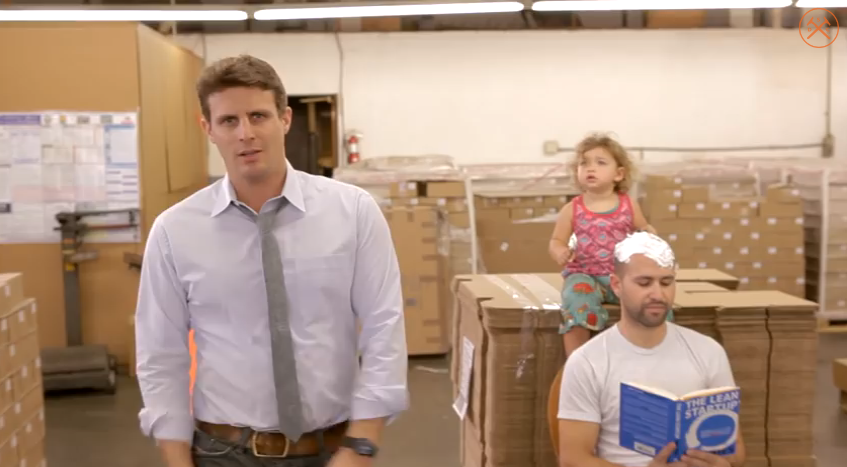 Please use metaphors in your marketing – they work like crazy. Study Neuroscience and Psychology and you'll quickly learn how our brain simply can't resist a good metaphor.
(Oh, and did you catch the book the shaved head is reading? Highly recommended)
7. Create The Enemy – Us vs. Them
"And do you like spending $20 a month on brand named razors? 19 go to Roger Federer."
Who knew? Corporations hike up prices to pay the big celebrities? Hmm, not cool.​ Now you love Dollar Shave Club even more – they're like the knight in shining armor saving you from the big corporate price hikes.
8. Interrupt Their Pattern Of Thought
"I'm good at Tennis…"​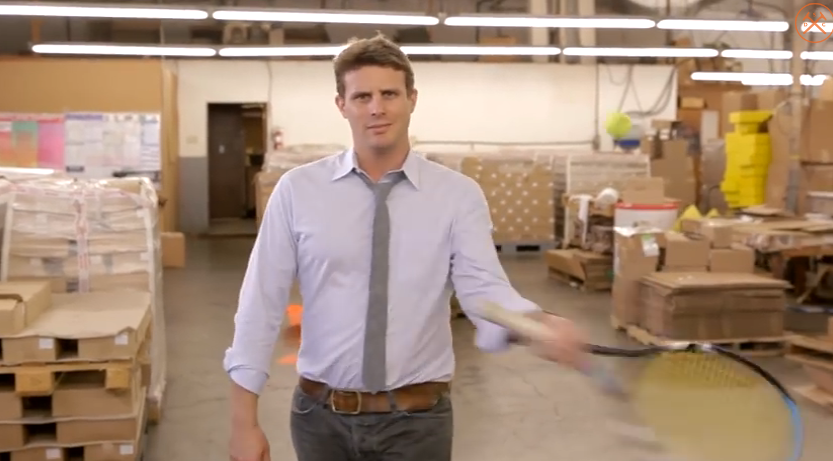 I laughed the most at two points in the video – this was one of them. As I'm sure you know, laughter creates a very deep bond with someone.
Not to mention how we love to be entertained (I've watched this video many times already…ok fine, I've even made popcorn).​ You're hilarious, your mother was right – let your tribe know it too with your humor.​ Your clients and customers will thank you for it.
9. Overcome Objections…With An Laugh-Out-Loud Metaphor
"Your handsome​ grandfather had only 1 blade…and polio."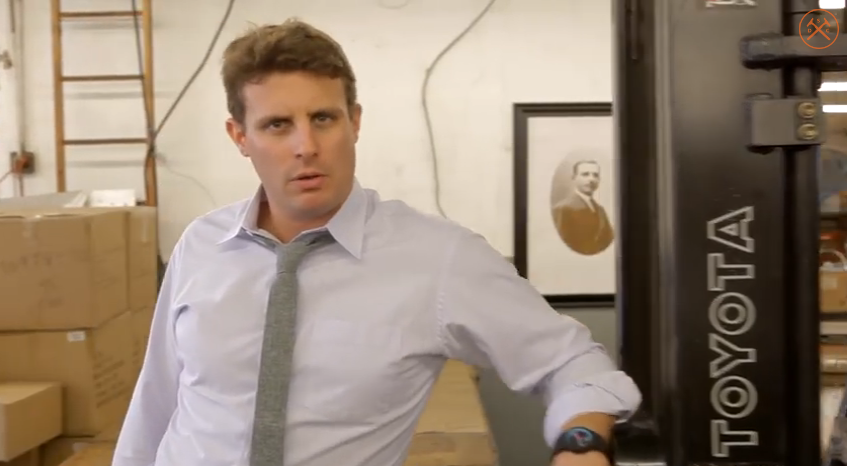 This was the second time I laughed the most – again, keeping me completely engaged.
While overcoming an objection (not needing the fancy-shmancy razors) and planting a hilarious metaphor that proves the point.
10. Stop The Big Problem
"Stop paying for Shave Tech you don't need."
It's a smart marketing hack that few people use:​ Don't be a wuss.​ Tell your tribe what​ not to do – and say it with authority.
We love leaders. People who stand up for a message and tell the truth – which is what Mike is doing with tons of humor.​ You're right – this isn't the Gettysburg Address, but it's still an important message to a specific tribe.​ Don't waste money on technology you just don't need. Mike's taking the lead and we want to buy his product.
11. Stop The Other Big Problem
"Stop forgetting to buy new blades every month."​
There he goes again – being the leader in an almost forgotten niche.​ He's bringing to light an ongoing problem and helping us make the wise decision not to forget a new blade this month.
12. Don't overlook the obvious
"…what were you doing last month?…Not working …​ What are you doing this month? …​ Working …​ I'm no Vanderbilt, but this train makes hay."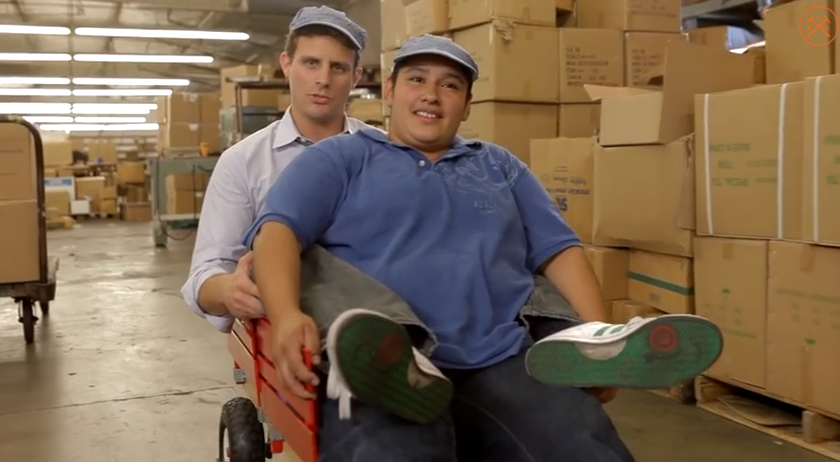 Adding Jobs and bringing smiles.​ You might think this is obvious – but he's adding even more value to his already irresistible business:​ He's giving people work.
Don't overlook the obvious. I'm sure there are tens of valuable assets in your work that you have yet to tell your tribe about.​ Be creative and tell your tribe about some deeper value points that they might not know about yet.
13. Your​ Tantalizing Metaphor
"Start deciding where you're going to stack all those dollar bills I'm saving you."
See how smart this is? He's emphasizing the big value add in what you're saving.​ Now you feel like you have 'a stack of dollar bills' waiting to be spent every month.​ That is a​ tantalizing metaphor – you can't resist it.
14. Call To Action…Par-TAY
"We are Dollarshaveclub.com and the party is on."
FYI – Leaf blowing money parties with a bear and disco lights never go wrong.
15. Sticky Factor Value Proposition
"Shave Time, Shave Money"
You'll remember that phrase because it's 'sticky'. Meaning, it will stick to your brain.​ It rhymes, gets attentions and adds value.​ Create a sticky value proposition and you win.
Before I show you the video, let me finish with one crucial point:​ This entire video was one giant 'Attention Hack'.​ You might grow a beard, use electric or have close to ZERO interest in razors.​ Yet, you watched this video, loved it and now want to buy their razors for $1.​ They hacked your attention.
And while the world is crying how people barely pay attention to their marketing efforts and videos – BOOM, when you know how to attention hack, the world is your oyster.
Here's the exciting news:​ Very soon, we're launching our brand new content hub, '2 Steps Ahead: Attention Hacking In The Digital Age'.​ It will be an ultimate resource of content from some of the world's most famous attention hackers.​ Did you get goose bumps too?​ I can't reveal too much right now, so keep your eye on an email from us very soon…
I'd love to know which of these 15 'Attention Hacks' spoke to you the most – please share your comment below.
You're Awesome,
Ari
P.S. – Here's the viral Dollar Shave Club video.
The following two tabs change content below.
Ari Sherbill
VP Business Development @Powtoon. Ari's known as the "High Energy Guy" who currently advises Fortune 500 companies, Hollywood Studios and over 5,000 executives and business owners every month how to increase their leads, engagement and sales with Powtoon. He's spoken on stage with MGM, the Sands Hotel, 3M and Oracle. NASA referred to his strategies as "fresh and intriguing". Learn how to grow your sales and impact by following me on twitter: @AriSherbill
Latest posts by Ari Sherbill (see all)