How to Set Annual Goals for Your Business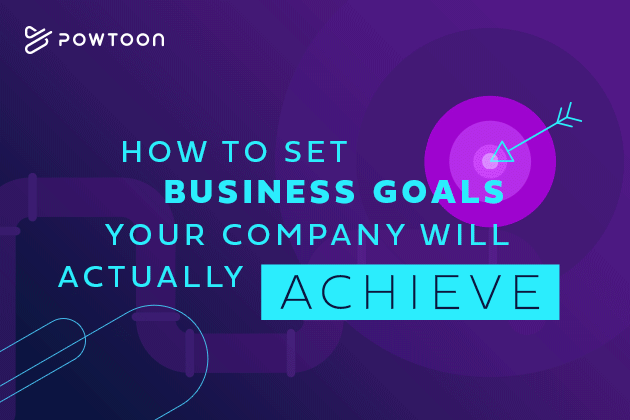 The very best way to ensure you will achieve your business goals is to start by setting out a clear vision. The fact is, people are 1.4 times as likely to achieve a goal they've already visualized.
Clearly defining your company's business goals not only helps you achieve them, but it can stop obstacles to your company's success in their tracks. Some of the most common goal-stoppers for businesses include:
Changing strategy
Unclear decision-making process
Lack of resources
Ill-defined goals
Miscommunication around priority
That's the WHY… But this is a tutorial, and we're here to cover the HOW!
Let's take a look at a handy template we created to present your company's annual goals, visually…
Business Goals Video Template In Action
We have to start this section with a classic "before & after" setup. Here's the unmodified video template, right from Powtoon's template gallery:
BEFORE
And here is what a fully modified Powtoon template looks like. For this, we invented one of the fastest growing industrial nightlight companies on Earth: Nick's Nightlights… 
AFTER
These templates are designed by our in-house creative team, and draw on the experiences of over 27 million Powtoon users in almost every professional field to make your message as simple and engaging as it can be. Let's take a look at the annual goals we put together for this fictional company, and the most essential elements of the video template to customize.
Essential Elements to Customize
You'll notice we did not significantly change the structure of this video. The script is solid, and allows us to establish Nick's Nightlights' company-wide goals for 2020. But we did change some essential elements in this video:
Branding
We included the logo and brand colors for Nick's Nightlights. It's a very simple black & white theme, with the logo made of a tilted nightlight icon, and the name of the company in company font.
This logo and color scheme continue throughout the video. We swapped out the template's backgrounds for video backgrounds that best fit the theme and feel of the topics at hand (more on that in the next section!)
Even though this isn't a marketing piece for public consumption, sticking to brand standards internally makes your brand stronger — inside and out — and gives your videos a professional look and feel.
Concise text
Every detail can't make it into a video, and that's ok! Your employees wouldn't remember every detail anyway. The most important thing for a video like this is to provide the most important overview that can tell the story of your company's success in the year to come. Customizing the text itself is simple and intuitive (again, I cover more below). Just remember to keep it brief.
Clear CTA
A call to action, or CTA, is a marketing term, but it applies to any and every piece of communication you share. Never, never, never rely on chance or goodwill for your audience to take action. Tell them exactly what to do.
As you can see, in this video, Nick's Nightlight employees are encouraged to meet with their manager to make these goals a part of their own annual plan. Now these goals have actionable context for every employee, at every level. That's how you start to bridge the gap between setting goals and actually achieving them.
How to Customize Your Business Goals Video
Here's a quick "step-by-step" to show you everything we did to customize an optimized Powtoon template for this annual goals video.
Step 1: Choose a template
This is really about saving time and getting inspiration. Sometimes getting started is the hardest part, but these templates have already done most of the work. We browsed around the Company Guidelines category of templates and decided to modify the Annual Planning template:
Step 2: Branding
Customize text, colors, & add your logo
Your brand is your company's identity. Usually, this means defining a specific color palate, fonts, and an icon or logo that represents your brand. In this case, we created a logo for Nick's Nightlights using Powtoon's built-in assets, simply combining the lightbulb icon (rotated slightly) with black text in "Urban" font.
Selecting the elements and using keyboard commands to copy and paste it on additional slides is very easy, and allows you to brand your video with your own watermark. If you already have an image file of your logo, you're in luck! Simply upload your file, and you'll always have it in your media library.
Customizing text in Powtoon is super intuitive. Simply select any text box and start typing to modify text. But especially important is to match your brand colors.
Nick's Nightlights is a minimalist company, and our colors are simply White and Black. You can find those colors pre-loaded in our color menu. But you can also define the color by its hex code, use the color sampler, or color wheel to create the exact right hue. Then save to "My Colors" for easy, one-click access.
Step 3: Swap out backgrounds
Change the entire vibe of your video by replacing backgrounds with images, videos, or designs of your choice.
Step 4: Export your finished video
When you're ready to export, watch one last preview to be sure you've got every detail correct. Then jump into the export flow.
You can publish directly to a Powtoon player page.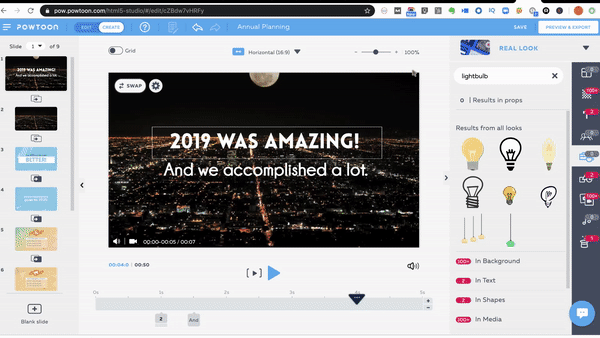 Step 5: Share, distribute, & watch your vision for 2020 become a reality
Creating your video is only half the battle. You've got to get your video to your audience. This is an important step, but there is no hard and fast rule. It all depends on where your target audience is, and their preferences for consuming videos.
For maximum flexibility, opt for an MP4 download, and use that video file on any platform. 
MORE TEMPLATES LIKE THIS
Powtoon Business comes with access to so many amazing templates, optimized and custom-designed to be easy to personalize, and calibrated to help you make an impact at work and beyond. 
You can find more templates just like this one in the Powtoon template gallery. 
Simply log into your account with your organization's subdomain. 
Click 'More Templates' from your My Powtoons page, and browse by category.
You can preview any template. When you find the one you want, just click 'use' to launch the Powtoon Studio. 
Happy Powtooning!