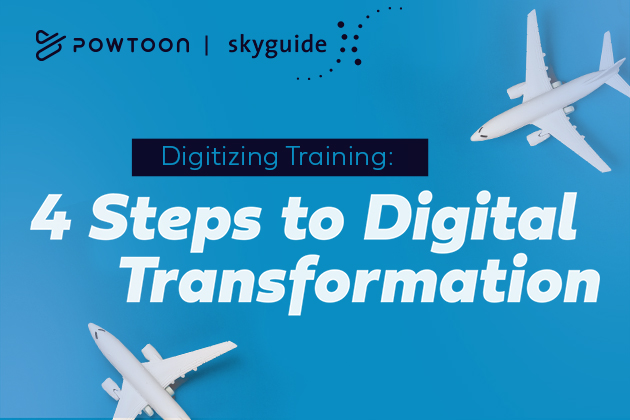 Digitizing Training: 4 Steps to Digital Transformation
Read Time:
3
minutes
Digitizing old analog training materials is a daunting task. But it's the first step toward leveraging training content for digital transformation. I recently sat down with Roland Frei, eLearning expert for Skyguide, to learn about the four steps they took to digitize their training materials, and how his work is leading to a transformation in the way Skyguide does business.
Digitization vs. Digital Transformation
First things first: let's get our terms correct. What are we talking about when we discuss digitization? What is the difference between that and digital transformation? What's the connection between the two?
Digitization
Digitization is any process that puts analog materials into digital format. This process has been ongoing for many institutions since the dawn of the information age. Digitization impacts trainers in the corporate world specifically when their industry has been around longer than digital tools.
Digital transformation
Digital transformation, by contrast, refers to a change in the way an institution goes about its primary tasks to leverage digital tools for better business outcomes.
Where's the connection?
In the case of Skyguide, which trains and supports air traffic controllers, guiding flights over Swiss airspace, digitizing their legacy training materials with video and a robust LMS is facilitating a digital transformation in how they fulfill their training mandate.
Since Roland began implementing their new eLearning strategy, Skyguide has seen a reduction in classroom time, which frees up instructors and students alike to spend more time on the most crucial information.
What's the best news? Roland shared the four steps Skyguide took to digitize their training strategy, laying the groundwork for robust digital transformation. Take a look to gauge your team's approach to digitization, and how you can use video as a key component of your digitization strategy.
Digitizing Training Step 1: Gather Your Resources
Here's how Roland described the first step along the journey:
I developed a structure for the use of our LMS in a few areas. One is the management of the content for the instructors. So we created dedicated workspaces for our experts and instructors. Each workspace is the content home-base for that instructor, and the content can be served to any channel from there.
Digitizing Training Step 2: Create Virtual Classrooms
Once our experts and instructors had their workspaces, they could begin creating virtual classrooms, which is basically a course on our LMS. The classroom presents the learner with all the content they'll need to work through. This includes learning material that covers all the key subjects of the course. In addition to the primary lessons, our experts also assemble additional material that is suitable for self-study, or use outside the classroom.
Digitizing Training Step 3: Measure Student Success
Of course, examinations and grading is a major component of training, and this is an area that instructors are most interested in. Hosting the examination and grading process on a digital platform saves them a huge amount of time.
Digitizing Training Step 4: Course Material Evolution
Then, wherever possible, we try to evolve and transform the content that we have on paper into eLearning sequences, with introductions, text, links, videos, self-study games, and the like. So much more is possible beyond the classroom when you have digital solutions, we are always trying to provide core material in engaging and innovative ways that save instructors time and improve the learning experience for our students.
Digitizing Training for Digital Transformation — How Do YOU Do It?
Wow! Amazing digitization insights from Roland at Skyguide. I hope this inspires YOU to start digitizing your dusty old training material for a new digital age. And I hope it's making it easier to completely transform how your company does business. If your organization is digitizing your training materials, let me know in the comments below! Do you have a process? How has it been going? Are you using Powtoon?!?!
Training With Video Has Never Been Easier
It's never been easier to include video in your training, whether you're using a template, starting from scratch, or converting your old PowerPoint presentations into video, all you need to do to head toward the digitization destination is sign up for Powtoon!
The following two tabs change content below.
Nick Liebman
Nick is Powtoon's Head Creator for Video & Learning. He joined Powtoon as head copywriter in 2016, after his previous blog was voted one of the top 8 CRO blogs on the internet by Digital Marketer. He continues to churn out awesomeness for all Powtoon users via blog posts, tutorials, webinars, videos, and more. Before working in technology full-time, Nick honed his skills in the unlikely world of music and non-profit work. He holds a B.A. in Music from Grinnell College and an M.M. in Music Composition from Butler University, and has performed his and others' music all over the world.
Latest posts by Nick Liebman (see all)