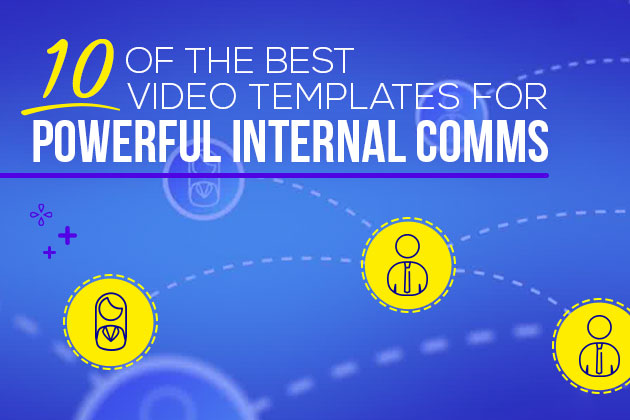 10 of the Best Video Templates for Powerful Internal Comms
Read Time:
5
minutes
Creating effective internal communication requires the best video templates for internal comms. Period. Because in 2019, if you work on an internal comms or employee engagement team, you more than anyone know that flyers and printouts get tossed in the trash. Even email newsletters can easily be ignored or drowned out by an overstuffed, hyper-distracted inbox.

So how can you best communicate change management, publicizing an event or initiative, performance reviews, or anything that falls into your lap? You're going to want to use video to get your employees engaged, enthusiastic, and loyal to your company culture.
Short on time? Thought so. Take a look at these internal comms video templates that guide you through each stage of a foolproof internal communications strategy: Research, Plan, Execute, and Measure. Use these video templates to make must-watch, must-talk-about communication that your employees will go gaga over. Time to explore!

Best Research Video Templates
Rockstar Research Summary Video Template
Over the past few years, internal comms (and HR as a whole) has been asked to step up the research they do before starting a communication campaign. If you're trying to pitch an idea to your team or to executives based on the research you've dug up, use this perfectly teed-up research summary video template to review your main findings and how they apply to your next steps.


Best Planning Video Templates
Mind-blowing Meeting Agenda Tips Video Template
When communicating with management, it's helpful to give regular support that helps them better communicate with their own teams. This mind-blowing meeting agenda template is perfect just as it is to help managers better facilitate meetings.

Know of another pain point a group of employees have? Maybe your interns are having a hard time with socialization. Perhaps department heads need some advice when flooded with questions regarding that big change coming next quarter. Or potentially, your team leaders need tips on how to give over employee performance evaluation. If you need to give tips or advice, this is the internal comms video template for you.


Crazy Good Company Goals Video Template
I don't know about you, but I'm crazy about the new year. A fresh start with new goals, ambitions, and dreams is just the kind of inspiration that gets me re-energized. Bring that excitement to others with this crazy good company goals video template! When it's a new year or quarter for your company or department, bring a fresh approach to others as you collaborate and plan for the future.


Boss Business Goals Video Template
While the last internal comms video template offered calming geometric shapes to bring in your New Years goals, this template uses the same text with a totally different visual feel. It offers stunning footage you can use as-is, or swap out for something your own branded mp4 files. This is also great for sharing campaign and project goals!

Incredible Internal Communications Video Template
Plan and pitch a campaign for your team in a snap! Use this incredible internal communications video template to share a vision, the goals to achieve it, and the action steps to get your team to the finish line. Watch inspiration sparks fly when you hit that end slide!

Smashing Sales Plan Video Template
Sure, you're not technically sales, but there's a good chance you feel that sometimes you need to sell your employees on certain information. Got a merger on the horizon? Starting a much-needed initiative that might be hard to swallow at first? Use this smashing sales plan video to help you celebrate your work so far and be clear when "selling" your goals for the future.


Best Project Execution Video Templates
Flashy Fun Facts Video Template
This flashy fun facts video is an internal comms template that's geared toward helping new employees get up to speed with all things IT. It's perfect for filling in the blanks but it's also great for sharing snackable info.
Rename it: "The 5 most amazing tidbits you didn't know about International Women's Day," "The 5 most easy peasy ways you can be greener in the [company] kitchen," or "The 5 best manager-made pumpkins carvings from last week's Halloween contest." The options are endless.


Intriguing Infographic Video Template
Oh yes. The beloved infographic video template. Content may be king, but infographics offer the 65% of the world who are visual learners the medium they need to helps that content stick. Make those infographics a video, and you've got yourself a first-class, one-way ticket to information retention!
Use this intriguing infographic video template to educate about different demographics and statistics (see more in the next bit) and make those numbers come alive.


Best Measuring Video Templates
Action Packed Annual Review Video Template
Measuring engagement, knowledge, and acquisition of new information is key to knowing what internal communications are hitting their mark, and what's missed the bullseye. This action-packed annual review video template will help you best show last years highlights, and where there's room for improvement. It's also great to show performance review examples and results!


Unreal Research Presentation Video Template
Data and stats for breakfast, lunch, and dinner. If you've got a lot of data and stats to share, this is the unreal research presentation video template that you've been looking for. Take it for a spin and add all the numbers you need. Show off how much you've measured your data and have serious insights you can't help but share.


Which Internal Comms Video Template Is Right for YOU?
Let me know in the comments below if you used and love any of these templates with your awesome employees — and what your employee engagement results were!

Of course, if you haven't signed up for Powtoon yet…WELL TODAY'S THE DAY YOUR LIFE'S ABOUT THE CHANGE! Sign up and start customizing HR video templates that are sure to give a powerful punch to your internal comms efforts today!


The following two tabs change content below.
Shoshi Davis
Shoshi joined Powtoon as a Marketing Assistant. To read more of her stuff, you can find her content on Upwork and Business 2 Community talking all things inbound marketing for SaaS. After only 2 weeks at Powtoon, Shoshi was dubbed by the marketing team as having the superpower of "Unbridled Enthusiasm." So that was pretty cool.
Latest posts by Shoshi Davis (see all)