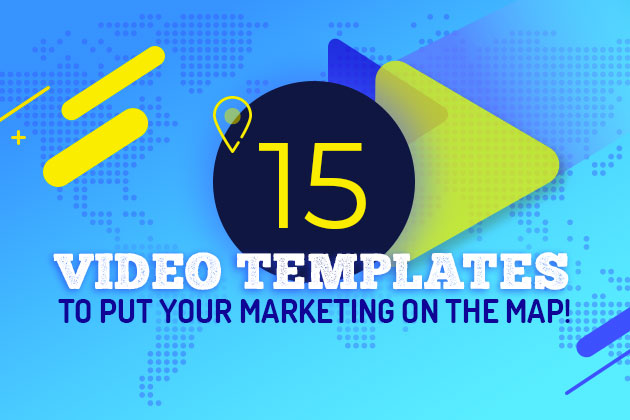 The 15 Best Marketing Video Templates to Put Your Brand on the Map
Read Time:
6
minutes
This cannot be overstated: Using the best marketing video templates will save you time and boost your results. People simply love video, and when it comes to communicating your message and solving customers' problems, nothing puts gas in the marketing tank like video.
This is true at a basic level, explaining a product or promoting a brand. But video can also serve marketing by spreading the goals, strategy, and successes of your efforts internally. Not only can you use marketing videos to grow a tribe of loyal customers, but you can use them to help build your company's tribe around growing marketing ROI, brand awareness, and lead generation. In other words, these are the 15 best video templates to put your marketing on the map.
Ready… Steady… GO!
Classic Explainer Video Templates — Marketing Video Powerhouses
Explainer videos do exactly what they say they do: they explain. That doesn't mean they list endless bullet points of information. These babies tell a story that your audience will relate to. They provide context for what you're talking about and explain by showing, not just telling.
The amazing thing about an explainer video template is just how flexible it can be. Change one character, change the visual style or look, add a company logo and brand colors, update the nature of the problem and solution you're laying out — do any of these things and you have an entirely unique explainer video.
Following a Character Through an Animated Explainer Video Template
People learn through stories and characters. Why do we tell the story of the boy who cried wolf? We could just tell our children, "Tell the truth," and we're done, right? Telling the story of the boy who cried wolf shows the consequences of lying as they rain down on a character that's very much like your target audience. Incorporating animation can also help bring the character to life and create a stronger emotional connection with the audience. This works for teaching your children life lessons AND for marketing videos.
CLICK HERE TO EDIT THIS TEMPLATE
Fine Tuning Your Explainer Video Characters
Of course, thinking about your target audience is absolutely key. By understanding your target audience's demographics and interests, you can tailor your digital marketing efforts to create a highly effective video marketing strategy that speaks directly to your viewer. With the right explainer video template, you can showcase your brand's unique personality and messaging, while leveraging the power of visual storytelling to drive engagement and conversions in your digital marketing campaigns.
This explainer video template follows a familiar structure, but demonstrates how simply choosing a new character and soundtrack can change the appeal of your video. Got a heavily female audience you want to reach? This is the explainer video template for you.
CLICK HERE TO EDIT THIS TEMPLATE

The Whiteboard Explainer Video Template Lets You Draw it Out
Sometimes, it's not the people who are your characters, but a process, or a complicated cast of digital characters who need a little sorting out. You can literally draw it out for your audience with one of the most popular explainer video formats in the history of explanations: Whiteboard.
With whiteboard explainer videos, you can showcase your brand's expertise on social media platforms like Instagram and YouTube, and create engaging promo videos that resonate with your target audience. This type of video content is also great for breaking down complex topics or products into easy-to-understand visuals and can help increase your brand's visibility and credibility in the digital space.
CLICK HERE TO EDIT THIS TEMPLATE

Let's Get Specific — Marketing Video Templates for Just About Everything
So how specific can an explainer video template get? Let's dive in and see how many specific marketing tasks you can accomplish with video.
Lead Generation Video Template
Lead generation is one of the most important functions a marketer has. Finding those qualified potential customers who are best suited to your solution can really only be done on a mass scale through marketing. With video increasing conversion rates by up to 80%, it's a no-brainer to use video as a key tool for lead generation.
CLICK HERE TO EDIT THIS TEMPLATE

Marketing Pitch Video Template
In the startup world and beyond, making a pitch to investors, potential partners, or for other big projects is simply a must. Just like capturing leads, winning over investors is all about highlighting the challenges you can solve, and the future business potential solving those challenges represents.
CLICK HERE TO EDIT THIS TEMPLATE
Crowdfunding Video Template
Some brands were meant for the people. That's why every marketer needs a crowdfunding video template in their back pocket. You never know when the best pitch is the pitch you make to the crowd, and you'll be pleasantly surprised by how well they respond to your awesome crowdfunding video.
CLICK HERE TO EDIT THIS TEMPLATE
Promotional Video Template
If you have something specific and time-bound to promote, get your hands on this promotional video template. Tell people the exact who, what, where, when, and why of your event, product launch, opening, or campaign, and watch your audience absorb your message and get amped up for the big day.
CLICK HERE TO EDIT THIS TEMPLATE
Increase Conversions with this Video Ad Template
Conversions. CRO! Driving conversions is another of those essential marketing activities. Whether you're converting someone from a visitor to a qualified lead, or converting someone from a free user to a paid user, making marginal improvements to your conversion rates over time can lead to a massive return on investment. In fact, customers are 64% more likely to make a purchase after watching a video.
CLICK HERE TO EDIT THIS TEMPLATE

Product Marketing Video Templates — Connecting Customers to Your Solution
There's a particular science to product marketing. Are you introducing potential users to your product for the first time? How about longtime users you want to keep renewing? How are you announcing new features or new services? Video is wildly effective at connecting your customers' challenges and your solution at every stage.
Product Introduction Video Template
It's all about first impressions. Presenting a new product to people in terms of how it will make their lives better is the most direct and effective way to winning new fans and customers. You can't just list a bunch of capabilities and leave it for your customers to figure it out. Especially if they're early in their buyer journey, introduce your product the right way so your conversation with your customer continues naturally.
CLICK HERE TO EDIT THIS TEMPLATE
Promotional Product Video Template
Got some gorgeous visuals of your product? If you have a team that worked hard on UI/UX, then show it off! Sometimes the best benefit is how well the thing works. Use this promotional product video template to show off the looks and functionality that your new customers have been calling for.
CLICK HERE TO EDIT THIS TEMPLATE
Product Explainer Video Template
As customers move along the buyer journey, they'll begin researching more as they consider which solution is right for them. Using this product video template to tease out and draw attention to the benefits of each part of your solution is an awesome way to set yourself apart with video. If you've been doing your job right, your customers will be eagerly awaiting the next video in the sequence.
CLICK HERE TO EDIT THIS TEMPLATE

Feature Announcement Video Template
Not everyone is going to dig into the update notes you provide when you make changes to your software or other products. Sometimes, in fact, new features can be so seamless and work so darn well, customers might not even notice them. Don't miss an opportunity to remind your users how hard you work to improve your solution for them. And be sure you're sending content they'll actually consume (i.e. VIDEO!)
CLICK HERE TO EDIT THIS TEMPLATE
Marketing at Home — Set Goals & Measure Success
Every day, marketers are expected not only to raise awareness of their brand and bring customers to their doors, but they also need to market internally. That means marketing is more than just lead generation, video ads, explainer videos, and product videos.

Marketers need to be able to demonstrate how their plans fit in with the company's overall goals. They also need to get buy-in from management for their upcoming campaigns. And what good would any of it be if the marketing team can't celebrate their successes across the company? Enter these templates to help market your marketing inside your organization!
Business Goals Video Template
Share your goals across your organization. Get aligned and start working as one big team with this business goals video template.
CLICK HERE TO EDIT THIS TEMPLATE

Marketing Strategy Video Template
Have you explained your marketing strategy? Your marketing strategy gives a framework for your marketing activities that your entire team can get behind.
CLICK HERE TO EDIT THIS TEMPLATE

Marketing Results Video Template
Ah, the good stuff. After working hard to bring in new sales-qualified leads, boosting brand recognition, and growing your top-of-funnel traffic, take the time to explain exactly what you achieved to the rest of the company. This will breed a healthy respect for the work your marketers are pushing out, and help your entire organization feel engaged with the outcomes of your marketing.
CLICK HERE TO EDIT THIS TEMPLATE

Which Marketing Video Template Is Right for YOU?
Let me know in the comments below if you used and love any of these templates to put your marketing on the map — and what your results were!
Of course, if you haven't signed up for Powtoon yet… WHAT IN THE NAME OF PETE ARE YOU WAITING FOR?!
Sign up and start customizing marketing video templates today!
The following two tabs change content below.
Nick Liebman
Nick is Powtoon's Head Creator for Video & Learning. He joined Powtoon as head copywriter in 2016, after his previous blog was voted one of the top 8 CRO blogs on the internet by Digital Marketer. He continues to churn out awesomeness for all Powtoon users via blog posts, tutorials, webinars, videos, and more. Before working in technology full-time, Nick honed his skills in the unlikely world of music and non-profit work. He holds a B.A. in Music from Grinnell College and an M.M. in Music Composition from Butler University, and has performed his and others' music all over the world.
Latest posts by Nick Liebman (see all)