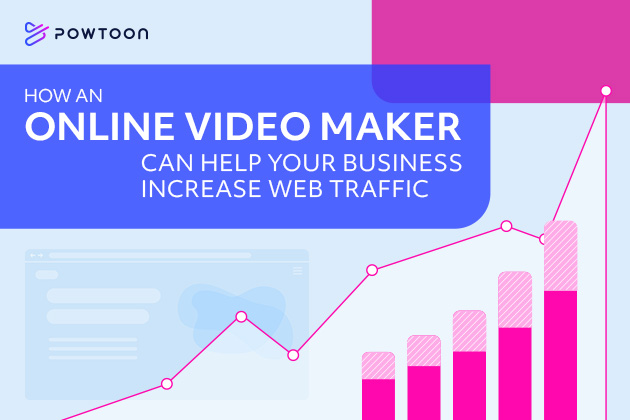 How an Online Video Maker Can Help Your Business Increase Web Traffic
Read Time:
3
minutes
Increased traffic to your website gives you more opportunities to introduce your brand to potential customers. It's the catalyst for building relationships, developing loyalty, and — most importantly — generating conversions and sales. Using video in your overall marketing strategy can significantly increase web traffic, and using an online video maker to produce your videos in-house makes it affordable for any sized business to create quality video content.
Here's how video increases web traffic.
Website Video Improves Your Google Search Ranking
It's pretty obvious, but we'll say it anyway: the higher your site ranks in Google search results, the more web traffic you'll get. Using a video maker allows you to create custom video content for your website that will help your search ranking in four main ways.
Content will show up in the "video search results" on Google, giving potential customers another way to find you. When users click on your video in the search results, they are taken to your website to view it.
Video increases a visitor's time on your page, which is a metric that factors into your Google search ranking. Users spend about two and a half times longer on pages with video than those without.
An engaging video encourages viewers to stay on your page and click around to check out other content. This decreases your bounce rate, which is another metric that affects your Google ranking. Pages with video have a 34% lower bounce rate than those without.
Google likes to see pages with multimedia content; including video clips in your page content will help boost SEO.
Simply put, video helps increase your search rankings and thereby your web traffic.
Social Media Videos Encourage Click-Throughs and Conversions
Social media videos are about far more than going viral. They help you engage with your audience in new ways, demonstrate products or concepts in a way that's impossible with text alone, and show off your brand's personality. Explainer videos, product videos, and educational videos all make eye-catching and shareable videos that social media audiences love.
Plus, posts with video are far more likely to be pushed through to user feeds. It doesn't matter how good your marketing content is if nobody sees it; video increases the chance that people will. And when they do, they'll engage. Video content on social media platforms consistently generates more engagement, more shares, more purchases, and more conversions than any other type of content.
The bottom line? More web traffic for you.
Email Marketing is More Effective with Videos
Using videos in your email strategy will increase both the open and click-through rates of your marketing messages, which will ultimately boost traffic to your site. Including the word "video" in your subject line can increase open rates by six percent and boost the click-through rate by a whopping 65%! Using an in-house video maker allows you to create a custom video for every email you send, maximizing the power of this marketing medium.
A Video Maker to Increase Web Traffic
Online video editors help even novice video creators make stunning marketing videos and videos for social media channels.
Ready to get started on your video marketing strategy? Powtoon can help! Powtoon allows you to create professional videos for a fraction of the cost of a production agency. With thousands of video templates designed for a wide variety of industries, you're minutes away from becoming a video creator and sharing your first video.

The following two tabs change content below.
Shoshi Davis
Shoshi joined Powtoon as a Marketing Assistant. To read more of her stuff, you can find her content on Upwork and Business 2 Community talking all things inbound marketing for SaaS. After only 2 weeks at Powtoon, Shoshi was dubbed by the marketing team as having the superpower of "Unbridled Enthusiasm." So that was pretty cool.
Latest posts by Shoshi Davis (see all)