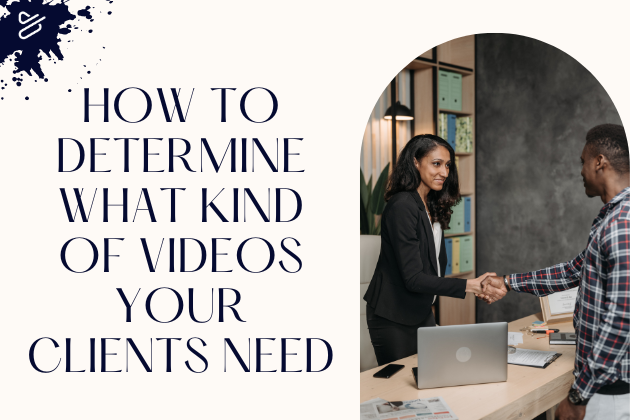 How to Determine What Kind of Videos Your Clients Need
Read Time:
4
minutes
Video continues to play an increasingly important role in the marketing campaigns of businesses and brands across a range of niches and industries. Whether promoting a small business or managing marketing at a significant enterprise, you should prioritize generating and distributing quality video content to your clients.
However, the video content that delivers value to one type of customer might not have the same effect on another. You need to ask, "What type of video do clients need?" to determine how you should spend your video marketing budget. The following suggestions will help.
Purposeful Marketing Videos
Video content effectively engages an audience and establishes a brand identity through visuals and sound. However, for video marketing to deliver the most substantial return on investment, you need to create videos based on the goals and needs of your clients. Taking a strategic approach will ensure your videos resonate with your target audience.
Types of Marketing Videos
When asking yourself, "What kind of video do clients need?" it's essential to remember that marketing videos can take many forms. Examples include (but certainly aren't limited to) the following:
Product demonstration videos: A product demonstration video can show potential customers how your product and service can benefit them. Generating this type of marketing video may be particularly wise if the nature of your products and services makes it difficult for a lead to understand precisely what value they offer immediately. A video may clarify why your products or services are worth a lead's money.
Brand storytelling videos: A brand is essentially a business' "personality." As marketing experts love to point out, by telling a story about your brand, you can foster greater brand engagement among your audience. Doing so will yield greater loyalty. Although various types of marketing content can help you achieve this goal, video naturally facilitates storytelling and brand engagement.
Testimonial videos: Written testimonials on your website may provide leads with some sense of the way previous clients and customers have been satisfied with your products and services. However, video testimonials allow past clients to express themselves with more emotion. This can enhance the effectiveness of a testimonial.
Explainer videos: Like product demonstration videos, as the name implies, explainer videos give you the opportunity to explain the value of your products and services to your leads.
Social media videos: Social media marketing videos are useful because they allow you to reach your leads on platforms you may be fairly confident they already use. Additionally, social media platforms typically provide marketers with analytics tools they can use to measure the effectiveness of their campaigns. Just be aware that social media videos should be fairly short. Regardless of the platform you post a video to, a social media video typically shouldn't be over a minute in length.
This is not an exhaustive list. As you experiment with video marketing, you may become increasingly familiar with the types of marketing videos that resonate most effectively with your clients.
Aligning Video Types With Client Objectives
Experimenting with different types of marketing videos is wise. That said, video production costs time and money (although it can be more affordable than many realize if you use the right tools). You can't afford to generate every potential type of marketing video to see which yields the strongest results.
One way to determine which types of videos you should prioritize is to identify the goals of your clients. When you know what your client's goals are, you may more easily determine what types of videos align with those goals.
For example, maybe you sell a line of kitchen tools. If so, the ideal customer is someone who wants to cook delicious and nutritious meals at home. You could thus focus on creating videos that show them how to do so while also showcasing the value of your products.
On the other hand, perhaps you're handling marketing for a law firm. Odds are your clients are people who have questions about the law. In this scenario, you might focus on creating educational video content that answers common legal questions clients may have.
Be aware that you don't need to play a guessing game when trying to determine your client's goals. You could easily learn more about your client's wants and needs by distributing surveys via social media, your email list, etc. While you shouldn't rely solely on the results of these surveys to guide your decision-making process, they could offer genuinely valuable insights.
Customizing Templates for Unique Video Needs
Once you know what types of videos best serve your client's needs, you can create these types of videos using premade templates. Doing so will significantly reduce the amount of time and money it takes to generate a professional-quality marketing video.
You may also modify and personalize these templates to better reflect your brand. Tips for doing so include:
If yours is a B2B company, understand the tone of your client's content and modify your templates so it matches their tone and brand
Stick to a branded color scheme and font selection
Don't be afraid to use industry-specific jargon
Include animated characters that represent the demographics of your clients
It's also smart to A/B test different video templates. Testing multiple versions of the same template is an easy way to learn more about what clients are looking for.
Final Word
What kind of video do clients need? It's a question you probably should be asking as you plan your video marketing strategy. 
Luckily, determining what types of video content your clients engage with doesn't need to be a challenge. The insights this process yields can help you strengthen your marketing efforts in general!
Create Marketing Videos With Powtoon
Offering templates, animation tools, and numerous other resources, Powtoon allows you to easily and affordably create video marketing content even if you have little to no video production experience. Sign up today to learn more about what this tool can do for you!

The following two tabs change content below.
Hanna is Powtoon's Content Marketing Strategist. She joined Powtoon as a copywriter in 2019, after graduating from university with a specialized degree in marketing and business. She continues to inspire people to create incredible video content with blog posts, videos, guides, and more. Hanna's passions include reading, singing, and caring for animals (#proudvegan). Nothing makes her happier than waking up to her two black kitties who, contrary to popular belief, are good luck!
Latest posts by Hanna Abitbul (see all)