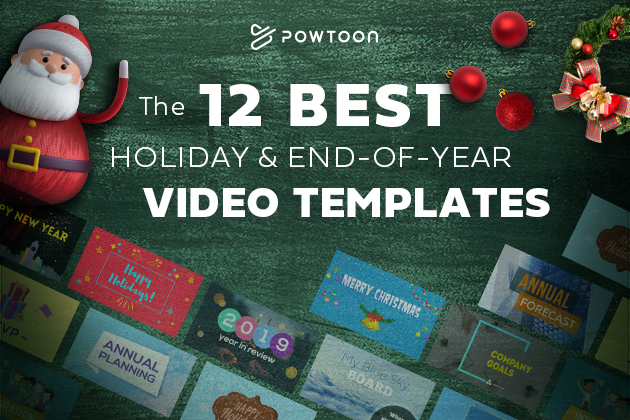 The 12 Best Holiday & End-of-Year Video Templates to Show Your 2020 Vision
Read Time:
6
minutes
This time of year at Powtoon, when we think about the best holiday and end-of-year video templates… we're comin' up twelves…
12 months of the year… 12 days of Christmas…
…and 12 of the best holiday & end-of-year video templates around!!
What am I talking about? 12 video templates that actually help you celebrate the season, and set a vision for the year ahead. Instead of drowning people in data, inspire excitement with your annual forecast. Instead of sending nagging emails to employees and clients (that no one really reads), celebrate the season with a holiday video. Don't let the year slip past without celebrating your successes! Recap the year-that-was in a compelling video year-in-review… But I'm getting ahead of myself.
Not only will these amazing video templates help your company get the new year started right, but celebrating the season can actually increase team motivation and camaraderie. After all, we form quasi-families with our colleagues, and celebrating the holidays is just as important to that family as it is to the one you keep at home!
During Powtoon's 12 Days of Xmas Giveaway, The Best Holiday & End-of-Year Video Templates are FREE!
In honor of the holidays and the end of the year, we're making our 12 best holiday and end-of-year video templates absolutely free to use until the end of the year!
If you've never signed up for Powtoon — now's your chance! Sign up now to take advantage of all 12 of these amazing templates for free! Already a user? Then these templates are already waiting in your stocking.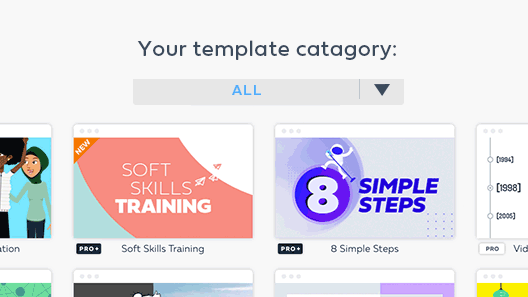 Keep reading for links to all 12 video templates and helpful descriptions of how to use them to benefit your business and your team.
We've grouped these templates into three essential categories for providing your whole team a measure of inspiration, celebration, and motivation for the year to come.
Best Holiday & End-of-Year Video Templates for Inspiration
End-of-year inspiration from the CEO
Inspire your employees with a personal, year-end video message, straight from the CEO!
Break down the wall between upper management and his or her loyal employees with a video message, straight from the heart. Perfect for announcing major company news, inspiring a department into action, or adding a personal touch to your newsletter subscribers.
Annual Business Forecast
December is the perfect time to share your annual forecast! So use a video template that summarizes, markets, pitches, and forecasts the future…
Forecasting is an essential task for marketing, training, internal comms, and management teams in any business. Now you can share a video that looks ahead to the future. This video template is great for pitching investors or presenting data to your team. Show your company's current worth & how you plan to grow in the coming year!
My Blue Sky Board
The end of the year is the perfect time to fantasize about the year to come! Focus your dream outcomes into an actionable plan with this 'Blue Sky' video template.
This goal-setting video template has taken the corporate world by storm! Entrepreneurs, instructional designers, HR, L&D team leaders (and really, any intelligent business professional) know that the best way to achieve success at work — and in your life — is by setting goals and visualizing your ideal outcome. Fill out this vision board, with actionable items, and watch your dreams come true next year.
Best Holiday & End-of-Year Video Templates for Celebration
Get RSVPs with a smile
Invite guests to your upcoming event with this wacky video invitation
The fastest and most creative way to send an invitation to your upcoming event is with this funny, out-of-the-box, retro style template. Use this video invitation "greeting card" to invite your team to the annual holiday party with a sense of humor.
Wish your team Happy Holidays
We've created this customizable template to simplify your holiday to-do list. Easily wish everyone in your working world a happy holiday season, while saving money, time, and trees!
Spread that holiday love to your clients and customers!
Keep the holiday celebration going by sending this stunning happy holidays video to clients and customers.
No matter which holiday they celebrate, it's a joyous and special time of year. Emphasize diversity and inclusion by using this beautiful holiday video card that covers all the major winter celebrations! Very popular addition to employee holiday emails, and as video eCards for clients.
Say Merry Christmas… VISUALLY
The fastest, simplest way to send Christmas cheer is with this happy video!
Make your team and your clients feel like family. Send them some Christmas cheer with this customizable greeting card template! Personalize it with pictures, a face-to-camera video message, and the animated reindeers will have it delivered ASAP!
Celebrate the New Year
Saying Happy New Year never looked so good!
YOU MADE IT! Another year, another accomplishment to celebrate. This year, celebrate with color, fireworks, popping champagne, and loving characters… all the elements found in this Happy New Year greeting card template! Customize this template for friends, family, or coworkers to start off the year on a positive — and absolutely awesome — note!
Best Holiday & End-of-Year Video Templates for Motivation
Company year-in-review video
Bring tears to your colleagues eyes, as they watch all they've accomplished in this annual recap video.
It's so easy to forget about all the accomplishments your team made in a year. With the urgency of deadlines and the details of work, it can be hard to see the big picture. Take a look back at the last 365-days-worth of challenges, successes, and special moments with this Year-in-Review video template. Perfect to keep motivation and team dynamics high and growing!
Tune in to company news… tonight at 11!
This open, versatile video template is great for announcing the latest news.
It's breaking news, WATCH all about it! That's right, why use text when video is so much more captivating! The end of the year is the perfect time to launch your new company news segment! Next time your HR department sends out an update or biz dev wants to share an announcement, let them know that this animated news template is the way to go…
Share company goals for the year ahead
The holidays are the perfect time to ensure next year, everyone works toward common goals.
Setting and sharing your company goals is essential to achieving business success. Transfer dry stats to this moving template and get ready to earn some extra end-of-year applause!
Make a new plan, Stan, with this annual planning video
Outline your annual plan and set goals with this video presentation template. Communicating visually doesn't always mean uploading a video. Sometimes there's no substitute for the in-person presentation.
This year, take your business to the next level by presenting your annual plan in style! This simple, yet wildly popular template, has a vital purpose: take pride in your company's accomplishments, set goals for the future and motivate your employees to keep pressing forward. It's no wonder this template is used by companies of all sizes, from startups and SMBs to Enterprise-level companies!
Merry Business to All… And to All a Good Night!
As our 12 Days of Xmas Giveaway carries us to the end of the year, I wanted to share one last wish for you:
May the Holiday season bring you happiness and joy. Better yet, may it bring your company inspiration, celebration, and motivation for a powerful 2020 ahead.
As always, I want to know how it's going! Share your thoughts (and your successes)! Which one of these templates will your team be surprised to get? What were your colleagues' and clients' reactions of your when they watched your video? Let me know in the comments below!
And no matter what shape your 2020 takes, just remember to make it AWESOME!
The following two tabs change content below.
Nick Liebman
Nick is Powtoon's Head Creator for Video & Learning. He joined Powtoon as head copywriter in 2016, after his previous blog was voted one of the top 8 CRO blogs on the internet by Digital Marketer. He continues to churn out awesomeness for all Powtoon users via blog posts, tutorials, webinars, videos, and more. Before working in technology full-time, Nick honed his skills in the unlikely world of music and non-profit work. He holds a B.A. in Music from Grinnell College and an M.M. in Music Composition from Butler University, and has performed his and others' music all over the world.
Latest posts by Nick Liebman (see all)