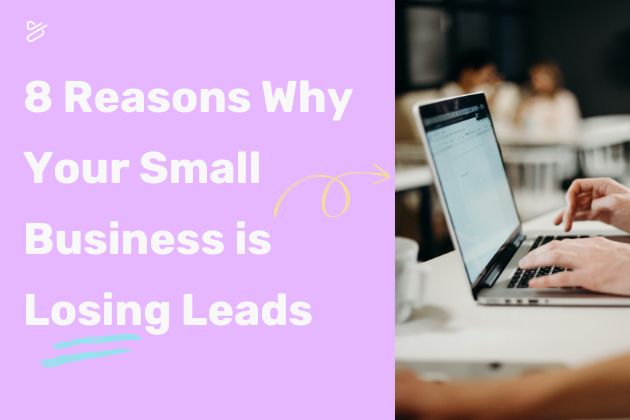 8 Reasons Why Your Small Business is Losing Leads
Read Time:
4
minutes
In the world of business, losing leads can be a real stumbling block. Lead generation is crucial but only considered successful if they turn into paying customers.
The following are among the key reasons why small businesses lose leads. Familiarizing yourself with them can help you avoid certain common mistakes. Remember, knowing what you could do wrong as a small business owner is at least as important as knowing what to do right!
Inconsistent Branding and Messaging
Your brand is your company's identity and set of unique values. If your branding and messaging do not remain consistent across all channels, your values will seem inconsistent. This could make it difficult for a business to cultivate a deeper and lasting connection with leads.
To ensure your brand messaging is consistent, keep the following tips in mind:
Ensure certain visual elements of your brand (such as your branded color scheme and font choices) are generally the same across all branded materials
Generate a thorough brand style guide and require all key members of your marketing team to familiarize themselves with it
Develop a branded "voice" that may consist of language, vocabulary, tone, and other such qualities, and keep it consistent
Consider using video to train employees who represent your brand
Dedicate a single team to the process of content creation if doing so is feasible
Lack of Target Audience Clarity
This is among the key reasons why small businesses lose leads. You need to thoroughly and accurately define your target audience to know who your ideal leads actually are. If you fail to properly tailor your marketing content to the correct audience, you may only succeed in attracting leads who have little interest in your products and services.
Learn how to conduct market research and develop audience personas. The time you invest into this process will pay off substantially.
You Aren't Using the Proper Channels
Knowing your audience doesn't merely help you determine what types of content you should create. When you know who your audience is, you can also research which social media platforms and other such channels may be most effective for helping you reach them.
For example, perhaps yours is a B2B company. Your small business may lose leads if you're trying to market it primarily on TikTok. Your company would likely have greater success if you were to market it through LinkedIn.
Poor Website Design and User Experience
It doesn't matter if you provide quality products and services—if your digital experience isn't user-friendly, your leads may be less likely to become devoted customers.
Tips for optimizing website design and the overall digital user experience your brand offers to customers include:
Ensure your website looks attractive and performs well on mobile, as mobile browsing is now more common than desktop browsing
Look for ways to simplify the navigation of your website, app, and other such digital representations of your brand
Test various layouts and features to determine which yield the highest levels of engagement
Ignoring Data and Analytics
Trusting your gut isn't always the best idea! Thanks to innovations like machine learning, analyzing data efficiently has never been easier. Take advantage of such innovations to learn more about your customers and to make data-driven lead-generation decisions.
Failing to perform data analytics is a common reason why small businesses lose leads. Unfortunately, some small business owners mistakenly assume that analyzing large quantities of data is only necessary for major enterprises.
That's not the case! If you don't leverage data to your advantage, you're depriving yourself of the opportunity to perfect your lead generation strategy.
Lack of Content Marketing Strategy
Content marketing plays a critical role in the lead generation strategy of virtually any business in the digital age. This is because content marketing allows a brand to attract leads without being excessively "salesy" or promotional. Instead, a brand can attract leads naturally by providing quality content.
Tips for creating valuable content for lead generation include the following:
Consider offering video content, which has been shown to yield high levels of engagement
Partner with influencers who may create content for your brand
Through social media and other such channels, encourage existing customers to generate content
Clearly identify the needs of your audience and provide them with access to very high-quality content that serves their needs
Ineffective Lead Capture and Conversion Techniques
Mistakes you could make when planning and implementing lead capture and conversion strategies include:
Making promises during the lead capture phase but not clearly explaining how your business will follow through on those promises later
Not developing a value proposition that highlights why a lead needs your products or services
Making the lead capture process too complex (such as by requiring leads to provide too much information on lead capture forms)
Not developing a lead nurturing strategy that effectively guides a lead through the conversion process
Avoid these mistakes by taking the time to plan your lead capture and conversion strategies thoroughly. This is another instance in which making decisions based on data analytics may be wise.
Operational Challenges Contributing to Lead Loss
Various types of operational challenges could theoretically influence your lead generation efforts in a negative manner. Examples include:
The difficulty for leads to contact your business: If a lead has questions they need answered before a conversion occurs, said lead needs a reliable means of contacting your business. Thus, it's important to establish means of addressing customer requests early. You must also clearly indicate how leads can contact your business on your website and social media pages.
Employee-related issues resulting in lead loss: Lead loss may occur if employees have not been trained to guide a lead through every step of the nurturing process. Emphasize the importance of training and education to guard against this.
Sales and marketing teams not aligned: Sales teams and marketing teams need to be trained on lead generation together. If they're not, your small business could lose leads due to inconsistent messaging, poor lead handoff, and other such issues.
None of this is meant to worry you! Knowing why small businesses lose leads is simply very important. When you know what factors can prevent your leads from becoming customers, you're better equipped to plan a strategy that yields results.
Skyrocket Your Lead Generation With Powtoon
Again, studies show that video content is more engaging than other types of online content. Video content can thus play a significant role in your lead generation and conversion strategies.
Powtoon's video maker and animation maker allows you to create this type of content easily! Even someone with virtually no video production experience can use Powtoon to affordably generate video content that impresses leads. Sign up today to get started!

The following two tabs change content below.
Hanna is Powtoon's Content Marketing Strategist. She joined Powtoon as a copywriter in 2019, after graduating from university with a specialized degree in marketing and business. She continues to inspire people to create incredible video content with blog posts, videos, guides, and more. Hanna's passions include reading, singing, and caring for animals (#proudvegan). Nothing makes her happier than waking up to her two black kitties who, contrary to popular belief, are good luck!
Latest posts by Hanna Abitbul (see all)