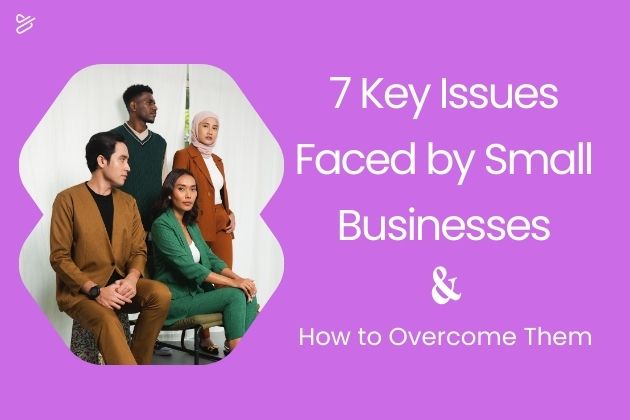 7 Key Issues Faced by Small Businesses and How to Overcome Them
Read Time:
4
minutes
Running any business can be demanding. Even small business owners encounter unique challenges they must be prepared to navigate successfully if they are to succeed.
Luckily, anticipating said challenges can make overcoming them much easier. What are the problems that small businesses face?
The following are a few key examples. No matter what your industry may be, if you own a small business, there's a chance you'll come up against these difficulties at some point. Now is the best time to determine how you'll address them.
Limited Capital
Running a business requires money. That said, if you're a small business owner without a string of successes in the past, convincing others to invest in your business may not be easy.
One way to deal with this is to put together a strong investor presentation. Your presentation should offer practical information that demonstrates to a potential investor why your business idea is worth funding. Additionally, your presentation should be dynamic enough to capture and keep the attention of your audience.
Research creative presentation ideas to learn how to make the right impression on investors. Doing so could be key to your business' growth.
Recruiting Issues
Talented and ambitious job-seekers want to work at companies where they will have the opportunity to grow. Research confirms that today's top performers want to know jobs will provide them with the chance to build their careers.
One way to make the idea of working for you more appealing to potential employees is to focus on cultivating a strong culture. Engaging company culture can make up for the fact that your business is new and small.
Standing Out
The marketplace you're entering may be crowded. You need to get noticed in an environment where many of your potential customers might already give their business to one of your competitors.
Ways you may address this issue include:
Offering discounts at first to attract customers
Offering a unique product or service your competitors don't offer
Investing in widespread marketing
Relying Too Much on the Same Customers
A loyal customer base can play a critical role in the success of any business. During times when you may be struggling to attract new customers, a loyal base of customers can help your business remain afloat.
However, if you rely too much on the same customers, your business could quickly go under if those customers were to ever stop paying for your products and services. For a small business, even a customer simply moving away can result in losses.
The best way to proactively guard against this is to consistently focus on attracting new business. While ensuring your loyal customers remain engaged should be a priority, you also need to constantly strive to bring in new customers.
Time Management Issues
Virtually all small business owners need to wear many hats when growing their companies. This can make it difficult for a business owner to prioritize tasks.
Unfortunately, your more established competitors may have larger workforces. Other business owners thus have the luxury of delegating work. You might not, at least for the time being.
Ways to improve your time management skills when running a small business include the following:
Use everything from calendars to time management apps to maximize your productivity
Look into tools and services that fit your budget and will allow you to automate various tasks
Do your best not to multitask, as research indicates that the vast majority of people are actually unable to multitask successfully
Take breaks to prevent burnout from sapping your energy
In addition, learning to say no is one of the most important skills a small business owner can develop and cultivate. If you always say yes to those who ask for your attention and energy, you may sometimes be unable to devote your time to tasks that are truly important.
Poor Financial Management
Tracking expenses and revenue is a dreaded task for some business owners. Although those who enjoy working with numbers might actually take some pleasure in this aspect of running a small business, for many, it's simply a chore.
That means, while it might not always be "fun," like all chores, it does need to get done. If you're not keeping an eye on how much money is coming in and how much is going out, you could find yourself without the funds necessary to stay in business.
As soon as you start your business, establish a formal and standardized approach to bookkeeping. Decide when you will complete bookkeeping tasks every week, choose which tools you will use to help you complete these tasks, and be sure to separate your business finances from your personal finances. Taking these steps early will make bookkeeping much more painless in the long run.
Limited Marketing Budgets
Getting the word out about your business can be challenging if you lack substantial funds to devote to marketing. The following are few ideas to consider if you need to market your small business on a tight budget:
Use social media to cultivate a following
Develop and release valuable content that your customers would find useful
Attend networking events
Ask your loyal customers to generate marketing content for you (such as by highlighting your products or services on their own social media pages)
Ask happy customers to provide testimonials and reviews
Most importantly, keep in mind that none of the information here is meant to discourage you. Plenty of small business owners succeed in growing their operations into thriving enterprises. That said, knowing what are the problems that small businesses face and what you can do to prepare for them can have a major impact on your odds of achieving your entrepreneurial goals.
Create Strong Video Marketing Content With Powtoon
The video has been shown to deliver high levels of engagement. To market your business effectively, strongly consider developing video content.
No worries if you lack video production experience or a large video production budget. Powtoon makes producing live-action and animated video content easy, even if you're a complete beginner. Sign up today to learn more!

The following two tabs change content below.
Hanna is Powtoon's Content Marketing Strategist. She joined Powtoon as a copywriter in 2019, after graduating from university with a specialized degree in marketing and business. She continues to inspire people to create incredible video content with blog posts, videos, guides, and more. Hanna's passions include reading, singing, and caring for animals (#proudvegan). Nothing makes her happier than waking up to her two black kitties who, contrary to popular belief, are good luck!
Latest posts by Hanna Abitbul (see all)