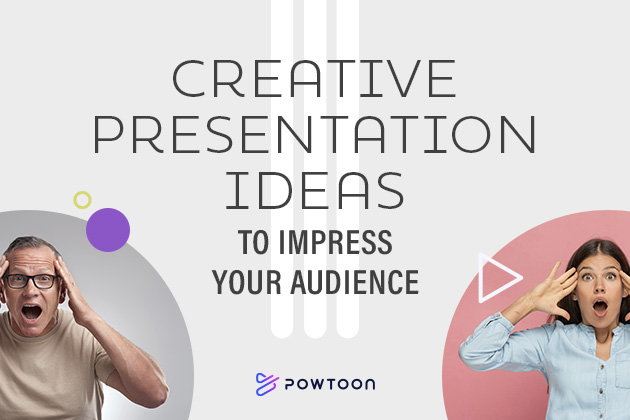 Creative Presentation Ideas to Impress Your Audience
Read Time:
3
minutes
If your work involves delivering presentations, you likely understand that impressing your audience is often a challenge. Merely standing in front of your boss or colleagues and speaking about the topic of your presentation is rarely sufficient to maintain their attention.
Luckily, making a presentation more engaging doesn't need to be as difficult as you might assume. The following creative presentation ideas will help you ensure your presentations are memorable and effective:
Incorporate Humor
It's not always appropriate to convey ideas via humor. There are, naturally, some instances when the nature of a presentation requires a more serious tone.
That being said, using humor is generally an easy way to grab an audience's attention. This is particularly true in a corporate environment, where your audience members may not expect a presentation to make them laugh.
That said, you may want to test out your material on colleagues and friends who won't be members of your actual audience before you deliver your presentation. Gauging whether jokes will get the laughs you expect is difficult if you don't have a chance to try them on others first.
Use Video
Research indicates that video content on social media tends to drive higher levels of engagement than many other forms of content. There are numerous potential reasons this is the case.
Regardless, because video content is effective when shared on social media, there's reason to believe it would yield the same results when included in a presentation. Video content essentially allows you to share large amounts of information efficiently, while also cultivating a greater emotional connection with your audience than you otherwise could.
This highlights an important point: Creative presentation ideas don't need to be unconventional. You can deliver a presentation that stands out by simply incorporating video and other forms of multimedia that may help you emphasize your points.
It's also worth noting that video allows you to maintain a consistent degree of quality among your presentations. That may be important if you regularly deliver the same presentation to multiple audiences (such as prospective clients).
Focus on Storytelling
Studying college graduation/commencement addresses can help you better understand how someone delivering any form of speech (including a theoretically dry corporate presentation) can get their audience to pay closer attention.
For example, consider Steve Jobs' commencement address at Stanford University. It's long been hailed as a uniquely impactful example of this type of speech.
Why? Simply because Jobs told a story that members of his audience could likely relate to. You can do the same. This creative presentation idea allows you to add context to your words that can, like using video, make your presentation more emotionally appealing to those in your audience.
Keep in mind that the emotions you can evoke in your audience don't need to be weighty. Remember, just making your audience laugh can be enough to boost the odds of your audience focusing on what you're saying.
Ask Questions
This is another example of a creative presentation idea that is actually quite basic. Essentially, a presentation has a greater chance of keeping the attention of its audience if it involves some degree of interaction between the audience members and the one delivering the presentation. You can ensure your presentation makes a stronger impression by asking questions while delivering it.
More importantly, consider asking questions about the audience members' feelings on the topic. Instead of asking them to demonstrate they've been listening to what you're saying, ask them to discuss their opinions on the subject.
For example, perhaps you're giving a presentation to a team of managers on ways your organization can boost employee morale. Asking your audience members what they think can be done to achieve this goal allows them to participate in the presentation in a manner that may pique their interest and attention.
Creative Presentation Ideas: Use Video Templates
Do you tend not to incorporate video into your presentations because you assume that it will require hiring a production team? Powtoon solves this problem with video templates that make producing videos an easy (and affordable) process – even if you have no video creation experience. Sign up today to try it for yourself.

The following two tabs change content below.
Hanna is Powtoon's Content Marketing Strategist. She joined Powtoon as a copywriter in 2019, after graduating from university with a specialized degree in marketing and business. She continues to inspire people to create incredible video content with blog posts, videos, guides, and more. Hanna's passions include reading, singing, and caring for animals (#proudvegan). Nothing makes her happier than waking up to her two black kitties who, contrary to popular belief, are good luck!
Latest posts by Hanna Abitbul (see all)