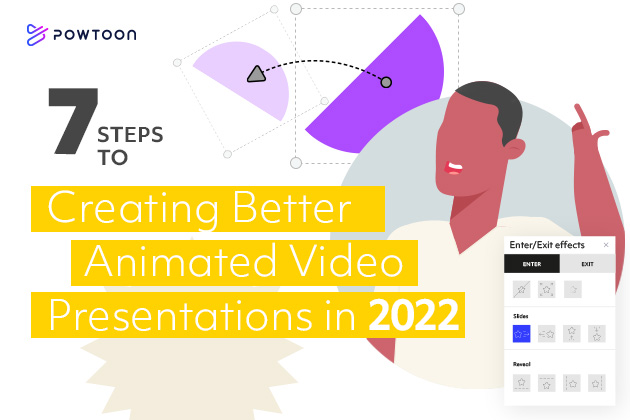 7 Steps to Creating Better Animated Video Presentations in 2022
Read Time:
3
minutes
Are you dreaming of creating stunning animated video presentations without having to dig deep into your pockets or receiving a master's in design?
I mean, who isn't these days? The world seems to ceaselessly create mind-blowing videos on the go, and trying to keep up with the newest, flashiest content can honestly feel TRÈS intimidating.
Well no more! Powtoon is here for the rescue, and in just a few simple steps, soon you will be the hero people turn to for guidance creating video presentations.
1. Select An Animation Style
Depending on the occasion, your audience, and the message you want to convey, your presentation will need the appropriate look and feel. But no worries because Powtoon has left no stone unturned and made sure to offer five different presentation options, so all your needs are covered.
Cartoon
The playful, lighthearted Cartoon style is an excellent choice for breaking up long presentations, learning materials, and recapturing lost attention.
Whiteboard
Unlike any other animation style, Whiteboard animation lets ideas unfold in front of the viewers and thus captivates anyone for a much more extended period. Did you know that it even boosts information retention by 15%! Simply perfect for explaining complex topics while allowing you to get away with longer-than-average pieces. 
Modern Edge
This look can do it all— corporate, small business, personal and more.
If you are looking to create branded characters that represent the diversity of your employees or students, then Modern Edge is definitely your cup of tea. 
Real
Created through stunning stock images and videos, the Real Style is a highly professional look. It makes an excellent choice for business meetings, corporate gatherings, or more serious announcements.
Infographic
Have you got lots of data to present in your next meeting? Your numbers presentation doesn't have to be overwhelming or boring. Infographics allow you to present information in a way that's easy to consume and retain
2. Customize your template
Presentation is important, and Powtoon recognizes that every topic requires its own unique style. Choosing the right template is crucial to capturing the attention of your audience, keeping them engaged and informed, whilst also imprinting the message in their minds. Keep your viewers mesmerized by your video creation, using each template, its design, music and animations. Scroll through Powtoon's template gallery to get a taste of the mind-blowing videos you could make.
3. Music makes magic!
Choosing the right song can make or break your project. That's why Powtoon's music library is filled with thousands of prime sound effects and highly qualified stock music. Simply press the search button, find your mood and start creating. We even have the option to upload your personal music or include a voiceover!
And yes, for those that were wondering. To ensure lip-smacking video quality, we suggest you choose your music BEFORE you start editing. That way, your animations will align perfectly with every beat.
4. Nail Your Message
Make sure you have ONE clear message that speaks throughout your entire video. The less fluff, the better. A clear message will ensure your audience stays engaged while better understanding and retaining your content.
5. Flash That Logo
Yes, nothing is more important than showing your brand, so don't be shy to flash that logo. With Powtoon's customizable templates, your company can easily include brand colors and upload the logo, even on character's clothes! Talk about flaming brand awareness.
6. Keep it short
Short and sweet is the way to go if you want your audience's full attention. Powtoon's customizable templates already have the perfect time length and ensure you don't go overboard. Depending on the content of your video, the presentation time will vary. Just remember to be concise and direct, and you are on the right track!
And just to add icing to the cake, here is a BONUS TIP!
7. Save Your Favorite Scenes
Didn't you just love that animated logo transition at the beginning of your recent video and want to reuse it in another project? No problem, with just one click Powtoon, allows you to save time by saving scenes. Because everyone knows, time is money!
Ready To Create Animated Video Presentations That You Are Proud Of?
It's never too late for a new year's resolution. 2022 is your year to start creating dazzling animated video presentations that you are TRULY proud of, and Powtoon will be there every step of the way to ensure that happens. Sign up to Powtoon and get started creating impactful animated video presentations today!
The following two tabs change content below.
Michal Sanders
Michal joined Powtoon as a Content Marketing Intern. She loves to bake, shop, and hang out with her friends. Michal is happiest when she is by the beach with friends having a BBQ. Michal loves to start every morning with a good cup of coffee and catch up on the latest feeds.
Latest posts by Michal Sanders (see all)