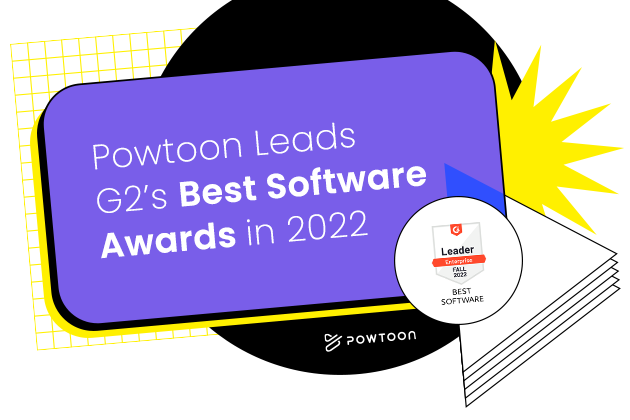 Powtoon Leads G2's Best Software Awards in 2022
Read Time:
3
minutes
It might seem daunting to create content and edit a video to make it look professional and engaging. But I'll let you in on a little secret! If you are working with the right software, software that is simple and easy to use that produces professional results every time, video creation and editing is going to become your new hobby and only mode of communication!
And that's where Powtoon comes in! Ranked highly by G2, one of the top peer-to-peer review sites, we are proud to announce that Powtoon has been granted multiple awards across a variety of categories in the creation space.
So why not use one of the industry leaders in video content and creation to transform your communications. Here's a look at what Powtoon is ranking for:
Content Creation
What is at the core of any video? It isn't the animation and the fun colors and sounds, but the actual content itself. You want to make sure that the software you are working with either provides inspiration or can service the amount of content you wish to include in your video. Whether you have a pre-existing idea or need a little bit of guidance, content is key!
Powtoon has been awarded as both a leader and high performer in content! Powtoon received the award for Enterprise Leader for Content Creation as well as being a High Performer for E-Learning Content.
Presentation Quality
It is the presentation software which allows businesses and clients to create clear, engaging and informative presentations, an important tool for any enterprise. When creating a presentation or video demonstration, don't settle for less than the professional and quality outcomes.
The key is having an easy-to-use software if you are a beginner video creator, as well as a software that provides experts with everything they need to produce a quality video. You want to make sure that the download quality is clear and precise.
Look no further than Powtoon, awarded High Performer Enterprise for Presentation.
Animation
What is the most enjoyable part of creating a video? Adding in all the animation – the twists and turns, the ups and downs, the appearances and disappearances. Animation is what dazzles, excites and engages your audience, keeping them entertained and informed. You want to make sure the video presentation platform you have selected provides you an endless variety of animation options that give your video that little extra something.
And who better to be awarded Leader in Animation than Powtoon! Powtoon prides itself on its endless animation possibilities, growing from the most simple movements to intrinsic motions of objects, customized characters, text and more, integrating a variety of styles and themes to suit any need.
Course Authoring
The time has come to shred all those long documents that put people to sleep! Excite your new employees, prospective clients and more with video presentations. Prepare educational material courses, whether it is onboarding a new employee or a demonstration of a new IT software. Ditch the documents and create videos, and revolutionize your general communications to be more accessible and easily understood.
And what is the best platform to use for course authoring? Powtoon! Awarded Leader in Course Authoring!
Start working with the best!
Start your video content and creation journey now, with one of the industry's leading platforms, Powtoon! Go on! You will never look back!

The following two tabs change content below.
Michal Sanders
Michal joined Powtoon as a Content Marketing Intern. She loves to bake, shop, and hang out with her friends. Michal is happiest when she is by the beach with friends having a BBQ. Michal loves to start every morning with a good cup of coffee and catch up on the latest feeds.
Latest posts by Michal Sanders (see all)