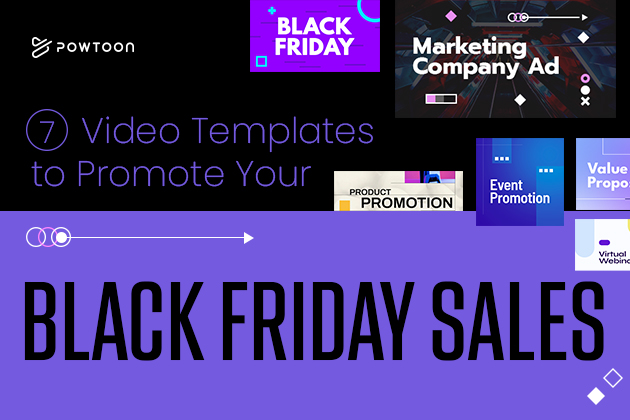 7 Video Templates to Promote Your Black Friday Sales
Read Time:
4
minutes
It's that time of year again! Credit cards are out, businesses are preparing, and shopping centers are not going to know what hit them. Black Friday is the day that most people look forward to all year long! With huge sales, an abundance of stock, and the keenest shoppers of the year, Black Friday is a day businesses do not want to miss out on!
In the weeks leading up to Black Friday, it's crucial that businesses promote themselves in order to draw in potential shoppers and clients. And with today's technology, there are so many unique and exciting ways to promote your Black Friday sales. But the most awesome way?
Here's how you can use video to take advantage of Black Friday:
1. Video Ad Template
Video advertising allows you to show off your service in a dynamic and exciting manner. A video is a great way to pump up your audience and draw them to your store through an exciting demonstration of your service. Share a story, build emotion and a connection between your service and your audience, and what better time to do it than for your Black Friday promotions?!
Fun fact: Did you know that 78% of marketing professionals say that video advertising actually boosted their sales?
Video advertising is also an efficient way of spreading your message far and wide! Through various social media platforms, your video can be liked and shared, reaching millions of people in a manner of seconds! So why not utilize this method to your greatest advantage and create scroll-stopping videos?!
2. Product Promotion
Transform a boring advertisement into an exciting video to promote your product! Use exciting animation, bold colors, and awesome music to give your product that little something extra to stop your audience from scrolling past your posts!
Use this product promotion template to show off your product and excite your audience into purchasing it!
3. Visit Our Location
All is fine and dandy that you have a product to sell, but people need to know where to shop! Whether you are a massive chain or a small store, an explainer video identifying your store's location or locations is a key factor to drawing customers to your door. So don't let your customers miss out on your Black Friday sale! Show them where they can find you with this customizable video template.
4. Value Proposition
If you are reaching out to new customers, a video presentation is an invaluable tool to convey information. This Black Friday, show customers why your company is trustworthy and reliable with a clear expression of results and data! Creating an infographic video of your value proposition allows you to broadcast your successes, results, and any other data in an informative way that reminds customers why they should choose your product!
5. Event Promotion
Are you having an in-store event or perhaps a pop-up sale? The days of paper invitations are gone! Broadcast your upcoming Black Friday events and impromptu sales through an awesome video. Give your customers something to look forward to with a pump-up event promotion video or a personalized invitation and have the word shared far and wide!
Use this template to create a mind-blowing event promotion this Black Friday!
6. Webinar Invitation
Are you planning to host a webinar around the time of Black Friday? Make the most of Black Friday promotions and send out webinar video invitations and discounts to your audience! Using video, you can inform, enlighten, and amaze your audience with an awesome webinar invitation they can't resist!
Use this template to broadcast your upcoming webinar event and blast your audience with an irresistible discount.
7. Keeping It Simple
If you were looking to keep things simple and fresh, focusing just on your Black Friday sale promotion, look no further! Create a scroll-stopping video and keep your customers in suspense with an awesome promotion of your Black Friday Sale!
Share scroll-stopping videos this Black Friday
Society is always on the hunt for the new hot product on the market, so why not make yours be the one that has their thumbs stop scrolling on social media?! Excite and engage with an awesome product video!
Fun Fact: 96% of people turn to video to learn more about a product, so give the people what they want!
There are so many advantages to using video to promote your product or service! Powtoon can guide you through the process to ensure you stand out above the crowd! Make the most of this Black Friday and start creating now!