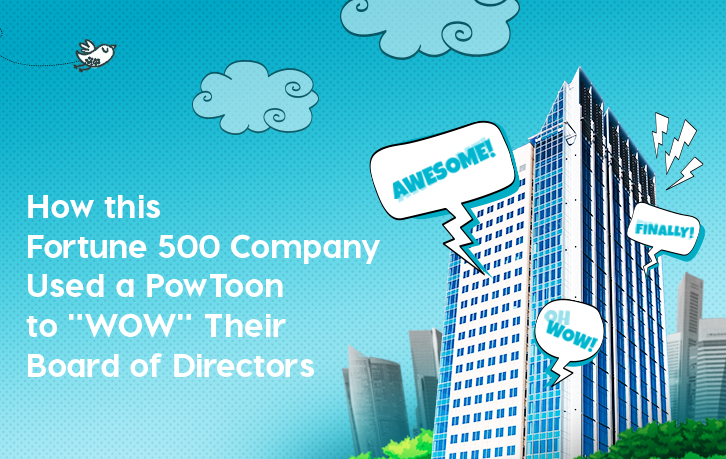 How Andy Used a Powtoon to Successfully PITCH His Fortune 500 Board of Directors
Read Time:
< 1
minute
Andy & Don needed to pitch a new idea to Navistar's board of directors…and instantly won them over by doing THIS. They had been working hard on a new strategic initiative to implement into Navistar called the "Connected Experience."
I'm sure you see a Navistar product every day: The yellow school buses and semi-trucks you see on the road are made by Navistar!
When Andy & Don were only given a few days notice to pitch the idea, they had to move fast. More importantly, they needed to convey the complexity of the idea in the most concise, engaging way. So Andy and Don made a brilliant Powtoon.
I made a short Powtoon of their inspiring story, so YOU can learn his technique on how to instantly WOW your audience, too:
How have YOU successfully used Powtoon in YOUR work?
We'd LOVE to hear from you: Let us know about your Powtoon success in the comments!
This is also a perfect opportunity to ask the Powtoon team ANYTHING! We'll reply to as many comments as we can : )
Stay awesome,
Ari
The following two tabs change content below.
Ari Sherbill
VP Business Development @Powtoon. Ari's known as the "High Energy Guy" who currently advises Fortune 500 companies, Hollywood Studios and over 5,000 executives and business owners every month how to increase their leads, engagement and sales with Powtoon. He's spoken on stage with MGM, the Sands Hotel, 3M and Oracle. NASA referred to his strategies as "fresh and intriguing". Learn how to grow your sales and impact by following me on twitter: @AriSherbill
Latest posts by Ari Sherbill (see all)