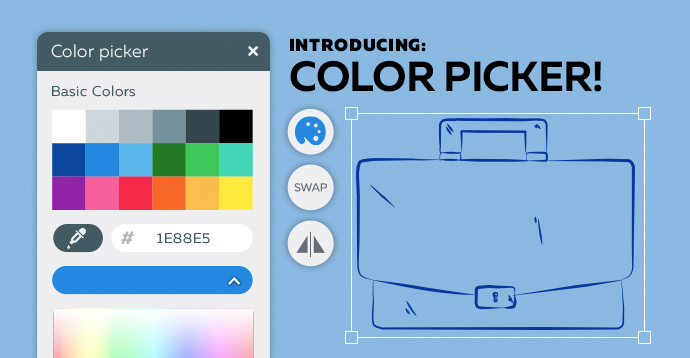 Now You Can Customize Your Brand Colors in Powtoon – Customize Your Brand Colors
Read Time:
< 1
minute
Hey, it's Ari from Powtoon with a brand new rocking and rolling feature you are going to love!
Because you've been asking us to help with these 2 questions:
1. How can I make a Powtoon that's customized to my BRAND COLORS?
2. How can I instantly change the colors of elements in my Powtoon?
Today, we're giving you the answer!
Because we just released our brand new 'Color Picker'. It lets you customize ANY single-color element to match your brand – YES!
Here's how it works:
1. Look for the 'Color Picker' icon for your backgrounds, single-color props, and even characters like our new style 'SKETCHING'
2. Click to choose your color
3. Now you can add your brand's color code
…and you're done!
Forget hiring some agency to customize your video to fit your brand – now you're the full stack genius design agency! That's the power of Color Picker.
Go ahead and WOW your colleagues and clients with an attention grabbing Powtoon that fully matches your brand.
The following two tabs change content below.
Ari Sherbill
VP Business Development @Powtoon. Ari's known as the "High Energy Guy" who currently advises Fortune 500 companies, Hollywood Studios and over 5,000 executives and business owners every month how to increase their leads, engagement and sales with Powtoon. He's spoken on stage with MGM, the Sands Hotel, 3M and Oracle. NASA referred to his strategies as "fresh and intriguing". Learn how to grow your sales and impact by following me on twitter: @AriSherbill
Latest posts by Ari Sherbill (see all)