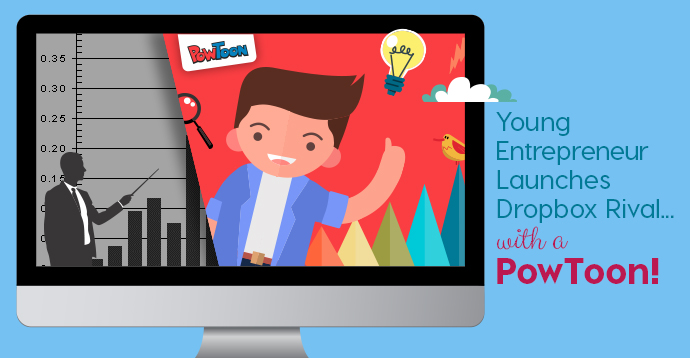 Young Entrepreneur Launches Dropbox Rival… With Powtoon [Case Study]
Read Time:
2
minutes
"How do you get an investor to invest in your new business?"
Young entrepreneur Doug Mason (CEO, founder of Nethervault) needed to present his cutting edge dropbox rival to a potential investor… and was presented with the big challenge: What does he say and how does he say it..? so the investor jumps up and says: "Please let me invest in you and don't show this to anyone else!"
Nethervault is a game-changer in the secure data storage space. Why? Because Doug created something that not even Google Drive or Dropbox uses:
Cornea Biometric Encryption Technology (eye scan security)
So it was crucial that Doug get his message across in the most powerful way. He made the smart decision to make a short Powtoon and got the exact result he was looking for.
Doug "Pitched with a Simple Powtoon"…That Made a Big Impression on Investors
I sat down with Doug to learn more about his success. Watch this fun "Powtoon Interview" I did from when we spoke:
Sure, you could make a boring powerpoint or keynote but it would look just like everyone else's, and take forever to convey the concept. And sure, you could make a "direct to camera" video but you'd need professional lighting, editing and a fancy microphone. Unless you have the expensive gear or years of video experience, you'll have a tough time making a captivating and gorgeous creation fast.
Or, you could easily make a short Powtoon. Which is like getting an entire design and animation team, right at your fingertips.
That's how Doug WOWED his investors and professors. Yep, you read that right, professors. This genius is only 19 years old. Remember when Doug becomes famous and how you saw him here first. I'm totally serious – watch out for Nethervault's upcoming rise.
Let me know in the comments how YOU plan on WOW'ING YOUR audience.
Please note: This blog post was originally published on February 17, 2016, and since has been edited for clarity and functionality. Powtoon Blog Editorial Staff.
The following two tabs change content below.
Ari Sherbill
VP Business Development @Powtoon. Ari's known as the "High Energy Guy" who currently advises Fortune 500 companies, Hollywood Studios and over 5,000 executives and business owners every month how to increase their leads, engagement and sales with Powtoon. He's spoken on stage with MGM, the Sands Hotel, 3M and Oracle. NASA referred to his strategies as "fresh and intriguing". Learn how to grow your sales and impact by following me on twitter: @AriSherbill
Latest posts by Ari Sherbill (see all)