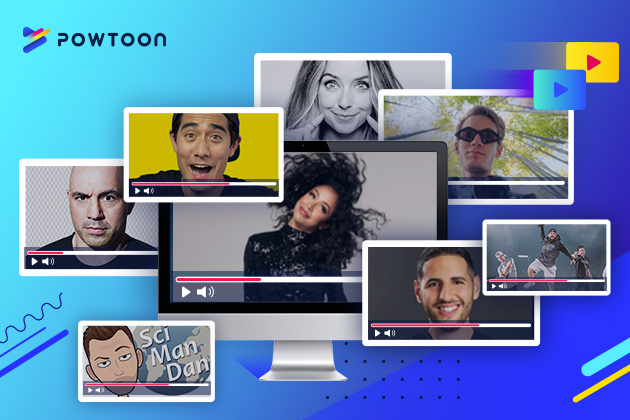 8 Top Video Influencers We Can't Get Enough of for 2019
Read Time:
4
minutes
Being considered one of the top video influencers for 2019 isn't just about having the highest subscriber count… although, that can't hurt. This list includes the heaviest hitters, for sure, as well as a few up-and-comers who will be vital to video in 2019. Why? Because being a video influencer is really about finding a unique voice that speaks to a specific audience in a way that they love and respond to.

Still don't know what I'm talking about? No problem! I came with visual aids. Here are the eight top video influencers for 2019!
PewDiePie — 94 Million YouTube Subscribers
PewDiePie is an original. Forging his following with offhand remarks while gaming, and building an irreverent comedy empire all his own, PewDiePie is the individual with the most subscribers on the entire YouTube Platform.

Of course, you can't be this big without some controversy, including accusations of racial insensitivity and a very public battle with the rival YouTube channel, T-Series.

Love him or hate him, PewDiePie is one of only a handful of YouTube channels to surpass the 50 million subscriber mark, earning him a ruby play button. Awesome work, PewDiePie!

Dude Perfect — 41.2 Million YouTube Subscribers
Take a few buddies, add some challenging-but-trivial task to complete, and multiply by video… what do you get? Dude Perfect. Whether you enjoy the bro-ish repartee or the mesmerizing stunts they film, their audience on YouTube has grown to over 40 million subscribers. (For scale, that's bigger than the population of Canada!)

Their most popular video depicts the most complex rube goldberg device I've seen in a long time, all triggered by a blind ping-pong ball toss. Enjoy:

Liza Koshy — 16.7 Million YouTube Subscribers
One of two former Vine stars on our list (more on that a little later), Liza Koshy uses humor and her naturally playful attitude to keep her fans faces glued to her channel. All that love has even elevated her show, interviewing world leaders and more.

But the best way to get to know her one-of-a-kind style is to watch her work. Here's one of her most viewed videos, "World's Best Beauty Hacks."
Joe Rogan — 16.3 Million Followers
Joe Rogan has had a varied career. From his standup, to his role on '90s sitcom News Radio, to the insect-ingesting reality franchise, Fear Factor — Joe has always brought his signature big-dumb-lovable-ape persona. But hiding behind that mask is someone with endless curiosity, and the courage to make his voice into one of the most popular podcasts online today.

Between his Instagram, YouTube, and Twitter accounts, Joe boasts over 16 million followers, and some of his most popular episodes have millions upon millions of listens.

What makes Joe a video influencer, not just a podcast influencer, you ask? It's simple: when he records an episode of the Joe Rogan Experience, his trusty producer, Jamie, switches on the cameras, and they live-stream every episode on YouTube just for kicks. Millions of Joe's followers enjoy engaging with this extra dimension of the show. The live video puts the audience right inside the studio with Joe's eternal list of taste-makers and industry leaders.

Enjoy his most popular (and possibly weirdest) interview ever: Elon Musk:

Nas Daily — 12 Million Facebook Followers
Here's what you do: set a goal and achieve it. Well, that's what Nuseir Yassin (a.k.a. Nas) did when he launched his Nas Daily Facebook page. His goal: make a 1-minute video every day for 365 days. Well over 1,000 days later, and he's still going strong.

We even got a chance to connect with Nas the last time he visited Tel Aviv.
(Pro tip: Don't want to miss it when we meet these influencers in-the-flesh?Follow Powtoon on Facebook!)

Zoella — 11.8 Million YouTube Subscribers
If you've ever wanted a sweet-as-sugar personal style guru, but you don't want to take yourself too seriously, then Zoe Sugg (Zoella, to you and me!) is your influencer!

Beginning her work while toiling away as an intern for an interior design company, her blog had tons of followers by the end of that first year. And it wasn't long before she founded her original YouTube channel. She's built additional channels, partnerships, lifestyle brands, and published two books on top of it all, but her YouTube presence remains strong and influential.

Notice how well she works with other YouTubers to build her presence! Here's her most popular video with special guest Miranda Sings (over 23 million views so far!):
King Zach — 3.7 Million YouTube Subscribers
King Zach is the rare talent who can gain popularity on one platform, and transfer it to another. Our tech landscape is littered with the MySpaces and Friendsters of this world. And each defunct platform had its own class of influencers, whose influence normally vaporizes with the undoing of their platform of choice.

Vine was where King Zach built his name — a once beloved, but now shuttered, video social network that limited its creators to videos only 6 seconds in length. Think a video Twitter. When Vine shut down, King Zach continued kinging, taking the show to YouTube.

He uses clever camera tricks to draw his viewers into a visual magic show. In fact, in his most popular video he reads his audiences' minds…

SciManDan — 160,000 YouTube Subscribers
SciManDan fights the forces of disinformation on YouTube by directly responding to flat earth videos with established physics. His follower count is smaller than some others on our list, but he's been growing at an insane clip, picking up his last 60k subscribes in less than three months.

But the real reason SciManDan makes the list is that he is truly an influencer. His wry sense of humor contrasts with the often hysterical tone of his subjects. He puts batty conspiracies and anti-fact movements in a powerful context. He is influencing the conversation in favor of facts, reason, and the scientific method — truly using the power of video to make the world a better place!

Here's his most popular video, which takes a look at the kind of "experiments" flat-earthers conduct…

Did I Miss Anyone?!
So that's my list for the day. What about you? Did I miss a crucial video influencer in 2019? Got a YouTuber you never miss? Got someone who posts the greatest 'grams in the West? Let me know in the comments below!
The following two tabs change content below.
Nick Liebman
Nick is Powtoon's Head Creator for Video & Learning. He joined Powtoon as head copywriter in 2016, after his previous blog was voted one of the top 8 CRO blogs on the internet by Digital Marketer. He continues to churn out awesomeness for all Powtoon users via blog posts, tutorials, webinars, videos, and more. Before working in technology full-time, Nick honed his skills in the unlikely world of music and non-profit work. He holds a B.A. in Music from Grinnell College and an M.M. in Music Composition from Butler University, and has performed his and others' music all over the world.
Latest posts by Nick Liebman (see all)