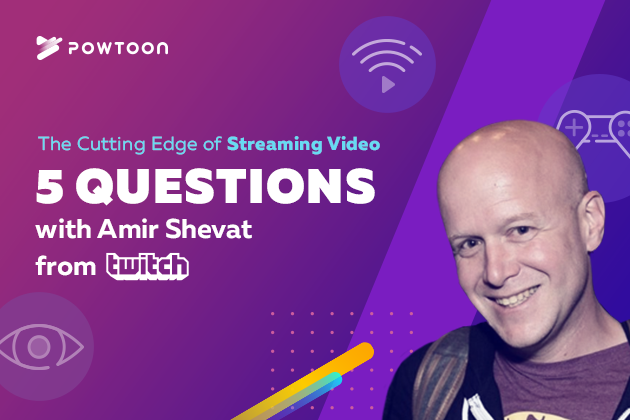 The Cutting Edge of Streaming Video — 5 Questions with Amir Shevat from Twitch
Read Time:
4
minutes
Streaming video is fast becoming ubiquitous. In fact, the technology is spreading so fast, there are entire communities of professional gamers you've never heard of, streaming their gameplay to millions of followers.

Let me take that back! With over 434 billion minutes of streaming video viewed in 2018 on Twitch, you probably HAVE heard about this amazing phenomenon.

Something this awesome always has awesome people behind it, and Twitch is no exception. I got to steal a few moments with Amir Shevat, VP of Developer Experience at Twitch, and I asked him five (actually, six) questions to get a glimpse at what makes Twitch so game-changing, and how Amir thinks about video, communication, and the future of the industry.
Question 1: Tell me about yourself! How you got to where you are today?
How did I get here? By car! No, just kidding. I'm a startup guy and a software engineer. I've worked in small startups; I've worked in big organizations. No matter what project I'm working on, I have fun — and I really love to innovate and work on developer platforms.
Question 2: Your title at Twitch is VP of Developer Experience. What does that mean?
Yes, the title might be a little confusing, but what I do it very simple.

Basically, I'm a VP of Product. Twitch has multiple product pillars. There's the streamer-facing, the viewer-facing product, and I'm responsible for the developer-facing product.

That includes working on the tools and services that developers need to build on top of our product. I'm responsible for all the APIs that Twitch has. I'm responsible for the identity service that connects between the Twitch identity and the game identity, for example. And I'm responsible for apps like our marketplace (our apps are called Extensions), which helps developers extend Twitch by adding more functionality.

The majority of my team are engineering and product people. I also have developer relations and data science, and a lot of other functions.
Question 3: How do you use video to communicate internally or externally at Twitch?
In the end, I truly believe that a company that uses its own product is a better company.

Amir Shevat, Twitch
On my team, we use video to engage with our developers. Once a week, we release our own developer outreach content, and we have a Twitch channel where we show developers how to build on our platform, and interview developers who have built on the platform.

It's definitely an intentional move to use Twitch to communicate about Twitch. I think the key is that you want to use your own tool to engage if possible. I've taken that along with me in all my work. For instance, at Slack, we had a Slack channel for talking to our top developers. Working like this makes the value of your product clear through experience.

In the end, I truly believe that a company that uses its own product is a better company. I've seen instances where that is not the case, and that's bad.
Question 4: What is your top prediction for streaming video in the year ahead?
My top prediction for the year is that streaming entertainment is going to grow even beyond what it is today. And it will be a common thing that everyone uses all the time. Basically, all of us will be experiencing streaming video every day, and I think games and the experience of community and online streaming will be a major part of our everyday life.
Question 5: Being a more effective communicator is high on the list for all of us. What are your top communication tips?
Tell a story to a person in a way that they empathize with it.

Amir Shevat, Twitch
What I really prefer is clear and concise communication. I think a lot of people try to add more — and more is actually less. I think if you are clear and concise, that is one of the most useful traits you can have.

The other advice that I have is to tell a story to a person in a way that they empathize with it. Start with the "what's in it for me?" perspective from the other person's side. Startups will often come to an enterprise and say, "Hey, you should use our product, it's awesome because of one, two, and three." And that is not the right way to communicate. The right way to communicate is, "Hey, we think you have these three problems, and we can help you with your problems. Let's start the discussion and see if that's true."
Bonus Question: If you had to restart your career from scratch, what's the first thing you would do?
What's the first thing I would do? I would do the same thing again. I would go to a startup and try to innovate as fast and as fun as I can. I would learn how to code and learn other professional skills I need… and enjoy the ride!
Thanks, Amir!
A huge and awesome thanks to Amir for taking the time to answer these humble questions. Whether we're looking ahead to the coming ubiquity of streaming communities, or just thinking about the best way to connect with people through empathetic communication, these are the ideas floating around at the cutting edge of technology and culture.

Want more? Keep up with Amir on LinkedIn, Twitter, and Medium.

What's YOUR communication philosophy? How about predictions for the year ahead in your industry? Let me know in the comments below!

Stay awesome!

The following two tabs change content below.
Nick Liebman
Nick is Powtoon's Head Creator for Video & Learning. He joined Powtoon as head copywriter in 2016, after his previous blog was voted one of the top 8 CRO blogs on the internet by Digital Marketer. He continues to churn out awesomeness for all Powtoon users via blog posts, tutorials, webinars, videos, and more. Before working in technology full-time, Nick honed his skills in the unlikely world of music and non-profit work. He holds a B.A. in Music from Grinnell College and an M.M. in Music Composition from Butler University, and has performed his and others' music all over the world.
Latest posts by Nick Liebman (see all)