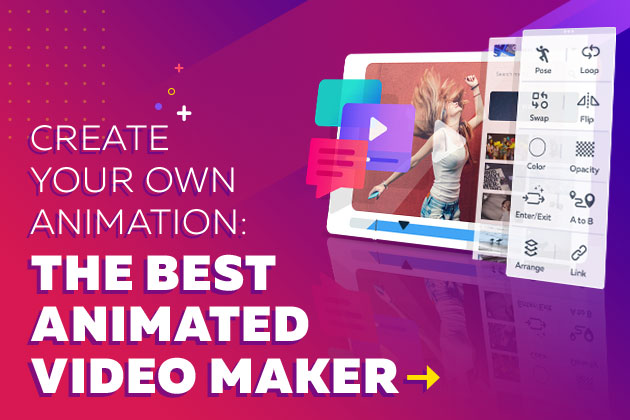 Create Your Own Animation: The Best Animated Video Maker
Read Time:
2
minutes
Creating your own animation used to require a ton of time, money, and advanced video editing skills. Today, with the help of Powtoon, you can make an animated video in minutes. Powtoon is the visual communication platform that gives you the freedom to create professional and fully customized videos your audience will love.
Keep reading to learn how to make your own video animation with Powtoon.
Step 1: Select an Animated Template
Powtoon offers a large selection of user-friendly animated video templates fit for any project. You can use Powtoon to build video content for any of the following industries:
Marketing

Sales

Training

Internal Communication

HR

Education

and more
Step 2: Edit the Template
Edit your template! Tell your own unique story. Customize your video with animation, images, footage, soundtracks, and more.
Drag and drop
characters or props into the animation maker, and bring your vision to life!
Step 3: Share Your Video
You're finished! Share your video on your website, social media platforms, and more. Choose​ between
Slideshow
​ mode and Movie mode as well as export your animation as an MP4 movie, play on the web, and even upload to
YouTube
or
Wistia
.
Create your own Animated Video for with Powtoon
The best part about Powtoon's online video editor is that you can make videos for free! You don't need any experience or skills in creating animations. You don't​ need to download any software to your computer, you don't need to learn Flash, and you don't​ need to learn Photoshop. ​All you need to do is log in to Powtoon and begin creating your very own animated video. Sign up for free today! 
The following two tabs change content below.
Powtoon's Social Media/Online Marketing Manager extraordinaire who loves to provide the Powtoon Community with amazing, fun, engaging, and informative content!
Latest posts by Jordana Pepper (see all)