Four Easy Tips That Ensure You Always Pick The Right Video Template
Read Time:
4
minutes
I know that choosing a video template is often easier said than done. Even though there are hundreds of free templates at your fingertips, finding a suitable template for your specific projects can sometimes feel pretty overwhelming. Especially if you don't have the time to investigate.
So it's time I'll let you in on these four juicy Powtoon tricks so you can be sure to choose the perfect template EVERY SINGLE TIME.
Let's go!
1. Pick a Template According to Your Field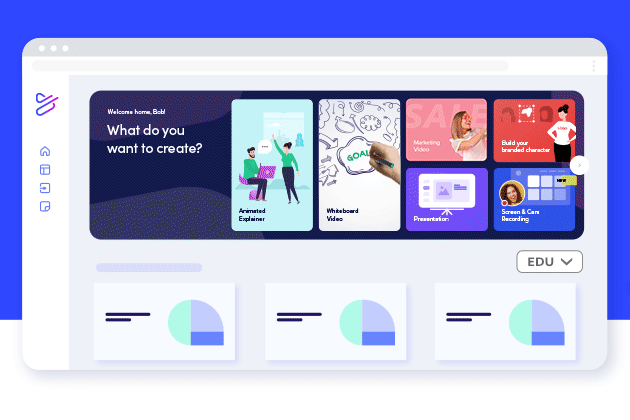 If you are on the time count, picking templates based on the field you are working in will immensely speed up your choosing process. Whether you are a business owner, student, employee, working in education, HR, L&D, sales, marketing, or even the CEO of a large corporation, Powtoon's got you covered. Before you start choosing, take advantage of the category selection above your templates gallery and select your field.
2. Choose a Template Look
Once you have selected your field, you can choose between 5 types of template looks.
Infographic
Infographic style allows you to present your data in a more engaging way. Instead of overwhelming them with numbers, present information in a way that's easy to consume and retain.
Cartoon
If you want to be more playful and lighthearted, Cartoons are the way to go. A sweet reminder of our childhood and the power to educate and inform more cheerfully, cartoons make an excellent pattern interruption to recapture attention.
Whiteboard
This look will literally draw out your message! Whiteboard styles work great for any type of explainer video and make it much easier to follow complicated topics. With the right message and the key images, your audience will be captivated.
Modern Edge
Modern Edge is a more sleek and contemporary version of the Cartoon look. Suited for any type of video, Modern Edge templates can be used for corporate just as well as small businesses or school purposes. Not only that, Modern Edge characters can be customized to represent the diversity of your employees or students.
Real
Real is for those that are trying to achieve a highly professional look. It works great for business meetings, corporate gatherings, or more serious announcements. This style is perfect for highlighting stock footage, images, and your recordings.
3. Be Very Clear On What Type of Video You Want to Create
Whether you're looking to create an announcement, a CV, or a training video, knowing what you want to create beforehand helps you find that perfect template much quicker. Preparing like this also makes it easier to customize your template once chosen. In short – kill two birds with one stone.
So, let me get straight to the point and show you some examples.
HR
Perhaps you are looking to amplify your company news or create beautiful employee recognitions. This animated presentation is perfect for any upcoming project execution or announcement. Feel free to browse through our HR template gallery for more inspiration.
Internal comms
With the rise of hybrid work, visual communication should become an integral part of every company's internal communication. These templates will help you package initiatives into fresh, exciting, and bite-sized messages that employees will pay attention to and interact with. Uplift your workplace communication by announcing upcoming projects, sharing a changed management guide, or informing employees of your company's culture.
Learning and Development
Are you always on the lookout to create new engaging learning experiences for your employees? Bite-sized videos upgrade your learning to a whole new level. Whether you want to increase attendance rate with invites, create short video tutorials or guide employees through their learning process, Powtoon has got your back. Looking for additional inspiration? Have a look at our L&D template gallery.
EDU
Attention administrators, faculty, and students! This is your chance to create impactful and inspiring visual experiences that are suited for all types of audiences. From K-12 until higher education, these templates will turn everyday announcements, summaries, assignments, and presentations into a visual masterpiece. We've even got CVs for you! But, don't let me spoil all the surprises… Have a look for yourself.
Marketing
If you are looking to engage your audience with scroll-stopping videos that are enjoyable to create and quick to distribute, then I've got the perfect templates for you.
With Powtoon you can easily delight your customers, share results with co-workers, or post invites. Got a few extra seconds? Have a look at all of our marketing templates right here.
Sales
Imagine you could improve your email outreach, engage prospects, report sales, all while adding a personal touch AND staying on brand! These templates turn every customer success story, business plan, or customer onboarding into a charm. Just have a look at our sales gallery.
4. Preview Your Template and Adapt Your Script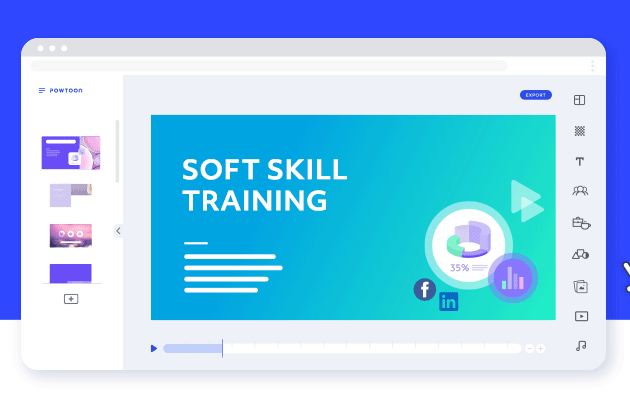 Once you have narrowed down your choices, it is time to draft your script. Roughly jot down your key message onto a piece of paper or document and select a template of your choice. By clicking on the preview option, you can watch each template and adapt your script as needed.
Mission Accomplished
Hurray! Congratulations on finding the template of your dreams. Now that you have got these four steps covered, you can use them to help you pick the perfect template every single time.

Sign up for free and give it a try today. Ready for even more? Check out our new guides to learn how to use video in your team's communication strategy.
The following two tabs change content below.
Hannah Elishevitz
Hannah is a marketing intern at Powtoon. To her, nothing is more exciting than trying out new things. She has a passion for cooking, painting, great books, and sports. Making new friends and claiming new skills is her specialty. She is a big believer that everything happens for a reason and hopes to make people smile wherever she goes.
Latest posts by Hannah Elishevitz (see all)