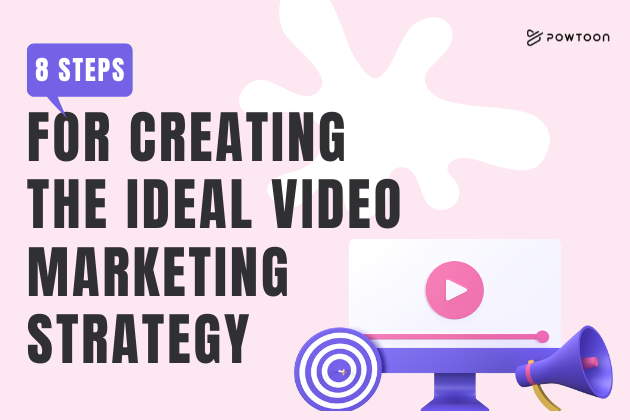 8 Steps for Creating the Ideal Video Marketing Strategy
Read Time:
3
minutes
Eighty-six percent of businesses use video marketing. Its use has exploded in recent years for many reasons, but most of all – because it's effective! But with so many companies vying for viewer attention, producing a video isn't enough. You need a clear, well-planned strategy to stand out from the competition. Here's how to develop a video marketing strategy that works.
8 Video Marketing Strategy Steps for Your Next Campaign
1. Analyze the Competition. What are other brands in your field doing? What types of videos are they producing? What platforms are they using? What part of the sales funnel are they targeting? While you won't have complete insight or analytics, you can evaluate things like video length, client engagement, and feedback on social media channels to give you a good idea of what works for your shared customer base. You'll also get a glimpse at what doesn't work.
2. Set Goals. You can't create a strategy or measure its success if you don't have clearly defined goals. Do you want to generate more leads? Grow your social media following? Increase web traffic? Cultivate sales? Address customer questions or concerns? Narrow down your goal, identify your target audience, and set some key performance indicators (KPIs) so you can evaluate the success of your video marketing efforts and make adjustments mid-campaign if necessary.
3. Choose a Video Marketing Strategy Based on Your Target Audience. Your target audience will drive your marketing strategy and define the type of video content you produce. Are you trying to develop trust? Focus on testimonial videos from satisfied customers. Focusing on expanding your reach? Make social media videos that have the potential to go viral. Demonstrating how to use your product or disseminating informative content? Use an animated explainer or educational video. Your audience segments may engage with the video search ads, social media ads, blog posts with embedded video, or other online video platforms depending on their search intent.Use available analytics from your target audience to identify where you'll get the best ROI on your video distribution.
4. Decide on the Number of Videos You Need for Your Video Marketing Strategy. Will you produce one video to tell your brand's story? Will you make multiple videos, each with a piece of your story? Your target audience, their viewing habits, and planned distribution channels will dictate the number of videos you produce, so make sure you've created a solid persona before diving into the video creation process.
5. Choose the Right Creation Platform. Every video creation platform has a learning curve, so choose one that will meet your needs long-term. It will be frustrating and time-consuming if you have to learn new video production software every time you launch a new video campaign. Look for a creation platform that facilitates easy collaboration, sharing, editing, and feedback. Professionally-designed templates are helpful because they allow you to easily make eye-catching, visually consistent videos when making multiple pieces of video content. And the ability to make multiple video types is ideal because no matter what video strategy you develop in the future, you'll be able to use the same video creation platform without learning new software. Look for a platform that can create whiteboard doodles, kinetic typography, animated explainer videos, live-action videos, customizable cartoon animations, and screen recordings so your options will be endless.
6. Promote Your Video Strategy. Take advantage of features that allow you to target your video ads to specific locations, demographics, or special interest groups. This helps your video reach a better pool of potential customers and viewers. Also, don't forget to include keywords! Whenever there is a description or "tag" section, add text that incorporates the keywords you want to rank for. And if your goal is to increase web traffic, always add your link in the video description.
7. Measure Your Video Marketing Strategy Performance. Don't wait until your video strategy ends to measure its success; evaluate it throughout the campaign to make course corrections as necessary! Use native tools on social media channels to identify standard benchmarks like 3-second video views, 15-second video views, and one-minute video views. Review how much of your reach is from money-backed ads or organic posts. Look at your KPIs and see if you're on target to meet your goals. If not, revisit your buyer persona and see if you should adjust your overall strategy, or if you just need to fine-tune your targeting.
8. Check Out Powtoon! Powtoon is the video creation platform to help you produce high-quality professional videos in minutes. Its web-based platform makes collaboration a breeze, and its vast library of templates guarantees there's a perfect design for every project. Experienced creators can make videos from scratch, and the video production novice can easily customize a template.
Create a Powtoon for your next video marketing strategy or get started designing today with your free Powtoon account.
The following two tabs change content below.
Hanna is Powtoon's Content Marketing Strategist. She joined Powtoon as a copywriter in 2019, after graduating from university with a specialized degree in marketing and business. She continues to inspire people to create incredible video content with blog posts, videos, guides, and more. Hanna's passions include reading, singing, and caring for animals (#proudvegan). Nothing makes her happier than waking up to her two black kitties who, contrary to popular belief, are good luck!
Latest posts by Hanna Abitbul (see all)