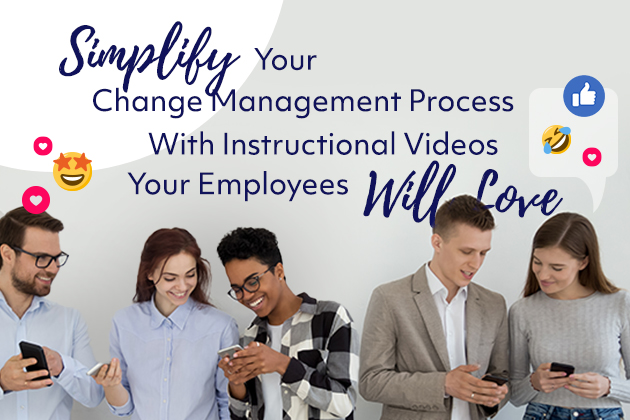 Simplify Your Change Management Process with Instructional Videos Your Employees Will Love
Read Time:
4
minutes
Implementing organizational change can be difficult. So how can L&D managers make the process easier for individuals at all levels of a company? With a video strategy! Instructional videos can simplify the change management process and help employees buy into changes their organization is making by streamlining messaging, facilitating onboarding, and getting employees more engaged in the process. Here's what you need to know.
What Is Change Management?
Change management is the process of strategically guiding employees through organizational change. An effective change management process helps facilitate employee buy-in and facilitates a smooth implementation. It's necessary to adopt a change management process for any significant change in a company, including:
Restructuring
Change in internal processes
Adoption of new tools or software
Any time a company proposes a change that affects an employee's workflow or changes their workplace experience, an organizational change management strategy is important.

Why Is a Change Management Process Important?
People naturally resist change. It's the way they're hard-wired. When an employee is presented with a change in their workplace, they immediately begin to analyze how it will affect them on an individual level. Will it result in a bigger workload? Will they lose autonomy and have to prove themselves to a new manager? Will they master the new software so they can do their job as well as they could with the old program? Will the pleasant company culture change? Is their future with the company at risk? Will their job satisfaction be negatively affected?
Because of this natural uncertainty, the first step in any organization's change initiative is to get the staff on board. This means that managers must be able to explain what the changes are and why they are being made. It's also critical to communicate how the changes will benefit employees on an individual level. Employees need to believe that any up-front learning curve or growing pains are worth the long-term gains for their individual position.
If large-scale changes benefit the CEO but result in a heavier workload or the use of cumbersome new software for end-user employees, it will be hard to get their enthusiastic buy-in. But if the management team can reframe how affected employees will personally benefit from the change, they're more likely to get on board – and also positively impact how their coworkers view the change as well.
How Can Instructional Videos Help with the Change Management Process?
Facilitating a successful change management process can be incredibly complex – but it doesn't have to be. One way to simplify the process is with instructional videos. Here are three ways they help.
1. Instructional videos streamline company-wide messaging. Clear and strategic communication is critical to getting employees on board with a new tool, procedure, or management initiative. When a company produces instructional videos to explain the benefits at an organizational level and the benefits at an individual level, the message doesn't get muddled like it could if it's left to individual managers to disseminate.

2. Instructional videos are effective for helping employees adopt new tools. New software may have the potential to lighten an employee's workload, but the idea of learning a new tool can be daunting for some employees. A screen recording simplifies the learning process by giving employees a visual demonstration and making it easy for them to adopt a new tool. 

3. Instructional videos facilitate employee engagement. Employees are 75% more likely to watch a video than read written content like email, according to Forrester Research. That means if companies want their message received, a video strategy must be incorporated into the change management model. 

Creating a change management plan helps employees at every level understand organizational transitions. While companies can implement sweeping changes from the top, doing so without careful planning for how to get employees on board will result in an uphill battle. Using instructional videos will streamline messaging and result in a more effective change management process for everyone involved.
Ready to Incorporate Instructional Videos Into Your Change Management Process?
Powtoon is the tool to simplify your change management process. Powtoon is a visual communication platform that makes video creation easy. Choose from thousands of professionally-designed instructional video templates to make a video in minutes, or create a completely custom video from the ground up with our user-friendly platform. Powtoon is loved by novice users and experienced creators alike to create whiteboard doodles, animated videos, eye-catching presentations, and instructional screen recordings. Sign up for a free account and start creating a custom Powtoon today!
The following two tabs change content below.
Hanna is Powtoon's Content Marketing Strategist. She joined Powtoon as a copywriter in 2019, after graduating from university with a specialized degree in marketing and business. She continues to inspire people to create incredible video content with blog posts, videos, guides, and more. Hanna's passions include reading, singing, and caring for animals (#proudvegan). Nothing makes her happier than waking up to her two black kitties who, contrary to popular belief, are good luck!
Latest posts by Hanna Abitbul (see all)