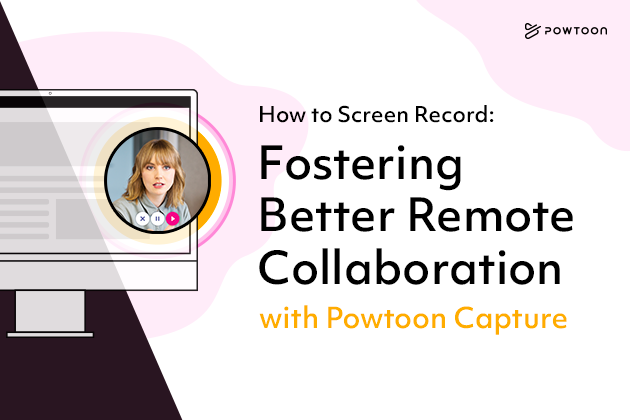 How to Screen Record: Fostering Better Remote Collaboration with Powtoon Capture
Read Time:
4
minutes
Working from home has become the new accepted norm in the world. However, that leaves room for large gaps in communication to occur when one person is working remotely while their team members are working from the office. How is a company supposed to function effectively when there is a hybrid workplace? Is there a way for communication to occur in a more engaging way that doesn't require schedules to be aligned?
Indeed there is!
Screen recording is the new conventional method of communicating within a company. Through screen recording, messages can be conveyed in a way that is clear and engaging. There is no more need to be emailing back and forth coordinating a time to meet when it can be as simple as record and send.
Screen recording also allows for easy access to the message that was conveyed, and serves as a constant reference to revert back to. It is a unique way to present a problem and highlight its solution in a visual way that is simple to follow. What is great about screen recording is that it is not limited to a specific department. Every department in a company, whether they're Marketing, Sales, HR, Customer Support, or any other department can benefit from the ease of communicating in the hybrid or completely remote workforce through screen recording. 
That's all great, but is there a way to record your screen in a professional manner?
Powtoon is here to answer your question by providing the solution: Powtoon Capture!
What is Powtoon Capture?
Powtoon Capture is a free screen and webcam recorder that allows you to make a video recording from a website, application, or anything else you can show on your screen. With Powtoon Capture, screen recording is as simple as clicking a few buttons.
Not only that, Powtoon Capture offers you multiple methods of screen recording. For those who are camera shy, or maybe having a bad hair day, Powtoon Capture allows you to record just the screen with your voice in the background. If there is nothing visually present on the screen, such as a document or image, you have the ability to record just yourself. Or, Powtoon Capture has the ability for you to record both your camera and your screen at the same time! 
And it doesn't stop there. Powtoon Capture isn't just about being able to record your screen. It is a tool to be creative whilst clearly conveying your message. With Powtoon Capture you can adjust the camera size on the screen, making sure that you don't cover an important piece of information. Moving your camera around the screen is also a unique way to highlight the important information by moving your camera closer to the relevant information and pointing to it so your team can see exactly what it is you are referencing. Powtoon Capture also gives you access to an array of video, audio, and design settings to customize your recording with engaging animation to make it more entertaining. 
So how does Powtoon Capture work?
Step 1: Download the Powtoon Capture Chrome extension
Once you download the Powtoon Capture Chrome extension, a small Powtoon icon will then pop up in your toolbar, and that is where you can access the Powtoon Capture controls.
Step 2: Select your recording method
Here is where you can select how it is you wish to record your screen. You can select to either record just the screen, just the camera, or a combination of both. This is also where you can select the design or shape of your camera.
Step 3: Record and select your screen
After you have selected your recording method, simply hit the record button and a window will pop up, allowing you to select what screen it is you wish to record. And in just 3…2…1 you are ready to start recording!
Step 4: Record!
Here is where the magic happens. Whilst recording, if you have selected the combined method of screen and camera recording, you can both adjust the size of the camera and move it around the page. This ensures that you do not block important information, and is a fun way to keep the viewer engaged.
Step 5: Capture and send
Once you have finished your screen recording, click the stop button. From there a new tab will open with a link to your Powtoon video recording. Here you can play back your screen recording, and you can share it around via Facebook, LinkedIn, Twitter, email, or simply copy the link and share it to any other platform you can think of.
It's as simple as that!
How is screen recording effective for your business?
With the world transitioning into a hybrid workforce, businesses can take advantage of screen recording as a way to simplify everyday tasks and make transmitting information a more engaging and memorable process. 
Sales
Screen Recording for the Sales department allows interaction with customers to be more exciting. Expressing a sales pitch through screen recording allows the customer to see the product or service being offered whilst following along with the camera recording of the sales representative, clearly outlining their pitch.
Marketing
For the Marketing department, screen recording can be an innovative way to demo a product for a webinar or tutorial, clearly showing its features and benefits. It is also a captivating method for audiences on social media to be enticed by the product.
Human Resources
HR is a department that is very content-heavy, with a lot of important information. Screen recording is a unique method of conveying this information in a way that clearly expresses the information for the employee and keeps them interested. For example, presenting an outline of new company goals through screen recording is engaging and informative, without needing to call for a company meeting. It is sent directly to each employee. 
Customer Support 
A happy customer means better business, and answering any questions posed by the customer is a key element to a company's success. What better way to give an informative and timely response than to have a screen recording clarifying a feature your customer may not understand, which they constantly can have access to and refer back to!
Transform Your Hybrid Workplace with Screen Recording!
Why stay stuck in the old methods of communicating? Keep information flowing in the hybrid workplace! Sign up for Powtoon to start using Powtoon Capture today!
The following two tabs change content below.
Michal Sanders
Michal joined Powtoon as a Content Marketing Intern. She loves to bake, shop, and hang out with her friends. Michal is happiest when she is by the beach with friends having a BBQ. Michal loves to start every morning with a good cup of coffee and catch up on the latest feeds.
Latest posts by Michal Sanders (see all)