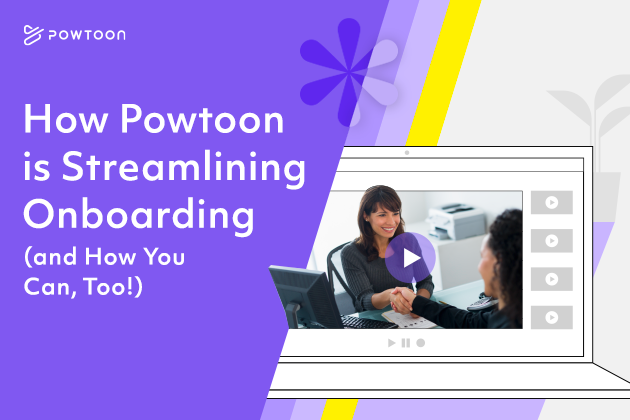 How Powtoon is Streamlining Onboarding (and How You Can, Too!)
Read Time:
4
minutes
Onboarding a new staff member can sometimes be a grueling process. Trying to teach a new hire everything they need to know about your company, team, and their role can be a lot to juggle and extremely hard to put into words sometimes. It's crucial that your onboarding process engages employees, or they may not grasp all the new information at once. With remote work being a part of the new normal, it's harder and harder to capture attention and retain new staff with your onboarding.
Here at Powtoon, we understand that struggle too. We want onboarding to be both educational and fun, and we think we have cracked the code on that balance. Our office has had the opportunity to have summer interns, and they were able to share their onboarding experiences here at Powtoon. Plus, we've got some tips on how to streamline onboarding for your own team.
Onboarding at Powtoon From the Interns' POV
The first step in onboarding here at Powtoon is to set up new staff with our extensive library of resources to help them understand the company history, mission and vision, and more. In the past, this was presented as a long PDF document featuring boring jargon to understand our business, but we've shifted our strategy to keep it light and fun by using a video template that makes new information exciting and memorable.
One of our interns, Talia, said she loved the Powtoon video provided by the company to explain how to use our site, so she could understand what the user sees before being "on the other side."
Video can also come in handy when establishing your company culture. At Powtoon, every new staff member creates their own Powtoon video to introduce themselves to the whole company. Amelia, a marketing intern, said that making her Powtoon and having everyone react in our Slack group helped her feel included in the company from day one. She loved getting to try out the software and learn it on her own while being a part of company tradition.
Both Talia and Amelia agreed that the onboarding process here at Powtoon helped ease their nerves on the first day and create a welcoming environment from the get-go. They describe day one here as thrilling and exciting and loved that their videos provided icebreakers for getting to know colleagues. They both agree that the onboarding process informed them about the company while helping them feel welcome and integrate faster into the culture.
How to use Powtoon to Streamline Onboarding
Powtoon is the perfect tool to help you with your onboarding process. We have plenty of onboarding templates for you to choose from to explain everything from company history to training and beyond. Using Powtoon can make this process a lot more entertaining and digestible. Short videos are better than long and boring documents, and they will grab the attention of new employees quickly to get them excited to start at your company. You can even personalize your videos and add custom characters to represent your team and brand. Here are some templates to get started with:
Introduce a New Team Member
Introducing new hires has never been easier and more fun. This video template was designed to make your team introductions simple, engaging, and memorable. With simple slides to update, share with your team and company the awesome people you're hiring and give them a reason to bond and start a conversation.
Onboarding Welcome
The first day at a new job can be daunting! Help new employees get up to speed with this sleek onboarding video template – popular among HR professionals! Share some fun company stats, highlight the core values of your company and provide important contact information. Not only will you get a smile from your new hires, they'll understand your amazing company culture, right from the start.
Company Mission and Vision
Share your company's unique mission & vision with your new team members. Striking visuals grab attention while focused slides help you drill down to your key message. Perfect for building your company culture and aligning everyone to your vision.
Start Onboarding Your Employees with Powtoon
Our awesome summer interns truly enjoyed their onboarding experience here at Powtoon. Our goal is to make it fun for everyone and get employees excited to get started. Powtoon can help you make onboarding engaging for you and your team. Be sure to check out these onboarding templates and try one today!