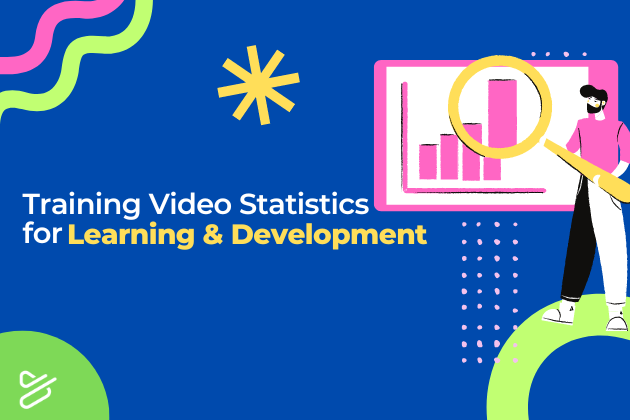 Training Video Statistics for Learning and Development
Read Time:
5
minutes
Training video statistics demonstrate the enduring significance of training and development in a changing business landscape. Videos have become an indispensable tool for online learning and upskilling, offering powerful resources to enhance employee knowledge and skills. When companies invest in the growth and education of their workforce, it leads to increased job satisfaction, motivation, and employee engagement, ultimately contributing to the company's success.
Let's delve into the compelling benefits of training videos and explore why they are an absolute necessity in 2023.
Benefits of Training Videos
The COVID-19 pandemic has accelerated the shift towards distance learning and online education, making training videos an even more valuable tool for training programs. As in-person training opportunities have become increasingly limited, companies and educational institutions have had to rely more heavily on online courses and virtual training methods. Training videos have emerged as a preferred option due to their ability to offer a dynamic and engaging learning experience remotely. Using animated videos, in particular, can help simplify complex concepts and make them more accessible to learners while still maintaining their attention. Here are some reasons training videos have become a valuable asset for distance learning and online education training programs.
More Engaging
Online education has seen a massive surge in popularity, and training videos have become a critical component of this shift. Unlike long presentations and heavy textbooks, videos are an effective and engaging method of delivering information to learners. By combining visual and auditory elements, training videos create a dynamic learning experience that can improve the retention of newly acquired knowledge. This is particularly true for younger generations who have grown up consuming video content on various platforms. Training videos offer several benefits that traditional training methods cannot match. As online learning continues to grow in popularity, it remains an essential tool for L&D teams and trainers seeking to create engaging and effective learning experiences.
A Flexible Solution for Busy Employees
Training videos are an excellent tool for organizations seeking to upskill their widely dispersed or busy workforce. In the age of online learning and remote work, online classes can be a convenient and flexible way to access educational materials. Training videos offer a convenient and accessible solution that can be accessed anytime, anywhere. With the rise of mobile learning, learners can now view videos directly from their phones or tablets, making learning more convenient. Whether used for onboarding or ongoing education, training videos are essential to online education and can play a critical role in upskilling a modern workforce.
Cost-Effective
Old traditional training methods, such as in-person training sessions or printed textbooks, are often expensive and require higher production costs, such as hiring trainers, renting a venue, and providing materials. They often need participants to travel to a specific location, which takes time from their busy schedules. On the other hand, training videos are often more cost-effective and accessible, as they require fewer resources and can be easily accessed with an internet connection.
Standardized Training Experience
One of the biggest advantages of training videos is that they allow for a consistent and unified message to be delivered to employees, which is especially important for large organizations with employees in different parts of the world. When cooperations use traditional training methods, such as in-person training sessions or printed materials, ensuring that everyone receives the same message and is taught the same skills can be challenging. Different trainers may deliver the training or vary depending on the location. In contrast, videos provide a standardized training experience, with the same message and content delivered to all employees, regardless of location. This helps to ensure that everyone receives the same training and has the same level of knowledge and skills, which can be particularly important for ensuring compliance and maintaining consistent standards across the organization.
Training Video and Online Learning Statistics
Let's take a closer look at some fascinating statistics related to training videos and online classes and their impact on learning and development in the workplace.
The e-learning market size exceeded $315 billion in 2021. 
The corporate e-learning market is predicted to grow by $37.8 billion from 2020 to 2025.
On average, E-Learning increases a learner's retention rate to 82%.
Videos under three minutes had the highest engagement, with 75% of views lasting three-fourths of the video length (Guo et al., 2014).
Watching a video with a quiz led to higher scores than just watching the video or discussing it with colleagues. (Okano et al., 2018).
Online learning helps cut CO2 by more than 85% and energy consumption by 90%.
58% of employees prefer to learn or train at their speed. (LinkedIn Learning, 2021) 
According to a survey, most employees (70%) prefer online/self-paced courses as their preferred learning mode. This is followed closely by online/instructor-led training (63%) and hybrid learning opportunities (62%). (SHRM, 2022) 
Best Practices for Creating Training Videos
Training videos are on the rise, and to no surprise. They are an effective way to engage employees in the learning and development process, whether for upskilling, reskilling, or learning a new skill altogether. However, not all training videos are effective, and if done wrong can actually hinder the learning process. Poorly designed training videos that are too long, lack clear objectives or use irrelevant content can be disengaging and frustrating for learners. Let's go over some best practices for creating effective training videos.
Keep them short and focused, usually in bite-sized lengths, it will help maintain the viewer's attention.
A mix of visual and auditory elements can enhance the learner's engagement and retention. 
Don't be afraid to include interactive elements, such as quizzes or interactive scenarios. 
It's important to ensure that the videos are mobile-friendly to accommodate learners' busy schedules and enable them to access the training on the go.
Educational institutions, large cooperations as well as small businesses can use these best practices to create engaging employee training videos that enhance learning experiences and learning outcomes.
The Future of Training Vidoes in L&D
The future of L&D will undoubtedly be shaped by technology, and training videos are likely to remain a vital component of this landscape. As virtual reality becomes more accessible and AI-powered tools become more sophisticated, training videos will likely evolve side by side with these new technologies, offering learners an even more engaging and immersive learning experience. Moreover, the use of chatbots and voice assistants will enable learners to access information and support in real-time, creating a more personalized and efficient learning journey. However, despite these exciting developments, it's crucial to remember that the training videos' effectiveness ultimately depends on how they are used. Careful consideration must be given to how technology is integrated into L&D, ensuring that learners are engaged, supported, and able to acquire new skills and knowledge effectively.
This is where Powtoon can help! With Powtoon, you can create engaging and dynamic training videos quickly and easily without requiring technical expertise. Its user-friendly interface enables trainers and educators to produce animated videos that are highly effective in delivering complex concepts and ideas in a clear and memorable way. Moreover, Powtoon's range of customizable templates, characters, and icons, combined with its extensive library of music and sound effects, enables trainers to tailor the video content to meet specific learning objectives and cater to diverse audiences. By leveraging Powtoon's features, trainers can ensure that their training videos are engaging, informative, and effective in helping learners acquire new skills and knowledge in a way that is both efficient and enjoyable.
Empower Your L&D with Engaging Powtoon Videos
In today's fast-paced world, the importance of bite-sized training videos cannot be overstated. Whether your training is classroom-led or online, short and focused videos can help learners absorb information more easily and effectively. With Powtoon's user-friendly software, trainers can quickly create a range of different video types, including explainer videos, which are perfect for breaking down complex ideas into bite-sized chunks. Powtoon's versatility is especially important in the wake of Covid-19, where the eLearning industry has experienced unprecedented growth, and many organizations have shifted to online learning to continue employee training during the pandemic. By using Powtoon to create bite-sized training videos, L&D teams and trainers can provide engaging and effective learning experiences that meet the needs of today's learners. Sign up today and revolutionize your L&D strategy with innovative and engaging training materials.
The following two tabs change content below.
Hannah Elishevitz
Hannah is a marketing intern at Powtoon. To her, nothing is more exciting than trying out new things. She has a passion for cooking, painting, great books, and sports. Making new friends and claiming new skills is her specialty. She is a big believer that everything happens for a reason and hopes to make people smile wherever she goes.
Latest posts by Hannah Elishevitz (see all)