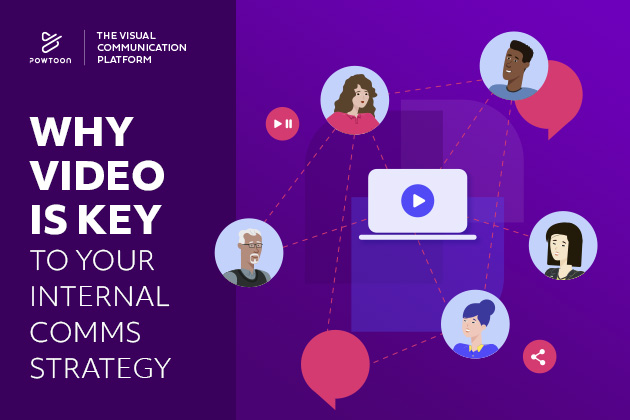 Why Video is Key to Your Internal Comms Strategy in 2022
Read Time:
5
minutes
From communicating workplace safety guidelines to celebrating company milestones remotely, corporate communications changed drastically in 2020, forcing HR teams to rethink their entire internal comms strategy. Now, more than a year into the pandemic and with the light at the end of the tunnel in sight, many companies are making remote work permanent, and some of those changes are becoming permanent as well.
If you work in corporate communications or you're an HR director, rethinking your internal communications strategy from the ground up may feel daunting. But today employee engagement is more important than ever. And keeping a clear and open channel of communication with your talent is a must. Here are some ways to reinvent your strategy for the work-from-home era (with the stats to back them up).
Incorporate Video Into Your Communication Channels Now
Put a face to the name. Meet face-to-face. Put in face time at the office. There's no shortage of work-associated sayings that emphasize the importance of in-person communication. But even in the post-Covid-19 era, many office traditions, such as introducing new employees to each member of the team, remain digital.
Even with remote workers face time is no less important than it was before. While regular team meetings over video will help employees stay connected, company-wide updates are necessary for employee engagement. At a time when employees are likely feeling digital overload between emails and messaging, visual communication can be an effective tool for clear employee communication. Incorporating regular video updates into your comm strategy can help break through the printed noise.
Not sure how to get started with adding video to your internal communications? Try one of the video templates below to get your message across to employees in an entertaining yet professional way:
Video Newsletter: It's easy to keep employees updated on

company

news with a weekly

video

newsletter. Just add your own branding and logo and swap out the text with your company's achievements.
Message from the CEO: A message all the way from the top shows employees that the C-suite is invested in their wellbeing. This template allows your CEO to put the update in her own words, adding a personal touch to

company

news.
6 Internal Communication Strategy Statistics You Shouldn't Ignore
Internal communication changed last year as teams were forced to adapt to a new corporate landscape. Much of that communication changed for the better, with employees feeling more engaged at work than they did pre-pandemic. This was due to a variety of factors, including a shorter commute and better work-life balance, but stronger internal communications was also a contributing factor. For communications teams, one of the goals now is to continue the gains made, even as life starts to return to normal. Below are 6 internal communications statistics you shouldn't ignore when putting your strategy into action.
1. Employee understanding of corporate decision-making has improved.
A Quantum Workplace survey showed an 8% increase over 2019 in employees' understanding the corporate decisions being made. Some of that can be attributed to better communication during the crisis. For corporate communications teams looking to retain that high number, the key is to keep communicating with the same frequency and honesty as you were during the pandemic.
Action item: A short but effective regular all-hands meeting can go a long way in keeping employees up to date and improving overall employee experience.
2. For better employee engagement, try regular feedback.
It's hard not to have face-to-face meetings with one's manager. But remote work doesn't have to mean a lack of feedback. On the contrary: a Gallup poll showed that remote workers who received feedback from their managers a few times per week, were more engaged than employees who received less frequent feedback, and even in-office workers who received regular feedback. Perhaps part of the reason is that more of an effort needs to be made to deliver feedback at home. Internal comms teams take note: it's time to start communicating feedback from the top down.
Action item: Try a video of five accomplishments to help communicate what your employees are doing right.
3. Employee recognition leads to happier employees
Taking the extra step to thank your employees for their hard work can make a great impact, increasing employee satisfaction by 37% and reducing costs by 30%. Anything you can do to increase retention rates is sure to please your senior leaders. The good news is that implementing employee recognition programs or saying thanks is easy to do!
Action item: Say thanks with these quick videos that recognize individuals or teams.
4. Employee wellbeing is a key factor in employee happiness
With so many uncertainties around health, family, and childcare, our collective wellbeing took a hit last year. But wellbeing can contribute to an almost 30% increase in how even engaged employees evaluate their lives, so it's in a company's best interest to integrate it into its internal communication plan.
Action item: From morning inspiration to self-care reminders, let your employees know their wellbeing is at the top of your mind.
5. Add some fun to your internal comms strategy
A fun work environment has long been a priority for millennials, and it turns out Gen-Z is no different, with 65% of Gen-Z employees saying they value fun in the workplace. Internal comms is now an important part of employee retention. While office-wide happy hours, team retreats, and a well-designed office with games became the norm in the past decade, that's harder to maintain when your employees are working remotely. If you're redoing your internal communications plan, finding a way to add remote fun is important to boosting employee morale.
Action item: Virtual trivia, remote happy hour, and online holiday parties are just some of the ways to keep the fun going without going into the office.
6. It's time to invest in corporate training videos
74% of workers who report a good relationship between management and employees are satisfied with their job. On the flip side, where workers report a bad relationship between managers and employees, only 15% are also very satisfied with their jobs. Similarly, 90% of workers who have a mentor report employee satisfaction. In other words, management and veteran employees are key aspects of a positive work experience. Communicating to managers is just as important—if not more important—than communicating directly to employees. Poor communication anywhere within your company may lead to company wide breakdown in understanding of business objectives.
Action item: Create a clear communication action plan for your managers to follow.
Internal Communications Best Practices
You've got the stats to back up your new internal comms strategy, but now you also need the tools to implement it. Here are a few internal communications best practices to keep in mind when putting together your plan.
Integrate analytics into your internal

communications

plan: We use analytics to measure the impact of our external efforts at work, such as marketing, so why not use them to measure our internal efforts as well? Whether you're sending a

video

message or an

email

update, checking the click rate and engagement of your employees will help you gauge whether your internal

communications

plan is working or if it needs rethinking.
Remember that feedback goes both ways: We emphasized the importance of giving employees feedback, but it's just as important to receive feedback as well. After all, your

internal comms

team can also benefit from improvement. Make sure to communicate to employees that your door is open and that you welcome their thoughts. It can go a long way in creating a positive work environment.
Utilize different

internal communication

tools: From

video

messages to

video calls

, we have an arsenal of

digital

tools to choose from to get our corporate messaging across. Try to incorporate a variety of mediums into your

strategy

and consider which are most effective.
How Internal Communications Can be Improved in the Workplace
We've been through a time of upheaval, throwing comms teams for a loop, but there was also a silver lining to the pandemic: the drastic change forced many companies to take a closer look at their strategies and improve their workplace communications.
Now that the dust has settled and we're entering a new normal, we can take those lessons learned and improve workplace communications for the future. If you're ready to get started with incorporating digital and visual communication into your strategy, sign up for a free Powtoon account today.

Editor's note: This article was originally published in October 2021 and has been updated.
The following two tabs change content below.
Hanna is Powtoon's Content Marketing Strategist. She joined Powtoon as a copywriter in 2019, after graduating from university with a specialized degree in marketing and business. She continues to inspire people to create incredible video content with blog posts, videos, guides, and more. Hanna's passions include reading, singing, and caring for animals (#proudvegan). Nothing makes her happier than waking up to her two black kitties who, contrary to popular belief, are good luck!
Latest posts by Hanna Abitbul (see all)