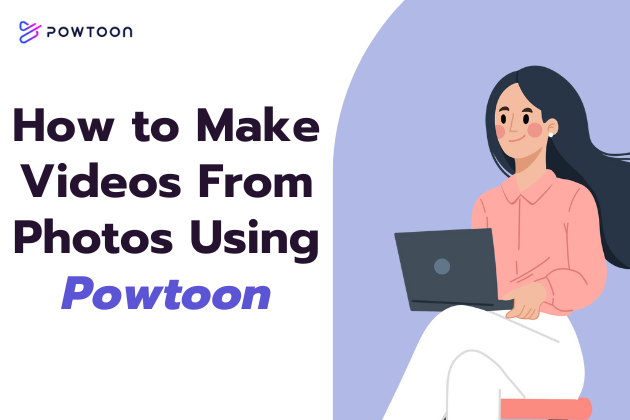 How to Make Videos from Photos Using Powtoon
Read Time:
4
minutes
Anyone who generates content for social media or other such online platforms knows photos can connect with an audience in a way that text alone often can't. However, as video content becomes increasingly ubiquitous online, many creators are discovering that it's an even more powerful tool for connecting with followers.
That doesn't mean videos need to consist of live-action footage to make the right impression on viewers. An affordable alternative to producing new videos is to create videos from existing photos you own or have access to.
Content creators may create videos out of photos they already have for various reasons. Examples include (but aren't limited to) the following:
Linking related pictures to tell a story
Creating a slideshow that demonstrates the value of a particular product or service
Engaging an audience (as research indicates that, on social media, a video clip is more likely to yield high levels of engagement than many other types of content)
Repurposing old images to create a new slideshow video
Whatever your reasons may be to make a video from photos, it's essential to use the right tool when doing so. This is where Powtoon's video maker comes in.
Powtoon is a video-making app and platform designed specifically for those with limited experience, budgets, or both. To make a video from photos with Powtoon, you can simply:
Choose the right templates and themes for your brand and goal
Importing video, audio, and other necessary media into Powtoon
Trim and splice clips to create the desired sequence
Add features and effects to enhance a video
Preview and test the video, editing it if necessary
Finalize the video to upload to your platform of choice, share it via email, etc.
That's just a general overview. This guide explains in greater detail how to use Powtoon's video maker to turn still photos into beautiful videos with minimal time and effort.
How to Make A Video from Photos: The Powtoon Process
Step 1: Choosing Your Templates and Prepping Content
Again, Powtoon's creators designed the tool to ensure it would be user-friendly, helping virtually anyone create videos for various purposes. One way Powtoon's video maker achieves this goal is by offering a range of templates and themes from which to choose.
This benefits users in several ways. First, it saves them the time they might otherwise have to spend learning how to develop their own templates from scratch. Second, the variety of themes Powtoon's photo video maker offers allows users to select templates that align with their branded identity.
This stage is also an ideal time to begin preparing the photos you're thinking about including in your video. Doing so involves:
Determining what type of video you're creating and what you wish to achieve with it
Choosing photos and coming up with early music ideas (if you plan to add music)
Organizing your photos to find a flow that's ideal
Determining if removing any photos from the sequence will allow you to shorten the final video without harming its overall quality
Finding any stock videos you might also want to include in the final video
That last point is particularly important if you're creating a video from photos for social media. Across virtually all popular social media platforms, such as Facebook and TikTok, the ideal video length is under one minute. However, you may be able to capture and keep the attention of an audience with a longer video on a platform such as YouTube.
Step 2: Creating the Video
Once you've gathered your photos and any other files you may need, it's time to create the video itself by:
Using Powtoon's easy system to import your photos, audio files, video files, etc.
Using Powtoon's beginner-friendly video editor to sequence your photos and clips according to your plans
Adding features and enhancements
Powtoon's video maker offers numerous features you may add to a video, including:
Step 3: Post-Production and Export
It's best not to rush when publishing video content. After completing your video, review it carefully to determine if there are any ways to improve it. Ideally, you'll also be able to share it with other trusted viewers who can provide you with helpful feedback.
Make any adjustments you believe are necessary. Once you're happy with the completed video, all you have to do is:
Save the video
Download your photo video or photo slideshow
Upload the completed file to your platform of choice
That's all there is to it!
All that said, while Powtoon's drag-and-drop features, built-in templates, and various other conveniences make it an easy-to-use video maker for even those with very little video production experience, it's still important to keep in mind that creating eye-catching videos takes practice. The more you experiment with Powtoon, the more confident you'll be in your ability to quickly and easily generate and publish quality videos your audience will love.
Use Powtoon's Video Maker to Easily Make Videos from Photos
Whether you're just experimenting with video in an attempt to grow your social media audience, trying to repurpose a collection of photos into an explainer video, or developing marketing content that leverages a video's dynamic qualities, Powtoon is the perfect movie maker for you. Learn more about what it can help you accomplish by signing up today!

The following two tabs change content below.
Hanna is Powtoon's Content Marketing Strategist. She joined Powtoon as a copywriter in 2019, after graduating from university with a specialized degree in marketing and business. She continues to inspire people to create incredible video content with blog posts, videos, guides, and more. Hanna's passions include reading, singing, and caring for animals (#proudvegan). Nothing makes her happier than waking up to her two black kitties who, contrary to popular belief, are good luck!
Latest posts by Hanna Abitbul (see all)