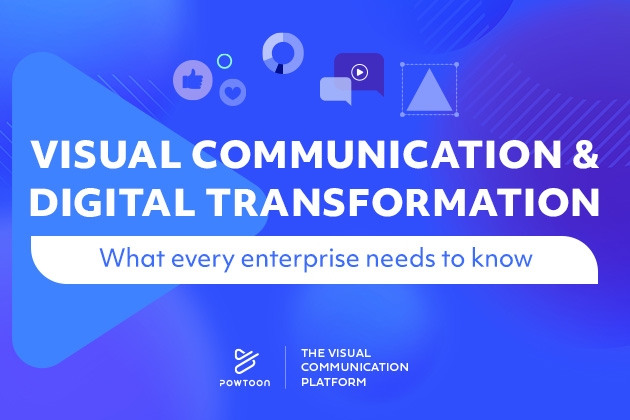 Visual Communication & Digital Transformation: What Every Enterprise Needs to Know
Read Time:
4
minutes
Synopsis: This post is part of a wider interview conducted with Digital Transformation consultant and author Erik Van Haaren from QualityTransformation.com. The interview is centered on the significance of communication, its cost to businesses, and the power of visuals in today's workplace. Erik has advised clients all around the world and primarily in the DACH region. He has experience in working at a senior level for companies like Deloitte and InfoSys and enjoys speaking about how organizations can implement best practices, from Chief Innovation, Communications, and Digital Officers.
Out with the old and in with the new
Historically the role that communication has played both internally across organizations and externally towards customers has always been an integral part of brands and company cultures' success.
Whether initially through large corporate gatherings, internal posters, and billboards or externally via radio and magazines, the optimal choice of medium has often meant the difference between success or failure in trying to get one's message across.
Fast forward to 2021 where we find ourselves witnessing firsthand how quickly communication has evolved in our personal lives – from letters to email, texts to instant messaging, and of course now towards video (Facetime, YouTube, Instagram, TikTok…).
Why visual communication is now integral to the digital workplace
Today's video centricity and visual revolution have become part of our business world, too. And if you're only just waking up to that now, one might say, "better late than never." In fact, from a communication standpoint, the average enterprise is losing over $42 million a year due to poorly managed communication challenges and their impact on productivity. This is no small problem to have.
What does the notion of "video centricity" mean in terms of tools to equip the organization with?
The answer is, in fact, all types of visual aids and video content – whether quick video recorded messages, eye-catching motion graphic videos, animated presentations, email GIFs, infographics, and the list goes on…
Today's up and coming workforce, whether Gen-Zs or Geriatric Millennials, demand the ability to express themselves quickly and creatively – and video is the tool that enables them to do so with ease.
From video and voice instant messages shared with colleagues on channels such as Slack and Microsoft Teams, to microlearning clips made at the peer-to-peer employee level, everyone has the propensity to be a creator.
Moreover, being on the receiving end of a bite-sized video message, a marketing or training clip is undoubtedly the most effective method for absorbing information that a content consumer could wish for.
As put nicely by Erik Vas Haaren of QualityTransformation.com (ex Deloitte and InfoSys Digital Transformation Consultant),
"Whether communications stick is in the hands of the recipient not the sender, too many communicators assume they know how to deliver their message, but actually getting into the minds of the recipients would be the best way to procure your approach."
Here's a short excerpt video from the interview:
Both engaging and crystal clear, visual communication offers today's digital workforce something colorful and personal at ten times the consumption rate of the more traditional means. And that's powerful.
Video collaboration is the medium to unite our disbanded teams in a remote and hybrid world
As the corporate and enterprise world learns to adjust towards the remote and hybrid culture, there is an evident need to fill that void once filled by the office water cooler or company canteen.
Whilst working from home may come with its many pros, some of its acclaimed cons include issues of disengagement from the company culture and a lack of community. This now falls on c-level business leaders and digital applications to resolve through a mixture of intranets, internal communication platforms, and learning management and experience platforms like SuccessFactors and Microsoft Viva. This is no small issue – especially since Future of Work spending is said to be at 659 billion USD globally, and it's predicted that only 13% of the workforce will be primarily in a physical office onwards of 2022.
Enter visual and video communication
With platforms and solutions such as Zoom, Loom, Hopin, and Miro, the central pain point and remedy lies at the heart of creativity and collaboration – a basic human need.
At Powtoon, we've enabled new leaders from Digital Transformation Consultants, Chief Innovation Officers, Chief Digital Officers, Operations and Internal Communications Leaders, and more. We've given them the means to bring creativity and visual engagement to their various teams, ranging from HR onboarding videos, employee introduction clips, L&D training content, and ongoing professional development.
But it doesn't stop there….
From IT video updates on new software or cyber threats, sales development teams using video and dynamic presentations for demos and email follow-ups, marketing, and more… there really is no limit once you empower your teams with the ability to get creative, together.
As phrased quite well by an article on nature.com,
"Even in difficult situations, the desire for cooperation would appear to often be nascent and the evidence suggests that we are naturals at it, given the opportunity."
And if this wasn't enough, nobody enjoys receiving enriching content more than one's beloved customers, and even – dare I say it – prospects welcoming a break from the norm.
So next time your executive committee meets to discuss company culture and ways to remove barriers towards better collaboration and communication, get creative and get visual.
You can watch the full 25-minute interview with Erik here:
The following two tabs change content below.
Adam Suissa
Adam is a strategic Business Development lead at Powtoon. His work is driven by a continuous belief in the power of visual creation, engagement, and collaboration and how this combination can connect the new era of The Digital Workplace and Workforce.
Latest posts by Adam Suissa (see all)