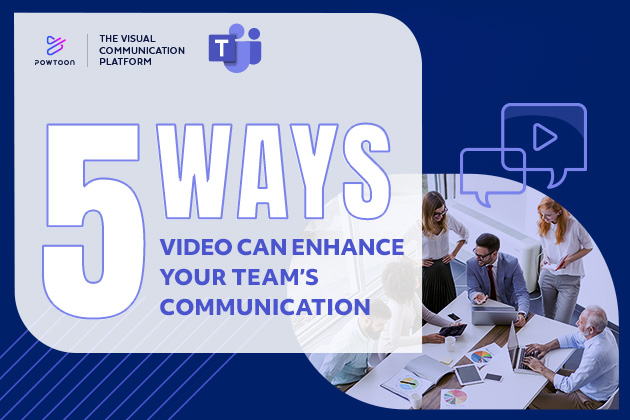 Using Microsoft Teams? 5 Ways Video Can Enhance Your Team Communication
Read Time:
4
minutes
Your online office has become a bit…much. You and your team members alike have found yourselves less engaged, experiencing platform fatigue and decreased productivity. It's only natural. With the endless threads and lack of human conversation, it's only a matter of time until this fatigue, depersonalization, and distraction bleed into your performance.
As a team manager, how do you make the "office" less distracting and more engaging? How do you reduce the platform fatigue to a minimum while dialing up the feeling of real, human, conversation rather than endless threads? And how do you increase productivity and drive growth across verticals and applications? We happen to have an answer. It's video.
Visual content engages employees, increases productivity, encourages communication, and overall decreases stress across teams. Moreover, employees have a profound desire for visual content to be utilized in the workplace, with 79% of employees affirming such an idea.
This week, Microsoft Teams is launching the creation category on their marketplace, with Powtoon as the pioneering, inaugural video creation tool. We thought this would be great timing to take a look at organizational needs spanning from training and onboarding to scaling knowledge sharing. Below details the five ways video can help you step up your game and deliver results as a team manager.
Train and onboard effectively
Training and onboarding new team members remotely has proved to be a challenge across all industries. Without in-person human interaction and limited communication, traditional training and onboarding methods are no longer applicable. This has posed issues to new employees (and their trainer).
However, video, particularly proactive video content can replace traditional training and onboarding. On-demand training videos accompanied with live virtual training sessions give the new trainees both content firsthand, and the ability to ask questions to their trainees. Empowering them to start and continue a dialogue with their peers and team managers as they would in person.
Engage a global workforce
Engaging a global workforce is difficult. It's something that cannot be fully achieved through threads or meetings as those two platforms have their unique place and function for remote teams.
Thankfully, video can engage your global workforce. Through live virtual events, highlight reels, and video newsletters (just to name a few), you can provide value and engage departments and their teams. This is how you can communicate internally, reinforce and build your company culture, and of course, keep your team engaged.
Optimize collaboration & feedback loops
You've possibly seen firsthand how endless threads and emails have convoluted your team's overall communication, slowing down the workflow and causes needless mishaps in the process.
This is only natural. Operating solely via text and the occasional team meeting is simply not an effective way to collaborate efficiently. It increases the feedback loop, can become a stressor to team members, and simply doesn't foster a community of collaboration.
Video can be the ideal tool to bridge this collaborative and communicative gap — when implemented effectively.
Create a strategy that details the team's objectives and goals when using video to promote collaboration. Make sure that each of which is specific, measurable, achievable, relevant, and time-bound, decreasing the feedback loop in return.
Scale knowledge sharing
Knowledge sharing is vital for all teams whether remote, part remote, or fully back in the office. Not only is it a core feature of a company's culture (relevant to remote, hybrid, or in-person companies), but it also encourages and accelerates employee growth and productivity.
Live virtual events and team collaboration via video can assist in the effort to scale knowledge sharing. Both of these will naturally encourage knowledge-sharing, becoming a part of your company's culture almost innately. As team members are given the means for more personable communication, the sharing and scaling of knowledge will follow suit.
Rise above the noise
As noted throughout the article, you and your team members have become quite familiar with the noise that comes from working as a cross-functional remote team. This noise slows down the workflow, poses a major distraction, and hinders productivity.
Rise above these noisy, at times, needless threads, by incorporating video in your daily workflow. Sending pre-recorded videos of your shared screen that detail the week/day/project's tasks along with a recorded live video for team members to engage in an open discussion would do wonders for yourself and team members alike.
This eliminates the back-and-forth on threads as team members can refer back to both videos, and later take it among themselves to further the discussion within their own channels if need be. This cuts down the noise, increases collaboration, decreases the feedback loop, and scales knowledge sharing simultaneously.
Wrap up: deliver results as a team leader with video
Video is a powerful communication tool for the digital workforce— and internal communication platforms have taken this notion into account, expanding their platform's capabilities to incorporate video integrations into their software.
Understanding that all-in-one video solutions are key integrations for your team's online workplace, Microsoft Teams' latest collaboration with Powtoon gives you the means to reimagine your team's training, communication, collaboration, and therefore, overall success.
Microsoft Teams' Powtoon integration allows you to easily create, edit, and collaborate on videos in one seamless workspace. And with a library complete with customizable features and templates, getting started with Powtoon is fairly simple, regardless of your knowledge, creativity, or expertise in video content creation.
Remote and hybrid work doesn't have to be convoluted, overwhelming, or depersonalized. It can be engaging, streamlined, and human. Reclaim control of you and your team's virtual communication and workflow by leveraging the tools available to you. Because that is how you will lead your team to professional success and fulfillment.
The following two tabs change content below.
Sapir Segal
Sapir is the Enterprise Product Marketing Manager at Powtoon. Her work is driven by a consistent, unwavering belief in the power of storytelling and how good product narratives help build long-lasting brands, connect between customers, and drive sales.
Latest posts by Sapir Segal (see all)