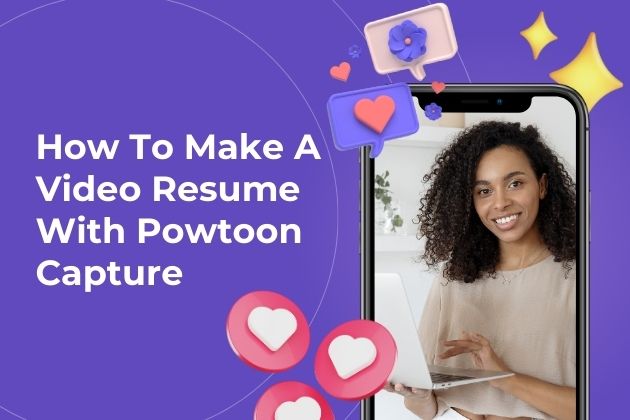 How To Make A Video Resume With Powtoon Capture
Read Time:
5
minutes
Video resumes have become an increasingly popular tool for job seekers to stand out in the hiring process. With video resumes, applicants are able to showcase their personality, communication skills, creativity, past work accomplishments, and experiences in a much more dynamic and engaging way.
In the modern job market, it's more important than ever to find ways to make yourself stand out from other applicants. Powtoon Capture is an essential tool for job seekers looking to create professional resume videos in a snap. Whether you're highlighting your skills, experience, or unique personality, Powtoon Capture's free screen and webcam recorder allows you to present yourself in a way that captures the attention of potential employers. So let's explore the world of video resumes and discover how Powtoon Capture can help you land your dream job!
Step 1. Write A Script
A resume video or video CV is the modern-day equivalent of a virtual business card, and just like a business card, it needs to make a strong impression. Crafting a powerful and unique video resume script is the first step in creating a great video. Before you even think about picking up your camera, take a moment to sit down with a pen and paper and start brainstorming.
Step 2. Make a List of Your Qualities, Skills, and Experiences
This is not the time to be humble. You need to give your potential employer or hiring manager a clear idea of what you can bring to the table. When writing a script it's important to strike a balance between brevity and substance. Keep it short and sweet, but include all the necessary information – your skills, professional experiences, and accomplishments. Highlight your unique qualities, such as a positive attitude, strong work ethic, and ability to work well with others.
Step 3. Structure Your Script
The key to a good video resume is a good structure. Divide your script into three main parts: introduction, body, and conclusion. In the introduction, you can briefly introduce yourself and provide some context. In the body, you can delve into the meat of the content, discussing your skills, experience, and accomplishments in a clear and concise manner. Finally, in the conclusion, you can wrap up your pitch and call-to-action leaving the viewer with a lasting impression of your strengths and suitability for the job.
Step 3. Choose a Professional Outfit
Now for the fun part – choosing the perfect outfit for your video resume! It's important to dress professionally and make sure your attire represents your personality and the image you want to project to your potential employer. Consider your industry and the company culture, and aim to dress in a way that is appropriate and reflective of your personal style. Whether you opt for a suit and tie or a more casual, creative outfit, make sure you feel comfortable and confident in what you're wearing. By dressing the part, you can present yourself as a polished and professional candidate who is ready to take on any challenge.
Step 4. Check lighting and background
Another tip for creating professional resume videos is to choose a well-lit room with ample natural light. Avoid filming in dark or areas with harsh artificial lighting that can cast unflattering shadows on your face.
A clean and organized background also helps to keep the focus on you and your message. So make sure to choose a background that isn't dingy, cluttered, or messy. A simple backdrop like a clean wall with a plant or bookcase can make for an attractive background.
When recording your video resume, it's crucial your video has good audio. Choose a quiet environment with minimal ambient noise, such as traffic or loud music, and try to record at a time when others are less likely to interrupt you.
Step 5. Record With Powtoon Capture
It's time to finally record your video! After downloading Powtoon Capture, open it through your Google extensions, and select "Webcam only." Take a deep breath, settle in, and start recording! This is your opportunity to showcase your personality and bring your unique perspective to the forefront. Remember to smile and look at the camera while speaking. Don't worry if you make mistakes; simply click on the trash button located in the bottom left corner and start again. To make the editing process easier, you can record the entire video in one take, including any mistakes or bloopers, and then edit out any unwanted sections to create a seamless final product.
Step 6. Adding Animation and Special Effects
Congratulations! You've done it! If you are happy with your video, you can share it as is. For those who want to take their video CV to the next level, adding animation and special effects is where it's at! And the best part? You can create your animated video resume right in the Powtoon Studio. It's important to note that if your video is longer than three minutes you won't be able to edit it directly in the Studio and will have to upload parts independently. With just a few clicks, you can turn an ordinary video resume into a creative video like no other. Add animated text, special effects, characters, and more! The possibilities are endless, and this is your time to get creative! Just make sure you don't overdo it. The right amount of animation will keep your viewer engaged and help get your message across.
Step 7. Sharing Your Resume Video
It's time to share your masterpiece with the world and guess what? You can do that straight from within the Powtoon Studio as well! Once you finished editing your resume video just click on the export button in the top right corner and select your preferred channel.
LinkedIn has become a popular platform for sharing video resumes and other job application materials. You can upload your video resume to your LinkedIn profiles or share them with recruiters and potential employers. Don't forget to make use of LinkedIn's tagging feature that allows you to tag specific employers or recruiters in your video resumes, which can help you get noticed and increase your chances of being contacted for an interview.
LinkedIn has also introduced new features to help job seekers create and share video content, including LinkedIn Video Cover Stories. So now you can use your cool video resume to introduce yourself and your skills to potential employers.
Elevate Your Job Resume With Powtoon Capture
Traditional resumes are never going to be completely out of style, but there's no denying the excitement and potential of creating a video resume. It's a chance to break free from the old, stuffy conventions and experiment with something new and dynamic. Video resumes can be particularly effective for jobs that require good self-presentation, strong communication skills, or creativity. Thanks to Powtoon Capture creating professional-looking video resumes has never been easier. So what are you waiting for? Sign up to Powtoon and start using Powtoon Capture to create top-notch video resumes that will capture recruiters' attention and make you stand out!

The following two tabs change content below.
Hannah Elishevitz
Hannah is a marketing intern at Powtoon. To her, nothing is more exciting than trying out new things. She has a passion for cooking, painting, great books, and sports. Making new friends and claiming new skills is her specialty. She is a big believer that everything happens for a reason and hopes to make people smile wherever she goes.
Latest posts by Hannah Elishevitz (see all)