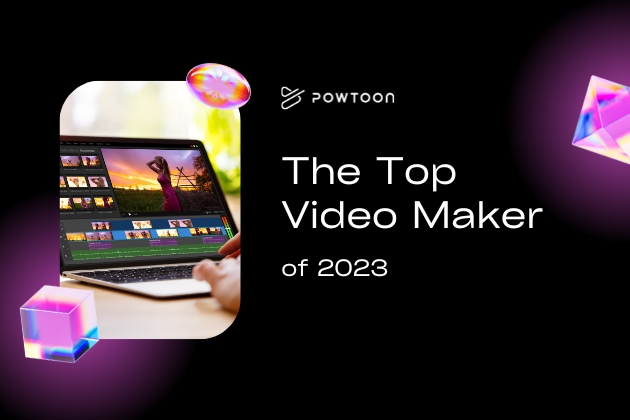 The Top Video Maker of 2023
Read Time:
2
minutes
Are you tired of using outdated video maker tools that just don't deliver the goods? Look no further, because Powtoon is the absolute crème de la crème of animated video makers in 2023. 
Let's have a look at the features that put Powtoon at the very top.
1. User-friendly Interface 
Powtoon's user-friendly interface makes it easy for anyone to create stunning videos, regardless of their technical expertise. Whether you are a pro or a novice, Powtoons video maker has got you covered.
2. Stunning pre-customized templates
Powtoon's hundreds of pre-customized templates and animations will make you feel like you have a team of animators at the tip of your fingers. Our drag-and-drop feature allows for a seamless creative process. What an easy way to save time and impress your boss simultaneously.
3. Screen Recording Feature
Our Powtoon Capture, screen recording allows users to easily record their computer screen and audio, making it simple to create tutorials and demos. It's perfect for creating captivating training materials and presenting complex concepts clearly and concisely.
4. On-Brand Videos
Easily keep your videos on-brand by adding your company logo and brand colors. But that's not all folk! Powtoon's branded character feature allows you to even customize your animated characters as you build your videos. Talk about brand consistency!
5. Character Builder 
With Powtoon's Character Builder, you can build characters that truly reflect your company's employees, clients, and customers. With just a few clicks you get to unleash your inner animator and create custom characters in minutes.
6. Videos Styles For Any Occasion 
With our four different video styles Powtoons video makers can create stunning videos for any given situation. Whether you're making a video for your enterprise, a business, a school project, or just for fun, there's a style that will fit your every need.
7. Extensive Music Library 
Powtoons extensive library of music and sound effects is simply the cherry on top. Instead of scouring the internet for the perfect background music, you can easily browse our library and find your favorite tracks to complement your video. Have something perfect in mind already? No problem. Just upload your music and sound effects with the click of a button.
8. Various Integrations 
Powtoons video maker seamlessly integrates with major platforms, making it easy to upload and share your videos with the world. That means no more jumping between different tools and platforms. Yay!
Whether you're publishing on YouTube, Vimeo, or even TikTok, Powtoon has got you covered.
9. New Features
Powtoon is constantly updating and improving, so you can be sure that the latest and greatest features will always be available to you.
Plus, here at Powtoon, we are always keen to share the hottest tips and tricks to help you create the best videos possible.
Get Started with Powtoon Today 
Powtoon is the ultimate video maker tool for anyone looking to make a splash in 2023. With its incredibly easy-to-use features, Powtoon will help anyone create professional-looking videos that stand out from the crowd. Don't just settle for a subpar video maker tool when you can have the best of the best. Sign up today and see the difference. 

The following two tabs change content below.
Hannah Elishevitz
Hannah is a marketing intern at Powtoon. To her, nothing is more exciting than trying out new things. She has a passion for cooking, painting, great books, and sports. Making new friends and claiming new skills is her specialty. She is a big believer that everything happens for a reason and hopes to make people smile wherever she goes.
Latest posts by Hannah Elishevitz (see all)