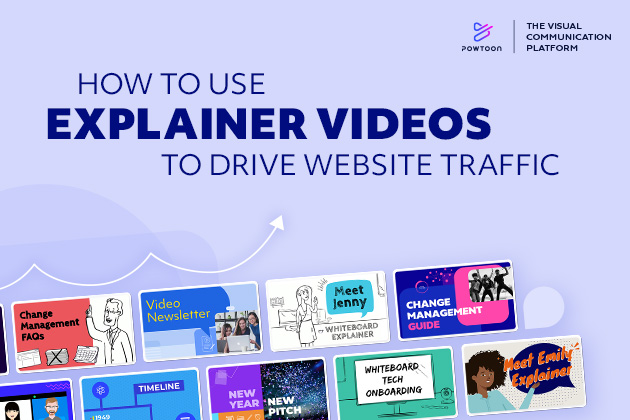 How to Use Explainer Videos to Drive Website Traffic
Read Time:
3
minutes
Video is a great tool to help drive website traffic, but there are a few things you should do to ensure it has the maximum impact. Here are five best practices to follow when using explainer videos, marketing videos, or other types of video content to increase your web visitors.
Best Practices to Drive Website Traffic With Explainer Videos
1. Include a clear call to action. If you want your audience to do something, TELL THEM. Video marketing is not the place for subtlety. Overtly instruct your viewer to "visit our website at www.[website].com" at the end of your video, but don't stop there. Exact stats on video completion rates vary based on multiple factors, but one thing is clear: most videos aren't watched to the end. To give these viewers a call to action, add a call-to-action overlay in YouTube or include in-video text that directs them to visit your website. And always include a call to action and landing page link in your video description.
2. Add an explainer video to your home page. Adding a video to your home page will increase your SEO, and improving your website ranking will result in more traffic. But housing the video directly on your page (instead of embedding it from another host) will also result in more links back to your website from other sites that might be talking about your video, driving traffic from other sources, and further boosting your SEO. As long as you've got great content, you can't lose!
3. Use keywords in your video title and description. Be strategic with your video titles and descriptions. Never leave those fields blank; they are prime opportunities to include important keywords and boost your SEO. This holds true no matter where your video is hosted – and though we mentioned it in the first point, it's worth repeating. Always include a link to your landing page so your viewer knows where to go to find you.
4. Optimize your explainer video for your platform and audience. The more targeted your video, the more views you'll get. The more views you get, the more people will hear your call to action and see your landing page link in the description. To drive traffic to your website with an explainer video, you've first got to get eyes on your video. Choose the right orientation based on the social media platform, and research what length of video gets the most views for your chosen channel. Don't just push one video out to multiple channels and hope it takes off.
5. Include the word "video" in the subject line when sending a marketing video via email. Boosting open and click-through rates is always a challenge, but simply including a video in your email boosts both. Adding the word "video" to the subject line improves open rates even more! And even though traffic is your end goal, don't get greedy and insist that readers click a link to view the promised video. Embed it in your email, then rely on your call-to-action and other strategies to entice them to click.
Explainer Videos Made Easy
Take your video strategy to the next level with Powtoon! Powtoon is the visual communication platform that makes video creation easy for users of any level. Create explainer videos, corporate training videos, whiteboard animations, marketing videos, and more using a single, intuitive platform. Sign up for free and make your first video in minutes!

The following two tabs change content below.
Hanna is Powtoon's Content Marketing Strategist. She joined Powtoon as a copywriter in 2019, after graduating from university with a specialized degree in marketing and business. She continues to inspire people to create incredible video content with blog posts, videos, guides, and more. Hanna's passions include reading, singing, and caring for animals (#proudvegan). Nothing makes her happier than waking up to her two black kitties who, contrary to popular belief, are good luck!
Latest posts by Hanna Abitbul (see all)