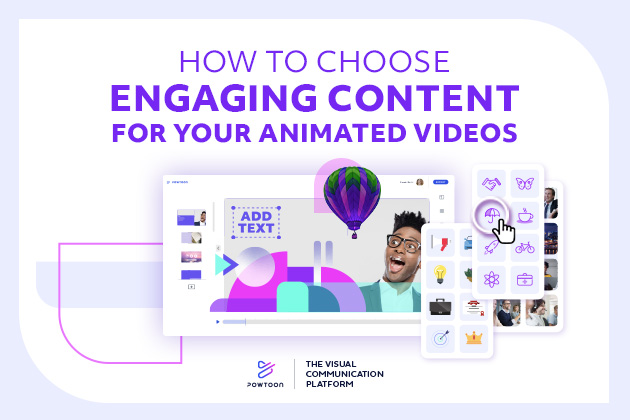 How to Choose Engaging Content for Your Animated Videos
Read Time:
3
minutes
Animated videos are a great way to capture the attention of your audience, but it's not enough to string together a random collection of text and images. An effective video is cohesive from start to finish and includes engaging graphics that help convey your message. Here's how to pick the right ones.
Three Principles to Follow When Choosing Content for Animated Videos
Having a hard time choosing from all the characters, props, and effects available to you? Remember these three principles.
1. Stay true to your brand. What is the overall tone of your brand? Are you fresh and fun, serious and thought-provoking, or edgy and provocative? The animated elements you use should evoke the same vibe so your final video will be consistent with your brand.
2. Stay true to your message. What is the purpose of your animated video? Is it to onboard new employees? Pitch a product to a potential customer? Explain complicated concepts to a classroom of remote-learning students? Choose animations that will enhance your message; they can add entertainment value but should still have a message-driven purpose within the context of your animated video.
3. Stay out of legal trouble. Make sure you have proper permission to use the animations you've chosen; failure to do so could put you in violation of copyright laws. This isn't a huge concern if you're creating a fun little video to lighten the mood at your next team meeting, but be aware of legal restrictions if you're making animated videos for public consumption. Only use animations that you have created or have purchased the rights to use, and if your animated video is promotional in nature make sure you have a commercial license.
Where Can I Get Animated Content for Animated Videos?
The simplest solution to find creative elements for animated videos is to use a video maker with an integrated library of options to choose from. Powtoon, for example, has hundreds of diverse and customizable characters, shapes, effects, and "props" or objects you'd find at the office, at home, or in the classroom. 
Where Can I Get Graphics for Animated Videos?
Powtoon also offers royalty-free stock photos, graphics, and videos — if you want a more hybrid animated video that also includes graphics.
Other sources for graphics include traditional stock photo sites. Paid sites such as Getty Images, iStock, and Shutterstock have photos, illustrations, and vectors; they are your best bets for commercial campaigns because their platforms have clearly defined licenses and model releases in place. A growing number of free sites offer high-quality photos and graphics including Unsplash, Pexels, and Creative Commons. However, images acquired from these sites are best for presentations or informational videos. It's not advisable to use these images in paid or promotional videos unless you've thoroughly vetted the license requirements and are confident you're within your rights to use them in such a way.
Your One-Stop Solution for Animated Videos
Powtoon is the visual communication platform that does it all. Create customizable characters to tell your visual story, select fonts and colors to complement your brand, and choose from professionally designed templates to make your own videos in minutes. Powtoon will take your message to the next level with powerful visuals created for every audience and industry. Sign up for free today!

The following two tabs change content below.
Hanna is Powtoon's Content Marketing Strategist. She joined Powtoon as a copywriter in 2019, after graduating from university with a specialized degree in marketing and business. She continues to inspire people to create incredible video content with blog posts, videos, guides, and more. Hanna's passions include reading, singing, and caring for animals (#proudvegan). Nothing makes her happier than waking up to her two black kitties who, contrary to popular belief, are good luck!
Latest posts by Hanna Abitbul (see all)