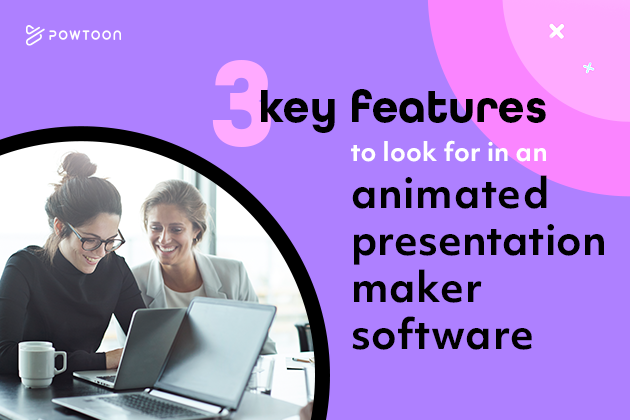 3 Key Features to Look for in an Animated Presentation Maker Software
Read Time:
3
minutes
Do you want in-house software to create animated presentations but are overwhelmed by the options? A few critical features make all the difference in the functionality and usability of different platforms. Here are three to look for when comparing animated presentation software choices.
1. A Robust Media Library
Does the animated presentation maker software you're considering have a large collection of stock photos, videos, and animated characters or objects? These are key in ensuring your finished product looks polished, professional, and unique. If every creator uses the same one or two characters, all videos made using the platform will have a similar look and feel. But when you have a huge library at your disposal, you can choose visual objects to give your video a custom look.
A built-in media library also provides some legal protection and cost savings. Those who offer stock images have partnered with a provider and negotiated proper usage rights and royalty terms, so you don't have to. And though your platform charges a nominal fee for stock images, they're usually much lower than purchasing an individual photo from a stock photo site.
2. Customizable Templates
Templates are good, but customizable templates are better. Presentation templates allow the novice user to create a great-looking video with ease. They're also helpful when you're putting together a quick presentation and don't have much time to spend on all the visual details.
Customization takes templates to the next level for those must-impress presentations and videos. Having options like a watermark, logo, background music, or your company's colors and signature font keeps your video on brand and convey consistency to your audience. Templates also allow experienced video creators and artists to flex their creative muscles; instead of feeling limited by a rigid template they can use it as a launchpad to an eye-catching visual communication piece!
3. Easy Sharing
It's easy to overlook this feature when evaluating options for an animated presentation tool. But remember, you'll need eyes on your project throughout the creation process – not just the final result. Emailing video files is a pain that comes with lots of technical challenges, and re-uploading your video to an external platform every time you make an edit is a hassle.
Pay attention to the sharing options available during and after the creative process. Does your animated presentation maker software have a cloud-based platform that lets you solicit feedback from your team with a simple link? Is it machine-dependent, meaning you'll need to lug your laptop to the sales pitch? Can you embed your video in an email, or will your recipients be forced to an external site to view your internal comm? Is saving the original video file to your device even an option?
It's tempting to believe this feature isn't important, but if you wait until your video is finished and then discover their limited sharing options don't work for you, you'll quickly realize the opposite is true.
Animated Presentation Maker Software from Powtoon
Are you looking for an animated presentation maker software? Powtoon is the visual creation platform to meet all your needs! Make whiteboard doodles, animated videos, screen recordings, or internal comms with ease. With Powtoon, the possibilities are endless for both the novice user and seasoned designer. Make a stunning presentation with ease with Powtoon. Sign up today!

The following two tabs change content below.
Hanna is Powtoon's Content Marketing Strategist. She joined Powtoon as a copywriter in 2019, after graduating from university with a specialized degree in marketing and business. She continues to inspire people to create incredible video content with blog posts, videos, guides, and more. Hanna's passions include reading, singing, and caring for animals (#proudvegan). Nothing makes her happier than waking up to her two black kitties who, contrary to popular belief, are good luck!
Latest posts by Hanna Abitbul (see all)