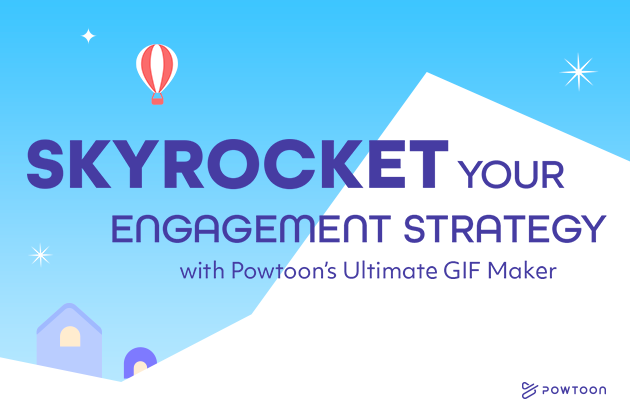 Skyrocket Your Engagement Strategy With Powtoon's Ultimate GIF Maker
Read Time:
4
minutes
GIFs are unwaveringly on the rise in today's hybrid world, and so is the need for a great GIF maker. In fact, Google says it now sees "millions of searches for GIFs every day," and Tenor has become popular with about 300 million monthly active users that drive more than 12 billion searches a month. Like it or not, GIFs are now an essential part of the digital lexicon that young professionals are using to communicate and express themselves at work.
No matter your preference for communication, GIFs are powerful messengers and the ultimate engagement boosters, especially when they are personalized and branded – and a strong GIF maker allows you to achieve just that in minutes. Whether you're looking to create GIFs from scratch, customize an exciting GIF template, or repurpose an existing video, Powtoon has got you covered. Read on to discover why a GIF maker is a must-have in any strategy and how each department can make the best use of it.
Marketing
Are you looking for new ways to restructure your tired marketing strategy in order to boost engagement and increase conversion rate? Well, in that case, GIFs should be in your marketing toolkit yesterday! At the risk of sounding cheesy, if pictures speak louder than a thousand words, then GIFs speak louder than a billion. So guess what? When words seem to be nothing but words, you know it's time to pull a GIF out of your pocket.
3 ways marketing teams are using GIFs:
Social Media: Facebook, LinkedIn, Instagram, Twitter – the list goes on. These platforms are your GIFs' stage. It's a great way to amplify follower engagement, start conversations, and up those likes and shares.
Product or service promotions: Are you about to promote a new blog post, guide, website, or webinar? Maybe you are launching an exciting collaboration, product, or having a big sale. GIFs are excellent storytellers and perform even better when paired with a strong call to action.
Advertisements: Mindless phone scrolling has put quite the damper on our attention capabilities. But, there is no better way to keep your content fresh than using GIFs in your advertising strategy. If executed correctly, those animated images can get your message across ultra-successfully.
L&D and Training
L&D teams know better than anyone that learning isn't just about swallowing a ton of random information over a period of time. It's about internalizing, retaining, and ultimately applying that information at work. Well, guess what? Learning through GIFs is microlearning on steroids and an absolute must-have in any learning strategy.
3 ways L&D teams are using GIFs:
Course invites and announcements: Short but sweet. These type of invites will really do their job. The easy-to-create and even easier to share nature of GIFs makes implementing GIF invites a no-brainer.
How-to's: Whether it's how to log into a new website, upload an image, or handle a new machine at work, these 6-second loops can explain simple steps better than any words can. And have trust, a playful loop is much more pleasant and effective than drilling information into employees' heads.
Attendance certificates: Completing mandatory courses can prove to be quite tedious for anyone, especially in the hybrid world. Personalized and branded GIFs are perfect to celebrate employees' course attendance or training completions. Give your employees a well-deserved pat on the back no matter their location.
HR and Internal Communications
Are you exhaustedly competing for your employees' attention and looking for a winning strategy that requires as little effort as possible? Lucky for you, GIFs are little magical engagement resuscitators and a true game-changer when it comes to communication – especially in today's hybrid workplace.
3 ways HR & internal comms teams are using GIFs:
Company announcements: Are you marking a company milestone or celebrating a holiday? Try sending out your next company announcement in GIF format and watch the magic happen as your employees react in delight.
Recruitment: The hunt for new talent is gradually heating up as company doors reopen their offices – and you need to make sure you stand out. A healthy dose of GIFs is the perfect cure-all for your recruitment strategy. Use them to boost application completion rates, create a more personalized outreach experience, or to motivate preferred candidates to move forward.
Employee onboarding: Onboarding doesn't have to be all documents and no fun. GIFs are the perfect welcome bearer and a great way to instantly reflect a positive company culture that makes new transitions much more enjoyable for newcomers.
Sales Enablement
By now, you shouldn't be shocked to hear that GIFs can be your outreach strategy's greatest wingman. GIFs have the power to turn ordinary pitches into something relatable and personal, as well as make you stand out from hundreds of dull, unoriginal cold emails.
3 ways sales enablement teams are using GIFs:
Product demonstrations: It's time to exercise your inner nerd and show off some research you did. Don't just demo your product – make it personally relevant to your prospect by creating a short GIF showing how your product solves one of their specific problems.
Warm-up cold leads: GIFs are a great way to make people smile and are excellent at helping to forge positive connections. Humor helps build trust, which in return benefits your outreach strategy immensely.
Data, data, data: Your sales pitch needs to show how your product or service can deliver clear, measurable results to your prospect. Simply uttering stats is absolutely not compelling. Remember, humans, are visual creatures. Including a GIF that emphasizes an easy-to-read statistic or graph can be your open sesame to closing your next deal.
It's Time to Incorporate GIFs in Your Department's Strategy
GIFs are dynamic, robust communicators and can be easily implemented into any strategy – no matter your department. So what are you waiting for? Sign up for Powtoon.com to use their free GIF maker and get busy uplifting your strategy with personalized, branded GIFs.
The following two tabs change content below.
Hannah Elishevitz
Hannah is a marketing intern at Powtoon. To her, nothing is more exciting than trying out new things. She has a passion for cooking, painting, great books, and sports. Making new friends and claiming new skills is her specialty. She is a big believer that everything happens for a reason and hopes to make people smile wherever she goes.
Latest posts by Hannah Elishevitz (see all)