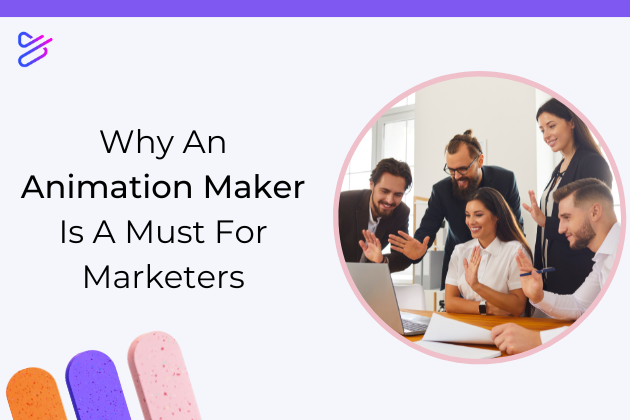 Why an Animation Maker is a Must for Marketers
Read Time:
4
minutes
There's no denying it: As a marketer, no matter the industry, creating video content should be among your top priorities. Per the latest research, 91% of businesses already practice video marketing to some extent. You should do the same.
Just keep in mind that such content doesn't need to exclusively consist of live-action footage. Nor should it. An animated video can serve many purposes that, depending on the circumstances, a live-action video might not.
That said, you may understandably be wondering how to make animated marketing videos. It's actually not as challenging (or expensive!) as you might assume. With the right animation maker, you can take advantage of the many benefits animation has to offer with ease. This guide will explain why investing in one is a smart use of your marketing budget.
Why an Animation Maker is a Critical Tool for a Marketer
Animation Can Reflect Your Brand
A brand consists of many visual elements. These include (but aren't necessarily limited to):
Color scheme
Typography
Logos
The specific visual content featured in your marketing materials
Can you establish a branded identity with live-action footage? Absolutely. However, doing so may be easier with animated video. Using an animation maker, you can customize and control nearly all visual elements of a video, ensuring it accurately represents what makes your company unique.
You also don't have to spend time finding actors with the right "look" for a marketing video when you work with an animation maker tool. Instead, you can feature animated characters. While you might still need to search for an actor if you plan on including voiceover audio, animating the actual characters in your video (or using characters that have been pre-animated) can still save you a lot of time.
On top of that, you won't need to spend time or money building a set or finding the ideal location for your video. A strong animation maker will typically offer ready-to-use templates that you can modify to serve your needs, creating an animated environment that corresponds with your brand.
An Animated Video is Cost-Effective and Versatile
Be aware: this guide isn't meant to discourage you from using live-action footage in your marketing content. Professional-looking live-action videos still play an important role in a marketing strategy. That's unlikely to change soon.
That said, live-action video presents some limitations that animated content doesn't present. Specifically, you might not have the budget to film the types of situations and scenarios you wish to depict in your marketing videos if you restrict yourself solely to live-action footage.
That's not the case with animation. With an animated video maker, you can let your imagination run free when developing and releasing promotional video content.
Animation is Adaptable
Animated videos can often be repurposed for multiple uses. Animated content can serve as animated GIFs, animated YouTube videos, social media posts, and more. 
This highlights one way in which using a strong animation maker can actually help you save money as a marketer. When you create an animated video, you're creating a piece of content that you might use across various channels. This allows you to save money by limiting your need to create new pieces of content.
Animated Videos Can Take Many Forms
Again, animation is versatile. Thus, an animated video can take a variety of forms, such as:
Case study videos
Corporate videos
Onboarding videos
Event videos
Instructional videos
General brand promotion videos
That's not an exhaustive list. The main point to understand is that, no matter what type of marketing video you plan to create, there's a good chance you can animate it instead of filming it.
(Of course, there are exceptions. An animated live broadcast would be exceptionally impressive and also exceptionally impossible!)
Animation is Attention-Grabbing
Remember, when you animate a video, you can exercise a huge degree of control over the viewer experience. Through animation, you can choose what to depict in a video, what types of colors to use, what types of characters your video will feature, and more.
In other words, an animation maker is a great tool to use when designing marketing content that serves to grab the attention of an audience. Being able to control all aspects of the look and feel of your video is key to generating content that sparks interest in a viewer.
Animated Video is Shareable
Technically, many types of video content are highly shareable. Surveys confirm that social media users are often more likely to share video content with friends and family than other types of content.
However, animated content may be uniquely shareable because it allows you to strike the perfect balance between sharing information your target audience would find valuable and simply providing entertainment. Thus, when you upload a piece of animation to your social media accounts or publish an ad featuring an animated video, you might be casting a much wider net than you otherwise would.
How to Make Animated Marketing Videos? Powtoon Offers the Ideal Animation Maker for You
All these points illustrate why video animation should play a major role in your marketing efforts. However, if you're still reluctant to create your own animation simply because you don't think it's a skill you'll master, it's time to give Powtoon a try.
This all-in-one online animation maker is designed specifically for those who lack experience in creating animated video content. By starting with a template and editing it so the finished product reflects your unique company, you can easily create dynamic content without spending more than you can afford. Get started by signing up today!
The following two tabs change content below.
Hanna is Powtoon's Content Marketing Strategist. She joined Powtoon as a copywriter in 2019, after graduating from university with a specialized degree in marketing and business. She continues to inspire people to create incredible video content with blog posts, videos, guides, and more. Hanna's passions include reading, singing, and caring for animals (#proudvegan). Nothing makes her happier than waking up to her two black kitties who, contrary to popular belief, are good luck!
Latest posts by Hanna Abitbul (see all)