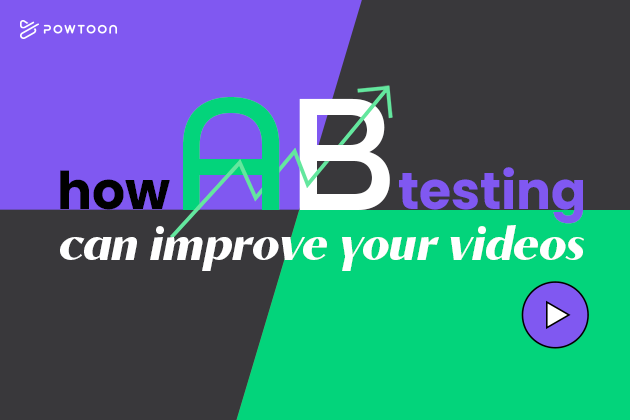 How A/B Testing Can Improve Your Videos
Read Time:
4
minutes
AB testing, or split testing, is an effective way to optimize video marketing. By creating two versions of your video and testing them against each other, you can determine which one resonates more with viewers and drives better results. A/B testing video enables you to determine the best approach for showcasing a product or service through video content.
What is A/B Testing?
AB testing, also known as split testing, is a powerful marketing tool that allows you to compare different variations of your video to determine which one is more effective. This type of experiment involves randomly assigning viewers to watch either version A or version B and then measuring the outcomes for each video using analytics and video marketing statistics. By doing this, you can see which video performs better and make improvements to your video marketing strategies accordingly. A/B testing is a valuable way to get objective feedback on your videos, which can help you optimize your marketing efforts and achieve your goals.
Benefits of A/B Testing Your Videos
Conducting a split test with certain types of video marketing content can yield many potential benefits of which you should be aware. This process allows you to test different elements such as video length, message, visuals, and audio before releasing the video to a larger audience. This ensures that the video will be more effective and engaging for viewers.
Additionally, A/B testing enables you to experiment with various creative concepts without risking too much time or money. It gives you the flexibility to test video campaigns on a smaller scale before scaling up.
Performing a split test with different versions of the same video can even allow you to boost overall content optimization in circumstances when A/B testing is impossible. For example, you can't necessarily split-test a live video.
However, maybe you AB tested different versions of explainer videos that share certain key similarities with a live video you're planning to broadcast. If so, you could apply the lessons you learned from testing multiple versions of an online video so that you're prepared to optimize your live content when the time comes.
Video Marketing and A/B Testing: Factors to Pay Attention to
When split-testing different versions of video marketing content, your goal is to monitor audience engagement and overall video performance to determine which video is more effective. It's also important to attempt to ascertain why some videos yield stronger results than others.
To achieve this goal, pay attention to the following critical factors when analyzing video performance:
Video length
Video content
Video visual
Video audio
Keep track of the type of content that works best for your audience and adjust video elements accordingly.
Additionally, metrics that may indicate that one video is resonating with your audience more than another include:
Video completion rate
Video engagement rate
Video views and shares
Video likes and comments
Getting Started With A/B Testing Videos
When developing videos for your web page, campaign ads, and overall video marketing strategy, it is important to decide on measurable content marketing goals such as views, watch time, clicks, conversions, or leads, and also to consider open rates as a metric. Then, create two versions of your video that have slight differences in design or concept – changes should be incremental rather than drastic to ensure accurate results. After both videos are uploaded online, set up an A/B test that compares the performance of each video based on the metrics specified earlier, including the effectiveness of any Facebook ads you may be using.
Pitfalls to Avoid When A/B Testing Video Content
Although AB testing marketing strategies can help you improve your overall video marketing efforts, it's important to avoid making certain common errors or drawing the wrong conclusions from your split testing experiments. Mistakes to avoid making include:
Not testing enough video variations
Focusing too much on a single video metric
Drawing conclusions from inconclusive data
A/B Testing Videos: Methods to Consider
There are various ways you can test multiple versions of video content to determine which deliver the most impressive results. Options to consider include:
Sending two different versions of marketing emails with video content
Testing video length and video content on social media
Creating video ads with A/B testing
Split Testing Video Content Tips: How to Produce Video Content Affordably
To optimize your video marketing strategy and improve your conversion rate, it's important to engage in split testing. This requires generating multiple versions of your video content, including variations in CTA, messaging, and visuals, and testing them against each other. To create these different versions of your video content, you can use Powtoon's templates and resources, which can be both affordable and effective. By testing and analyzing the performance of different versions of your video content on your social media channels or various landing pages, you can identify which versions are most effective in achieving your desired results. So, don't assume that generating multiple versions of your video content will be costly – with the right tools and approach, it can be an affordable way to improve your video marketing strategy and conversion rate.
Creating video content in stages
Using video templates
Using stock video footage and audio clips
Turning existing video content into a series of videos
Making slideshows
By following these tips, you can easily create multiple versions of video content and then test which ones perform best. This will help you improve your video marketing efforts over time by allowing you to produce more effective video campaigns.
Remember, video marketing in general already leads to high levels of engagement. If you leverage A/B testing to optimize your video marketing efforts, you're likely to see even more impressive results.
A/B Test Videos Easily With Powtoon
As a marketer, Powtoon's video templates and resources can be a valuable tool to improve your conversion rate. With Powtoon, you can easily create multiple versions of videos that effectively communicate your message to your target audience. This is especially useful if you lack video production experience or have a limited budget for video creation. Sign up today and see how Powtoon can help improve your conversion rate today!
The following two tabs change content below.
Hanna is Powtoon's Content Marketing Strategist. She joined Powtoon as a copywriter in 2019, after graduating from university with a specialized degree in marketing and business. She continues to inspire people to create incredible video content with blog posts, videos, guides, and more. Hanna's passions include reading, singing, and caring for animals (#proudvegan). Nothing makes her happier than waking up to her two black kitties who, contrary to popular belief, are good luck!
Latest posts by Hanna Abitbul (see all)