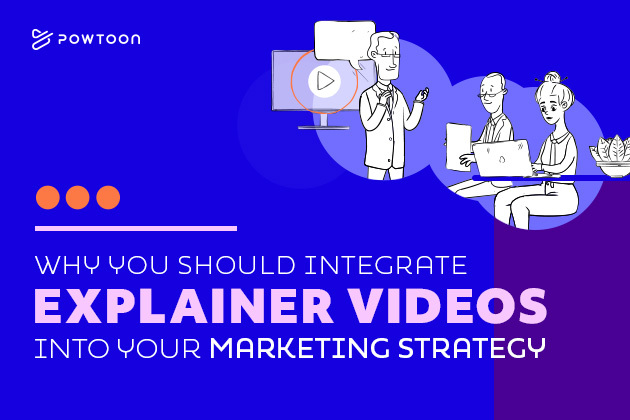 Why You Should Integrate Explainer Videos into Your Marketing Strategy
Read Time:
2
minutes
Return on investment (ROI) is critical in marketing and incorporating explainer videos into your strategy will give you one of the biggest bangs for your buck. If you're wondering why and how to effectively incorporate videos into your marketing efforts, we've got the answers you're looking for.
What Is An Explainer Video?
An explainer video is a short video that introduces your company, product, or service to your audience. This format captures attention easier and conveys information faster than traditional text, making it an efficient way to share your message. Explainer videos come in varying formats and lengths depending on the target audience, sharing platform, and purpose.
Most explainer videos are 60-90 seconds, but longer-form videos are appropriate for engaged audiences or in-depth explanations. Any type of video can be an explainer video, but the most popular are live-action, whiteboard animation, and 2D animated explainer videos.
How Do Explainer Videos Help with Marketing?
Marketing videos make a huge difference in almost any online medium, but here are five of the ways explainer videos boost your marketing ROI.
1. Explainer videos capture the attention of your audience. The average person has an eight-second attention span, but research shows you've got less than half that time – three seconds – to grab a viewer. Using videos you can be creative and flashy to capture your viewer's attention almost immediately. It's nearly impossible to get those same results with text-only content.
2. Explainer videos help develop a relationship with your customer. Videos allow you to exude energy, portray a persona, and display your company's values in a way that could never come across through text. Videos will help your customers feel more closely connected to your company.
3. Explainer videos increase social media exposure. Video is the king of social media. Platforms prioritize videos in user feeds and videos elicit more social media engagement than any other types of posts. The more viewers interact with and share your video, the more users will see it in their feeds, and the larger your audience will be.
4. Explainer videos boost conversions. According to Internet Retailer, consumers are 85% more likely to buy a product they first see on an explainer video. Videos significantly increase a visitor's time on page and the number of pages they visit in a session. By simply adding an explainer video to a landing page boosts conversions almost automatically.
5. Explainer videos increase your Google ranking. Improved SEO means more views, conversions, and sales. Google not only prioritizes video results in a search but including a video on a website increases SEO. Even if your company doesn't rank highly in traditional search results, having a video gives you a chance to display in Google's featured snippets – of which 70% don't rank highly in the organic results.
Create Explainer Videos with Powtoon
Boost your marketing efforts with explainer videos from Powtoon! Powtoon's user-friendly video communication platform allows novice creators to make professional-quality videos in minutes with a library of customizable templates. Sign up for free!
The following two tabs change content below.
Hanna is Powtoon's Content Marketing Strategist. She joined Powtoon as a copywriter in 2019, after graduating from university with a specialized degree in marketing and business. She continues to inspire people to create incredible video content with blog posts, videos, guides, and more. Hanna's passions include reading, singing, and caring for animals (#proudvegan). Nothing makes her happier than waking up to her two black kitties who, contrary to popular belief, are good luck!
Latest posts by Hanna Abitbul (see all)