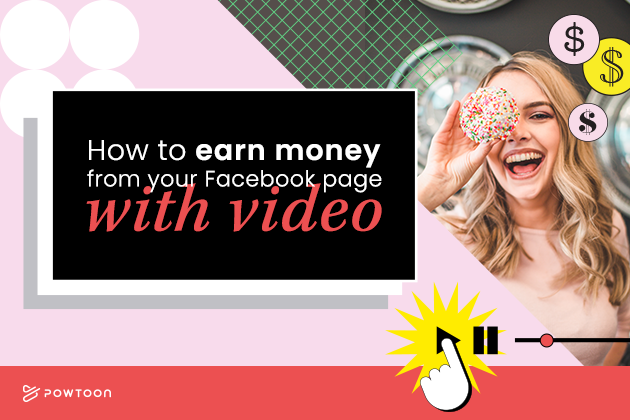 How to Earn Money From Your Facebook Page with Video
Read Time:
4
minutes
If you've been wondering how to get paid on Facebook, then you'll be glad to hear that there are several ways to monetize your Facebook page. One of the most effective methods is video. Video content often has a higher engagement rate than other types of posts, and can be used as an effective tool for monetizing your Facebook page.
This guide will explain the role video content can play in your overall Facebook monetization strategy. Apply the tips here to turn your Facebook videos into consistent sources of revenue:
Include 'In-Stream' Ads
Facebook In-Stream ads are a type of advertising offered by Facebook that allows businesses to place video ads within the content of other videos on the platform. These ads are played in between the content of the video that the user has chosen to watch and can be up to 15 seconds long.
In-Stream ads are designed to be non-intrusive, as they don't interrupt the video that the user has chosen to watch and can only be skipped after 5 seconds. They are also recommended for videos that are at least 90 seconds long, and the ads will be shown to the users who are most likely to be engaged with the content.
Because you're reading this with the goal of learning how to monetize a Facebook page, you may not have much interest in creating your own In-Stream ads (although doing so can help you reach a larger audience). Instead, you should understand that when you place In-Stream ads in your own video content, you share some of the revenue when your audience sees the ad.
That said, your content needs to meet certain requirements to qualify for In-Stream ads. Check Meta's policies to learn more. In general, researching official Facebook monetization requirements can help you better determine if your content meets the necessary eligibility criteria.
Collaborate With Other Brands
Facebook monetization strategies often involve collaborating with other brands whose social media audiences (and target audiences in general) may overlap with your own. These collaborations can take many forms, from sponsored posts to ad placements in your videos.
No matter what form a collaboration takes, it should always be beneficial to both parties involved. This means that both you and the other brand should receive some value out of the collaboration. For example, if you're collaborating with a company on an ad placement in your video, you should be paid for the ad space and the company should benefit from increased brand awareness.
Even when collaboration isn't directly resulting in more income for one participant at all times, it should always deliver some form of measurable advantage to all parties involved. Money is just one example of such a benefit. A less tangible but still valuable benefit would be an increase in followers. A follower might not be a customer right away, but if they engage with a brand on a regular basis after following it on social media, they might eventually buy a product or sign up for a service.
Collaborating on Facebook is also easier than ever before thanks to the new Meta Brand Collabs Manager. This tool helps you find potential collaborators based on the shared qualities of your audiences. Familiarize yourself with it as you continue to research how to make money on Facebook through video.
Promote Products and Services
By posting videos on Facebook, you can potentially reach a large audience. Thus, if you're wondering how to get paid on Facebook, it's wise to remember the basics. Using Facebook videos to promote your products and services is one simple way to monetize your content.
You can also use videos to promote affiliate products, as well as create product launch or event promotion videos. Make sure that any products you are promoting are relevant and beneficial for your audience so they don't feel like the video is an intrusion.
Direct Traffic to Your Site, Podcast, Vlog, Etc. Through Facebook Videos
The goal of many businesses is to drive traffic from Facebook to their own websites, podcasts, vlogs, and other forms of content. You can use videos on your Facebook page to draw attention to this content and make it easier for people to find it.
When posting videos on your page, add a link in the description that directs viewers to your website, podcast, vlog, etc. You can also include links in the video itself if you are using an editing program or tool such as Adobe Premiere Pro that allows for watermarks or annotations.
How this translates into an effective Facebook monetization strategy will depend on how you monetize your own site or other such platforms. For example, perhaps you host ads on your site. If so, directing more traffic to your site could help you generate more ad revenue.
In other words, while Facebook videos may not directly earn you money, they can help you indirectly monetize your content by providing a platform through which to promote it. This can be an easy and effective way to supplement monetization from other sources.
As you continue to research how to get paid on Facebook and explore different Facebook monetization strategies, remember there is no one-size-fits-all solution. It's important to experiment with different methods and find what works best for you and your audience.
Easily Generate Facebook Video Content With Powtoon
A video-based Facebook monetization strategy is more likely to yield ideal results if you post quality videos. Powtoon allows you to produce impressive Facebook videos easily and affordably even if you have a small video production budget or limited video production experience. Sign up for free today to get started!
The following two tabs change content below.
Hanna is Powtoon's Content Marketing Strategist. She joined Powtoon as a copywriter in 2019, after graduating from university with a specialized degree in marketing and business. She continues to inspire people to create incredible video content with blog posts, videos, guides, and more. Hanna's passions include reading, singing, and caring for animals (#proudvegan). Nothing makes her happier than waking up to her two black kitties who, contrary to popular belief, are good luck!
Latest posts by Hanna Abitbul (see all)