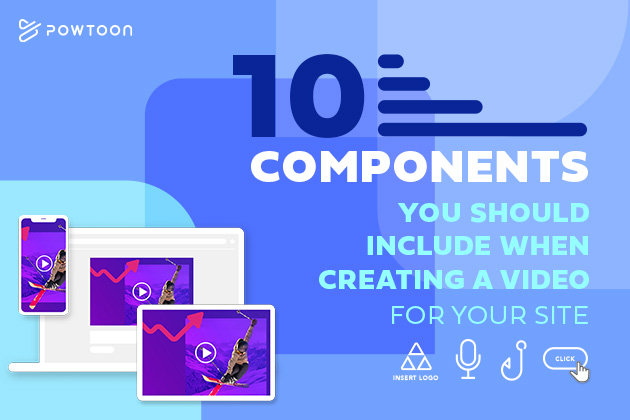 10 Components You Should Include When You Create a Video for Your Site
Read Time:
3
minutes
Video is great, but it takes more than great content to get views. When you create video content for your site, there are some elements you should include to increase its appeal to your audience. Here are the top ten.
Ten Components to Include in Every Video
1. A hook. Your video is competing for viewers' attention amongst a nearly infinite collection of other content. You have to find a way to stand out — and fast. You may have the best content in the world, but if you don't convince your viewer to keep watching within the first 15 seconds, they'll probably click away and never see it. Include a hook at the very beginning of your video to convince your viewers to stay tuned.
2. Optimized orientation. Video-making is not one-size-fits-all. Know your platform and viewership, and create a video that is appropriately optimized. You can even repurpose the same video in different orientations for different platforms but resist the urge to create one piece of content and share it on all your channels. If you're uploading to your Instagram feed, make sure it's square. If you're uploading to YouTube, use a horizontal orientation. If the vast majority of your website viewers are on mobile, optimize your homepage video for them.
3. A professionally designed template. No matter how great the information you have to share, appearance matters. Designers know what aesthetics are eye-catching; choosing a professionally designed template will make sure you use color, font, and graphic combinations that draw your viewer in and enhance the content of your video.
4. Good-quality audio and video. If your viewer can't see or hear you, you'll lose them. While you don't have to hire a production team, make sure your subject is well-lit and your audio clear. Simple tools like light rings and plug-and-play microphones are inexpensive and make a huge difference.
5. A clear message. Have a plan for your video. Keep it as brief and concise as you can. Any portions that are slow, irrelevant, or rambling increase your risk that you'll lose your viewers' interest. Create video content that stays on subject and moves along at a good pace.
6. Captions. Eighty-three percent of viewers watch videos with the sound off; that increases to a whopping 92% on mobile. Automatic captions are convenient but often clunky and incorrect. Spend time making sure you have captions included in your video – especially if your message is heavily dependent on audio.
7. Your website information. Always include your web address at the end of your video. This is especially true if your video will be housed on a platform other than your website. This way, if someone stumbles across your content on the web, they know where to find you if they want more information.
8. A call to action. Include a clear call to action in your video. This will vary based on the content and purpose, but video marketing is not the place for subtlety. Tell your viewer exactly what you want them to do, whether it's to click through to your website, make a purchase, or follow you on Facebook.
9. Your logo. Even if you prevent embedding or take measures to protect your video, there are still sneaky ways for others to download your content. You never know where your video may pop up on the web, so always include your logo to prevent others from taking credit for your work.
10. A custom thumbnail. Most video platforms will use AI to choose a still image for your video thumbnail. This thumbnail will appear in teasers to entice potential viewers to click. Stand out from the competition by creating your own. Make it eye-catching, interesting, and tease the content with a composite photo, graphics, or text that make the topic clear.
Create Video with Powtoon
It's easy to create a video with Powtoon! Combine your rockstar content with our easy-to-use tools to make attention-grabbing videos with a professional flair. Sign up for a free account and start creating today!

The following two tabs change content below.
Shoshi Davis
Shoshi joined Powtoon as a Marketing Assistant. To read more of her stuff, you can find her content on Upwork and Business 2 Community talking all things inbound marketing for SaaS. After only 2 weeks at Powtoon, Shoshi was dubbed by the marketing team as having the superpower of "Unbridled Enthusiasm." So that was pretty cool.
Latest posts by Shoshi Davis (see all)