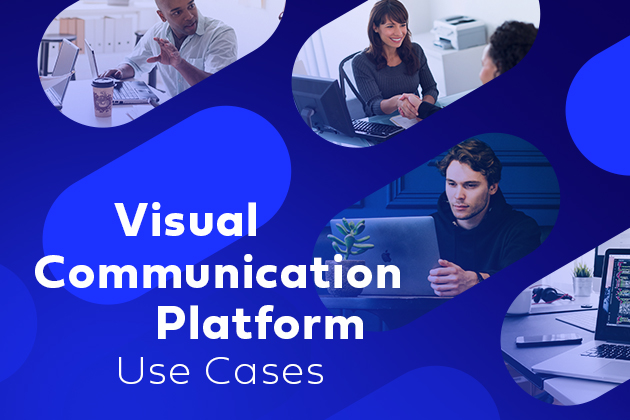 Visual Communication Platform Use Cases
Read Time:
3
minutes
We live in a world of extreme information overload. Since the human brain processes visual content 60,000 times faster than text, adopting an effective visual communication strategy is essential to having your message received. However, the usefulness of video and other visual modalities extends far beyond simple social media ads.
Here are six areas where implementing a visual communication strategy can transform the way you do business. Once you have a visual communication platform in your back pocket, the possibilities are endless!
Visual Communication in Human Resources
Onboarding new employees well is critical for long-term retention and productivity. In today's remote work environment, it's no longer feasible for every employee to attend in-person orientations, training programs, or participate in robust mentorship programs.
Use a video communication platform to create engaging orientation videos, conduct campus tours, and develop annual compliance training videos that employees will actually want to watch.
Visual Communication in Sales
Don't just sell a product – tell your product's story. A well-organized visual communication tool helps your sales team present your product in a way that's memorable, accurate, and complete. No more botched presentations, misinformation, or misunderstanding.
Help your team, your clients, and your bottom line by providing high-quality visual communication tools to complement your staff's skills in closing the deal.
Visual Communication in Marketing
The average consumer is bombarded by 4,000-10,000 ads each day. Unless yours stands out, it will get lost in the noise. An easy-to-use visual communication platform will help you produce multiple pieces of cost-effective, professional-quality content quickly.
Use targeted ad campaigns to make your message more than just attention-grabbing; your custom-created targeted ads will also be relevant to your viewers, which is key to garnering clicks, conversions, and sales.
Visual Communication in Learning & Development
Visual content has long been proven as an effective instructional tool for students of all ages. Learning & Development professionals can use visual communication platforms to create robust, engaging content for their adult learners across industries and departments.
Create general instructional content, then make a few small changes to customize it for individual areas of specialization. In no time you've got high-quality, industry-specific content for a fraction of the cost from a professional production studio.
Visual Communication in Internal Communications
Use visual communication tools to enhance messaging across your company. Whether it's a chart to display progress towards goals, a direct video message from the CEO, or an animated explainer video to show new processes or procedures, a visual communication platform will help get the message to your team in a way that mass emails or text-based messages can't.
Visual Communication in Information Technology
Tech is everywhere. No matter their job title, every employee uses tech and will need help at some point. If your product has any online or mobile integration, your customers will have questions. To maximize the effectiveness of your IT team, use a visual communication platform to create custom videos for common FAQs.
Use screen recording technology to show employees or customers exactly how to install software, access files, or change settings. The more you can automate problem-solving for the smaller issues, the more time your IT staff will have to tackle the bigger things.
One Visual Communication Platform for All Your Video Needs
Powtoon is the visual communication platform to help you connect with your audience like never before. Its user-friendly platform and professionally-designed templates make telling your story easy. Sign up for free today!
The following two tabs change content below.
Shoshi Davis
Shoshi joined Powtoon as a Marketing Assistant. To read more of her stuff, you can find her content on Upwork and Business 2 Community talking all things inbound marketing for SaaS. After only 2 weeks at Powtoon, Shoshi was dubbed by the marketing team as having the superpower of "Unbridled Enthusiasm." So that was pretty cool.
Latest posts by Shoshi Davis (see all)