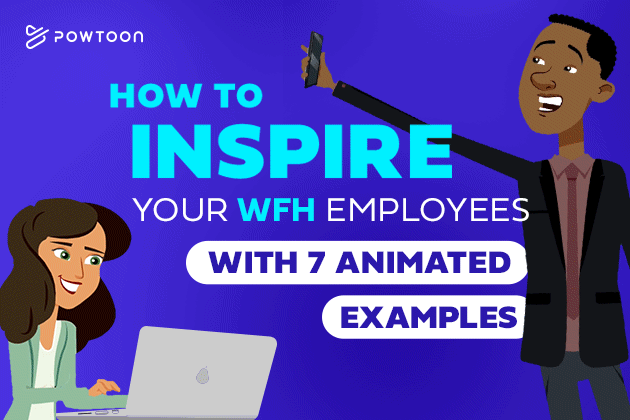 How to Inspire Your WFH Employees: 7 Examples of Animated Internal Comms Videos
Read Time:
5
minutes
As governments around the world are limiting the movement of their citizens in order to protect them, the question we're all asking is no longer "if" companies will require employees to work remotely, but rather "How long will WFH (working-from-home) last?" And employees are turning to their companies for answers.
That's where HR, trainers, internal comms, executives, and even CEOs enter the scene; you may not have the answers yet, but you do have the privilege of answering. This is an immense opportunity to change the way you communicate with your entire company for the better BEST — with animated internal Comms messages customized for your WFH employees. The way you choose to support, motivate, inspire, and engage your employees right now will the set the tone for the future.
How Most Companies Are Responding to COVID-19
As expected, HR and Internal Comms departments in many companies have been quick to integrate new programs, top training software, and collaborative tools in order to make the transition from office to home smooth and productive. This is fantastic and they deserve a giant medal for their efforts. But what about the emotional component? How can upper management support and inform while generating SMILES 🙂 at the same time?
How YOUR COMPANY Can Respond to COVID-19 Differently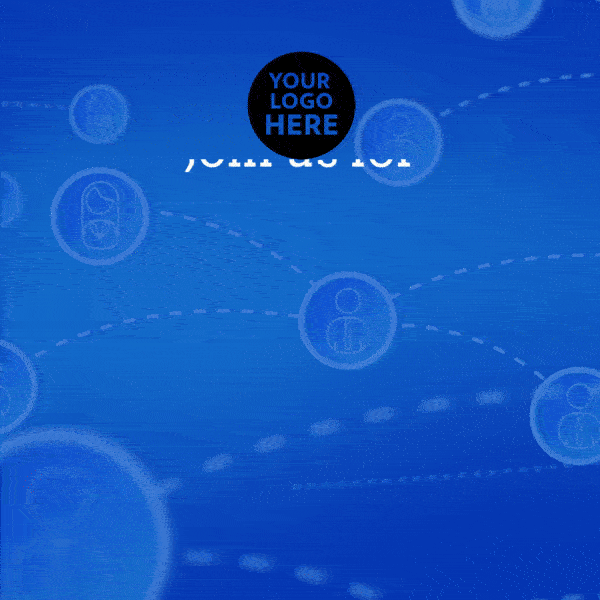 Visual Communication and Remote Work
That's where the power of video comes into play. By replacing traditional internal comms with visual messaging, managers and team leaders are discovering a whole new way to empower their staff and boost their communication strategy –– all from home! Check out how the IoTC (Internet of Things Consortium) reached out to their company using the Coronavirus Health & Safety template!
Here's Why Using Video Messages for Internal Comms Creates a Positive Company Culture
Video helps employees absorb information quickly, which is critical when regulations and guidelines change on a weekly, or even daily, basis.
Video is more expressive than email or messaging. By sharing a video packed with bright colors and characters, or nostalgic black and white footage, the sender's intent is more clearly understood (and appreciated).
Video is a welcome break from long threads of text, typical to most workplace communication platforms.
Video messages are viewed more than any other form of workplace communication and receive more positive feedback! (Results were based on a survey sent from Powtoon to professionals across fields).
Good Communication Means Employees Stick Around
Companies and organizations that communicate effectively are 4.5x more likely to retain the best employees. In addition, it costs employers 33% of a worker's annual salary to replace that employee! If these stats don't inspire you to start opening the lines of video communication in your company, then check out these 7 beautiful, funny, caring, and unique internal comms messages that are shaping the way WFH employers and workers are tackling "remote":
7 Animated Messages That Will Inspire Your WFH Employees
Each video message is under 10 seconds long, and was made in under 10 minutes – IN 3 SIMPLE STEPS:
1. Pick any template that matches the look or message you want (See all templates in the Powtoon Video Gallery HERE)
2. Choose 2 scenes
3. Customize — Add logo, swap company colors, edit your message (or anything else you'd like)
DONE!
1. Company Wide Security Update
Whether it's coming from your IT dept or HR, the fastest way to get all employees to stop, take notice, and login is with an animated announcement! This 8 second video was made using 2 scenes from the IT Support template.

2. Remote Employee of the Week/Month
Motivate employees by appreciating them — a little recognition goes a long way and sends a positive message to the rest of the staff. This video message was created using the Company News template.
3. Remote Onboarding for New Employees
There's no better feeling for a new employee than being welcomed to a company with wide open arms and a cheerful smile…even if these arms are now remote! Invite new hires to set up their computers with a fun onboarding message! The 2 scenes below were created using the New Customer Onboarding template.
4. Join Our Training Invite/Reminder
If you want to increase the attendance rate of your compliance training sessions, then a bright invitation is the way to go (and the best part is that your invite can double as a reminder)! This 6 second video was made using 2 scenes from the Sexual Harrasment Prevention Training template.
5. Last Call to Fill Out Forms!
We all push it off to the last minute… filling out those dreaded W-3s, income tax, insurance forms — and it's up to HR to remind us that the deadline is approaching! Work smarter, not harder, and capture all eyes in one shot with a "last call" reminder! This video was created using 2 scenes from the Year in Review template.
6. Team Shout Out
How do you celebrate team accomplishments when you are all self isolating in your homes? This is how you do it! Simply Swap in your brand colors and personalize with a message just for your team or department. This video was created using scenes from the Video Resume template.
7. Remote Self Care Reminder – Email Header
Working from home has a way of blurring work and personal life to such a degree that employees often neglect their own well being! Avoid employee burnout by sending employees periodic Self Care Check-Ups! This video message can be turned into a GIF and used as an email header. All you need to do is fill in the details in the email below!
Bonus: "Just For Fun" Messages
We all come up with clever, funny ideas from time to time, and now we have a tool to express it. I invite you to enter the Powtoon Studio, where an abundance of characters, images, soundtracks video clips and new work-from-home props are waiting for you to combine them into your own mini video and share it with the world. (Below I transformed the 8 second video into a GIF, using a free online GIF maker.)
We hope these 7 Examples of Animated Internal Comms serve as the starting point for the endless number of video messages you'll create to inspire your WFH employees and contribute to a positive company culture!
The following two tabs change content below.
Nirel Matsil
Howdy! I'm not actually a cowboy but I'm Super excited to be here, honing in my science background plus marketing experience to help show the world how anything you wish, dream or say, can be made more awesome with Powtoon!
Latest posts by Nirel Matsil (see all)