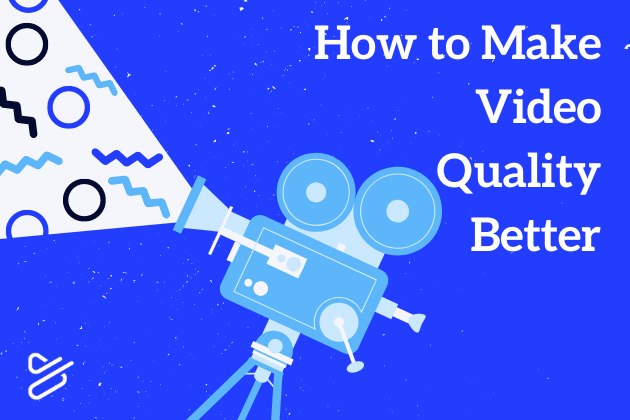 How to Make Video Quality Better
Read Time:
4
minutes
Video is among the most popular forms of media for both businesses and individuals in the digital age. That said, as video content becomes increasingly widespread, standing out among the crowd can also become increasingly challenging.
There are many ways to optimize the odds of your video content getting noticed. One of the most effective is to simply enhance video content so that its quality impresses viewers. This overview will explain how you may do so.
Why is Video Quality Important?
Video is an extremely powerful marketing tool. By combining music, dynamic images, a narrative structure, and various other elements, a video can forge an emotional relationship with an audience that other types of content may not achieve.
If you're a marketer, ensuring your video content is high-quality should be among your top goals. The following are key reasons why:
First impressions matter: Your video content may serve as the first exposure a potential customer has to your brand. If you create and share visually stunning videos, you'll establish your credibility and have a better chance of impressing a new customer.
Attention spans and engagement: Did you know that the ideal length for a social media video may be under one minute, depending on the platform? On the one hand, video content has proven to be highly engaging when compared to other forms of content. On the other hand, stats like this serve as a reminder that attention spans are quite short in the digital age. You need to do everything you can to ensure your video content captures (and keeps!) the attention of a viewer who may have more tabs open than there are numbers in the known universe. One way to achieve this all-important marketing goal is to create, release, and, when necessary, enhance attractive videos.
Social media performance and SEO: Marketing and SEO experts don't just recommend promoting your business with video content. They specifically emphasize the importance of creating and sharing high-quality videos. This is because, in regard to search engine rankings, high-quality video content tends to perform better than low-quality videos. The same holds true on social media.
Learning how to improve video quality can also be useful even if you're not marketing your products and services. For example, you might use video content for a variety of internal purposes. Examples include:
Onboarding new hires
Training employees
Sharing updates about the company
Facilitating communication across teams
You may assume optimizing the quality of internal videos isn't as vital as boosting the quality of video marketing content. However, it's worth considering that the quality of your videos can influence brand perception within your company. If your videos look professional, your employees may be more inclined to take the organization seriously.
These are just a few reasons to create and refine impressive videos. The following tips will help you achieve this goal.
How to Make Video Quality Better: Ideas to Keep in Mind
Use the Right Equipment
Investing in the proper equipment plays a major role in boosting the quality of the videos you create. Luckily, that no longer necessarily means spending more than you can afford on a professional camera.
For example, tech innovations have now made it possible for filmmakers to make professional movies while shooting on an iPhone. Thus, even if your video production budget is relatively small, with some basic equipment, the right app (such as one that offers an in-app video enhancer), and the right video maker tools, you can likely afford to create professional-looking videos.
Adjust the Basic Elements
Your video maker or video editing tool may allow you to adjust such elements as a video's brightness, saturation, etc. Experiment with doing so to determine how such adjustments can result in your videos looking more impressive.
You'll have to learn to strike a balance when making these types of adjustments. If you boost the saturation or brightness too much, the quality of the video may ultimately suffer. A smart way to learn how to strike this balance is to make certain adjustments and compare the new clip to an unedited one. With practice, you'll feel more comfortable in your ability to make noticeable improvements without generating excessive grain or other signs of low-quality video.
Don't Overlook Audio Quality
This is an important point! What your audience hears may be as essential an element of a video as what they see.
Ways to optimize audio quality in your video content include:
Using quality audio files in the first place
Using proper audio recording equipment
Filming and recording audio in spaces with strong acoustics
Ensuring background noise won't be heard on your video
Try Different Video Formats
The quality of a video can vary significantly depending on the file format. Knowing this, you should research popular video file formats to learn which ones allow you to optimize the quality of your videos.
Just be aware that the size of your video file will likely increase if you choose a format that yields stronger quality. This can affect your ability to email a video, upload it to YouTube etc.
Boost Accessibility
Video quality isn't just about crisp visuals and clear audio. It's also about ensuring your video makes a consistent impression across various types of audiences and viewers.
When choosing a video editor, look for one that allows you to add subtitles, text overlays, or other such elements that can improve the accessibility of your videos. Doing so is key to ensuring your content is poised to reach a large audience.
And, most importantly, remember that learning how to make video quality better takes time. Applying these tips will certainly help, but the best way to improve the quality of your videos is to practice generating and editing videos consistently. Before long, you'll find it's easier than you imagined to release videos that stand out among the competition.
Powtoon's Video Maker Tool Lets You Make Videos With Ease
Don't believe you have the skills (or budget) necessary to make strong video content? If so, you need to give Powtoon a try.
Powtoon is an easy-to-use video maker tool designed specifically for those who have limited experience creating video content. With Powtoon, you can use templates to get started on a video that looks just like something you'd expect from a pro. Powtoon also allows you to incorporate animation and other such elements to further improve your content's overall quality. To learn more about what Powtoon can do for you, sign up today!

The following two tabs change content below.
Hanna is Powtoon's Content Marketing Strategist. She joined Powtoon as a copywriter in 2019, after graduating from university with a specialized degree in marketing and business. She continues to inspire people to create incredible video content with blog posts, videos, guides, and more. Hanna's passions include reading, singing, and caring for animals (#proudvegan). Nothing makes her happier than waking up to her two black kitties who, contrary to popular belief, are good luck!
Latest posts by Hanna Abitbul (see all)