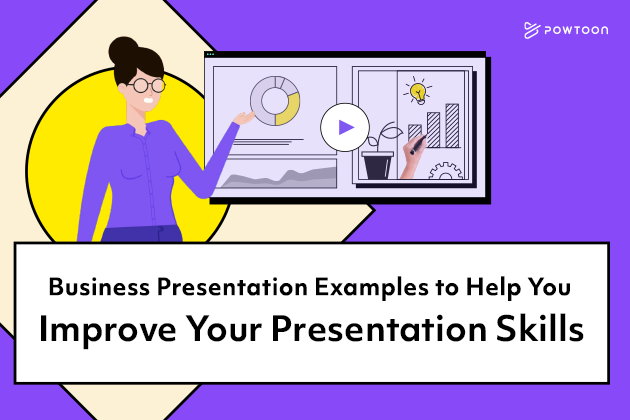 Business Presentation Examples to Help You Improve Your Presentation Skills
Read Time:
4
minutes
If you work in a large corporation in any capacity, there's a good chance you may need to deliver a variety of business presentations throughout your career. These might consist of status updates, pitches, training presentations, and numerous others.
Don't stress if you are concerned with your abilities to deliver these types of presentations effectively. This is a worry many share. It can seem difficult to strike the appropriate balance between communicating the important information you need to express while also ensuring that your audience remains interested enough in your presentations to actually absorb that information.
There are many ways you can improve your confidence in your presentation abilities. One is to study common business presentation examples. The following are a few general ideas to consider:
The Video-Based Onboarding Example
If you work in HR or manage a team, delivering onboarding presentations may be among your most significant priorities. After all, studies and research consistently indicate that proper onboarding can have a major impact on employee retention. This is important, as the cost of employee turnover is often much higher than many realize.
What's critical when developing onboarding presentations is to ensure that the quality of each presentation remains consistent. If each batch of new hires has a different onboarding experience, you can't build a cohesive team where everyone is engaged.
One way to achieve this goal is to study business presentation examples that demonstrate the value of using video during the onboarding process. When you deliver segments of onboarding presentations in the form of videos, you can be certain that every single new hire will be provided with the same information in the same dynamic manner.
Try some of these onboarding video templates:
The Product Demonstration Example
Not all business presentations will be delivered to your colleagues and coworkers. You might also be in a position to deliver business presentations to potential investors or buyers if you have a new product you're trying to sell.
The best way to show why a new product will succeed is often to simply demonstrate how it's used. It is one thing to merely describe the benefits a product offers. Actually showing your audience a product in action is much more effective than simply talking about its usefulness.
This is another type of business presentation that can be improved upon with the use of video. When delivering a product pitch, factors ranging from your preparedness to your anxiety can impact how well you show off your product's features and strengths. When you create a video showing how to use your product, again, you can provide a much more consistent experience.
The Project Update Example
Studying business presentation examples can help you in many ways. Particularly, strong business presentation examples may help you avoid one of the most common pitfalls someone could fall into when speaking to their colleagues about important topics: coming across as dry and boring.
Delivering project update presentations is necessary for most corporations. It's essential that all team members understand their collective progress as they work towards common goals. Unfortunately, project updates often consist of sharing information that may not necessarily be exciting or entertaining. It can seem difficult to maintain an audience's attention when you are talking about such topics as revenue reports, milestone achievements, and other developments. 
This doesn't need to be the case. Strong business presentation examples often highlight the value of keeping a project update engaging by incorporating multiple elements. For example, along with charts, graphs, and trackers, you can add in storytelling elements by explaining to your audience how the work you're doing now is leading you all on a path towards a goal you've been aspiring to achieve together. Once more, producing a video can help you do so more effectively.
Just remember that the business presentation examples you study should only inspire your own approach to developing presentations. You don't need to design every element of your presentation to mirror an impressive example. It's often smarter to modify your own presentations based on the ideas you collect from the examples you and your team members study together.
Enhance Your Business Presentations With Video
Don't worry if you believe you lack the time or resources necessary to add strong video content to your own video presentations. With templates and a wide range of other solutions, Powtoon makes creating business presentation videos easy and affordable, even for those with no video production experience. Get started by signing up today for free.