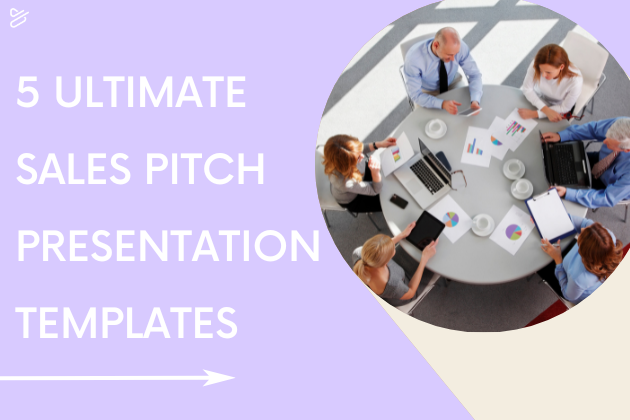 5 Ultimate Sales Pitch Presentation Templates
Read Time:
4
minutes
If you're a business owner or an employee whose responsibilities involve attracting new customers, you need to master the art of the sales pitch. Tips to keep in mind when planning and delivering sales pitches that impress include:
Use visual aids to make a pitch more dynamic
Tailor the tone and language of your sales pitch to individual audiences
Focus on simplicity, explaining in clear terms how your products and services can deliver value to a customer
If you're still not sure where to start, keep in mind that planning an effective sales pitch is often much easier when you begin with the right presentation templates. The following are options to consider:
Presentation Template 1: The Problem-Solution Framework
When you're offering a product or service, you're essentially offering to solve a problem for your customers. This is how your products or services deliver value.
This Pitch Deck Video Presentation Template is exactly that – a problem-solution template that guides you through the process. The goal during a sales pitch is to convince potential customers that what you have to offer is worth their money. Thus, it can be wise to focus on the problem you can solve for them.
A problem-solution sales pitch presentation template usually follows this basic outline:
Begin by introducing the nature of the problem in a relatable way
Explain the various practical ways this issue creates difficulties for your customers
Introduce your product or service as a solution
Explain and demonstrate in as much detail as possible how your service solves this problem
Highlight both the short-term and long-term benefits customers will enjoy when the problem you solve for them is no longer a major issue
Be sure to monitor your sales pitch's tone when leveraging this common presentation template. Because you're starting by focusing on a problem, the beginning of the presentation may have a somewhat negative tone. However, by the end, your goal is to instill a sense of optimism and relief in your audience.
Presentation Template 2: The Storytelling Approach
Highlighting facts and figures during a sales pitch may be both necessary and wise to some extent. Our Meet Kate Product Explainer Video does exactly that, leveraging storytelling and animated characters to create a powerful and persuasive presentation. For example, if yours is a B2B company and you're delivering a sales pitch to prospective clients, it makes sense to explain how much money a problem of theirs costs them every year and how much money they can expect to save by paying for your products or services.
However, a sales pitch that focuses solely on data may not connect with an audience on an emotional level. To connect with your audience emotionally, consider using a storytelling-based presentation template. Business experts often point out that storytelling is a uniquely effective persuasion technique.
Ideas for a sales pitch that leverages storytelling include (but aren't limited to):
Depicting the problem your customers face and the way your products solve it with a short animated movie
Including a mini-documentary in your presentation that highlights your company's origins and values
Using a short animated film to tell two stories: one about a character who benefits because they bought your products or services, and one about a character who struggles because they opted not to
Be aware that triggering an emotional response in your audience doesn't need to mean making them feel intense emotions like sadness, joy, etc. Simply telling a humorous story that makes audience members laugh may qualify.
Presentation Template 3: The Visual Journey
Imagery is a "universal language" that can sometimes result in more effective communication than words alone. Our Investor Deck – Product Pitch Video Template is perfect for those times you don't want to choose a presentation template that emphasizes storytelling. This one allows you to prioritize the usage of images to guide your audience along a journey.
For a sales pitch to take audience members on a journey, it must be designed so that the emotions and perspectives of audience members change throughout the pitch. For instance, at the beginning of your presentation, you could use images that feature colors like red, which generates a sense of urgency in a viewer. There's a reason most emergency signs (and related signage, like certain traffic signs) are red.
On a subtle psychological level, this approach reminds audience members they have a problem that needs solving. By the end of your sales pitch, once you've described how your products and services can benefit your audience, the images you display in a slideshow or video should be more calming and/or optimistic.
Presentation Template 4: The Data-Driven Pitch
Again, there is a place for data in a sales pitch. You simply need to ensure that when you share key pieces of data with your audience, they digest and retain the information. This engaging Value Proposition Video Presentation Template allows you to include graphs and data in a compelling way.
Ways to achieve this goal include:
Using a presentation template that allows you to display data in the form of infographics
Using animation to explain complex ideas and break down complicated sets of data
Using text effects to highlight key data points in a presentation
Starting your presentation with a surprising fact, figure, or piece of data to capture the audience's attention
Presentation Template 5: The Interactive Presentation
Your sales pitch doesn't need to solely consist of you speaking to potential customers. They may be more engaged if you give them opportunities to participate in a presentation.
Ways to make a sales pitch presentation interactive include:
Include quizzes and/or surveys in your sales pitch
Ask for volunteers to participate in sketches or scenarios you act out
Give your audience members multiple opportunities to ask questions
Set aside time in your sales pitch to discuss open-ended topics and questions that are relevant to your customer's needs and your services
A customer success story can also help make it more interactive by showcasing real-life examples of how your product or service has positively impacted someone's business or life. By incorporating customer success stories, you add authenticity and relatability to your presentation, encouraging active engagement and fostering trust in your offerings.
Elevate Your Sales Pitch With the Right Template
Planning a sales pitch that helps you score new business doesn't need to be a daunting task. By experimenting with presentation templates, you'll more easily determine how to win new customers over. These are just a few noteworthy options to consider.
Enhance Your Presentations With Powtoon
Powtoon is an online presentation maker that allows you to design striking sales pitches thanks to such features as animation, text effects, embedded video, and much more. Sign up today to find out what it can do for you!

The following two tabs change content below.
Hanna is Powtoon's Content Marketing Strategist. She joined Powtoon as a copywriter in 2019, after graduating from university with a specialized degree in marketing and business. She continues to inspire people to create incredible video content with blog posts, videos, guides, and more. Hanna's passions include reading, singing, and caring for animals (#proudvegan). Nothing makes her happier than waking up to her two black kitties who, contrary to popular belief, are good luck!
Latest posts by Hanna Abitbul (see all)