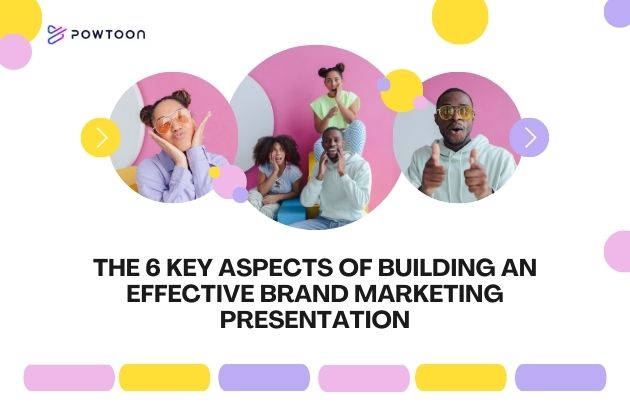 The 6 Key Aspects to Building An Effective Brand Marketing Presentation
Read Time:
4
minutes
Your company's brand is like its qualities. All people have their own unique sets of values, quirks, beliefs, and priorities. The same is true of strong brands.
Be aware that when delivering various types of business presentations, you're also promoting your brand, whether you intend to or not. For example, perhaps you're presenting an investor deck. When doing so, you're not merely trying to sell investors on your products or services. You're also providing valuable information about your brand.
Essentially, all business presentations have the potential to be brand presentations. The following tips will help you ensure everything from your tone to your presentation slides represents your company's branding accurately:
Understanding Your Audience
Knowing your audience is critical when establishing the various elements of your brand. Thus, it's also important to consider your audience when delivering a brand marketing presentation.
Perhaps you're pitching your brand to a young marketing agency. Maybe your target customers are also young and hip. If so, you might include bright colors and whimsical fonts (to a reasonable degree!) in your presentation slides.
On the other hand, maybe you're pitching your services to serious businesspeople. If so, you would want your presentation to communicate the idea that your brand is trustworthy and professional.
(Tip: Knowing your audience means knowing what type of reaction you want to provoke in them. Consider studying color psychology to learn how using certain colors in your branding can help you achieve the reactions you're aiming for.)
Defining Clear Objectives
You don't just want your brand marketing presentation to reflect the nature of your brand accurately. You want to ensure you achieve specific goals during your presentation, such as giving your audience a sense that your brand stands for sustainability or communicating the idea that your brand may resonate with a particular demographic.
Setting clear goals actually helps you save time in the long run. When you know exactly what you wish to achieve, knowing what you should and shouldn't include in a presentation is easier.
Crafting Compelling Storytelling
Experts frequently point out that storytelling has the potential to play a critical role in marketing for businesses across virtually all industries. Storytelling can also be quite helpful in regard to branding.
Consider the example of Apple. In its early days, Apple's brand symbolized creativity and rejection of the status quo. Steve Jobs leveraged this by telling a story that positioned Apple as a rebellious upstart facing down the establishment represented by such companies as IBM.
The story you tell about your brand might not be quite so dramatic. Nevertheless, incorporating storytelling into a brand marketing presentation can help cultivate an emotional connection with your audience. They may even identify with your brand, boosting the odds that they will become and remain loyal to it.
Visual Design and Brand Consistency
Some people make the mistake of assuming that a company's brand consists entirely of its visual elements. That's not the case. However, it's important to keep in mind that numerous visual elements certainly do contribute to a brand. Examples include the following:
Color scheme
Logo
Typography
The demographic details of any characters who represent the brand
The types of images you display in various pieces of branded content, from ads to internal employee onboarding videos
An effective brand is a consistent brand. This is where brands and real people differ. While some people may waver in their values and beliefs, a solid brand remains committed to a core set of values.
One way to express the idea that your brand remains consistent is to maintain visual consistency across all branded material. Remember this not only when designing presentation slides but when considering all visual aspects of your presentation, such as the clothes you wear. Every visual element should reflect your branding whenever possible.
Incorporating Engaging Multimedia Elements
Don't worry if public speaking isn't among your top skills. You can still deliver an impressive brand marketing presentation.
One way to achieve this goal is by incorporating multimedia elements, such as video. Doing so is actually a very wise idea when delivering a brand marketing presentation for the following reasons:
Video allows you to incorporate music and other elements that further represent your branding.
With a video, you can showcase characters who reflect your brand and its target audience.
Video naturally facilitates storytelling.
A video can express a relatively large amount of information about your brand in a short amount of time, improving your odds of keeping your audience's attention.
Although you don't want to rely exclusively on video during an in-person brand marketing presentation, it's worth noting that video also ensures a certain degree of consistency every time you deliver a given presentation to an audience. Because a video doesn't change, you can be certain that at least this portion of your presentation will provide all audience members with the same experience.
Delivering with Confidence and Impact
Video may be a helpful tool when you lack confidence in presenting in front of a group. Regardless, you should still work on cultivating your presentation skills. Tips to keep in mind include the following:
Practice so often that delivering the presentation almost becomes muscle memory to you
Anticipate the types of questions your audience members may ask so that you're prepared to answer them confidently
Don't stick to just one tone of voice, as doing so (even if your tone is technically enthusiastic) can become monotonous throughout a presentation.
Adopt confident body language, as research has shown it can boost your confidence.
Most importantly, remember that many people struggle to comfortably and easily express a brand through a presentation right away. Don't beat yourself up if you don't get it right the first time. By applying these tips and continuing to practice, you'll slowly but surely develop your brand marketing presentation skills.
Create Brand Presentation Videos With Powtoon
Powtoon is a video maker and animation maker designed specifically for those with limited video production experience and small video production budgets. It will help you create pro-quality videos for your brand marketing presentation. Sign up today to learn more!

The following two tabs change content below.
Hanna is Powtoon's Content Marketing Strategist. She joined Powtoon as a copywriter in 2019, after graduating from university with a specialized degree in marketing and business. She continues to inspire people to create incredible video content with blog posts, videos, guides, and more. Hanna's passions include reading, singing, and caring for animals (#proudvegan). Nothing makes her happier than waking up to her two black kitties who, contrary to popular belief, are good luck!
Latest posts by Hanna Abitbul (see all)