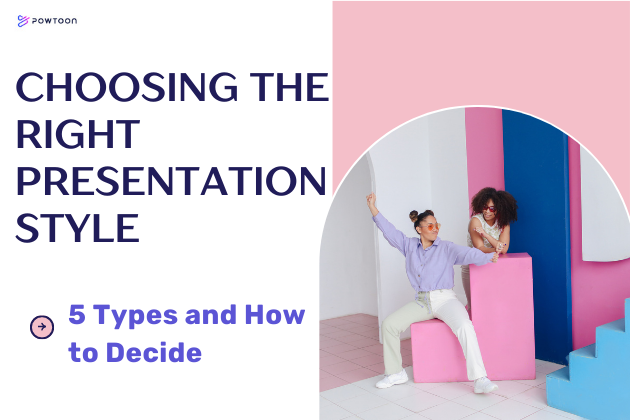 Choosing the Right Presentation Style: 5 Types and How to Decide
Read Time:
4
minutes
Delivering a business presentation isn't necessarily an experience many people love, yet it's a task that arises from time to time. Exploring various presentation styles can help transform this task into an engaging opportunity, whether you opt for storytelling, visual aids, or interactive approaches.
It's important to remember that there isn't one universal "right way" to deliver a presentation. There are actually various presentation styles. Familiarizing yourself with them can help you more easily come up with presentation ideas and presentation content that will make the right impression on your audience.
General presentation ideas and styles to consider when planning your next presentation include the following:
Informational
This type of presentation is naturally educational. Your goal when delivering an informational presentation is to ensure your audience comes away from the presentation having absorbed practical information they can apply in actionable ways.
Tips to boost the effectiveness of an informational presentation include the following:
Be concise, providing the most essential pieces of information. If you provide too much information, you run the risk of overwhelming your audience and preventing them from retaining critical details.
Use infographics and other such forms of multimedia to convey information in a more dynamic manner. Research shows that video content and animated content can be particularly effective in regard to explaining difficult or complex topics.
Make only one or two main points per slide. Design your presentation slides as cleanly and minimally as possible without sacrificing important facts and data.
When circumstances allow, consider distributing quizzes after your informational presentations. Doing so can help you gauge the degree to which audience members absorbed the information you were sharing. You may leverage these findings to improve future presentations.
Persuasive
The most common type of persuasive presentation is a sales presentation. The essential components of a sales presentation include:
Addressing the specific pain points and needs of the audience members. Doing this allows you to more clearly demonstrate how you can serve the needs of your audience as your presentation progresses.
A general explanation of a product or service and how it may help a customer. After the general introduction, a salesperson may provide a more detailed demonstration or discussion to thoroughly illustrate a product's or service's benefits.
One of the most significant components of a sales presentation is testimonials. To convince a potential customer that what you're offering is worth their money, you may need to show that existing customers have good things to say about your product.
Practical details such as cost and pricing options should be addressed. By the time you reach this stage, you should have clearly explained to your audience members the benefits of your services, helping them understand why the pricing is fair.
You may finish up a sales presentation with a question-and-answer session to address any topics you haven't already addressed.
It's possible to modify these components of a sales presentation to fit any persuasive presentation idea. If your goal is to convince someone to take a certain action, you need to fully explain why doing so is worth the time, effort, and money it may require.
Instructional
An instructional presentation is different from an educational presentation in that it involves teaching someone how to perform a specific action or use a certain tool. Visual aids are very important during an instructional presentation, as you may need to perform the action yourself multiple times to ensure your instructions to audience members are clear.
You could also make this type of presentation interactive by asking for volunteers to demonstrate a process once you've taught them how to complete it. Naturally, this gives you an opportunity to learn whether your instructions have been as clear as you wish.
Updating
Many business presentations serve to provide supervisors and fellow team members with updates regarding the status of various projects. Critical components of this type of presentation include:
Practical data and information give audience members a clear sense of how far along you are to achieving a certain goal.
Information about any roadblocks you have encountered and any you may anticipate encountering.
An accurate forecast regarding how long you believe it will take to complete a project in its entirety.
In many ways, this is another type of informational presentation. However, it's somewhat unique in that it may involve making educated guesses about the future.
Storytelling
Storytelling is effective during various types of presentations because it allows a presenter to forge an emotional connection with their audience. With a storytelling presentation, you can:
Motivate new employees to adopt your company's beliefs and values, helping them feel their work has meaning (which has been shown to boost employee engagement)
Convey your brand's story to a marketing team
Generate enthusiasm among potential investors
Those are just a few examples. Essentially, storytelling can help you make a presentation more compelling. That makes it a valuable tool for anyone who delivers business presentations.
(Tip: Consider using video to tell a consistent story about your brand or company.)
Tips for Choosing a Presentation Style
Again, although the presentation ideas listed here may be ideal in certain circumstances, no single type of presentation is ideal in all contexts. To choose the right presentation style for an upcoming presentation you'll be delivering, keep the following tips in mind:
Consider your audience and their expectations. For example, if you're delivering a relatively brief status update presentation to a small group consisting of your supervisor and a few other team members, they might not expect dramatic storytelling. Instead, you would make the best impression by delivering the type of presentation that involves a strict focus on the facts.
Set your goals. Determining what you specifically wish to achieve by delivering a given presentation is a simple step that nevertheless makes choosing a presentation style much easier.
Evaluate your comfort level. If you're going back and forth between two or more different presentation styles, consider the fact that you may be more comfortable delivering a certain type of presentation than others. This might be the style to choose.
You can also be creative. The more you practice delivering presentations, the more comfortable you'll be with blending styles. In the meantime, the recommendations here will help you deliver impressive presentations with confidence.
Create Video Content for Your Presentations With Powtoon
Powtoon is an online video and animation maker designed to simplify the process of generating pro-quality video content for those with limited video production experience and budgets. Sign up today to learn more!

The following two tabs change content below.
Hanna is Powtoon's Content Marketing Strategist. She joined Powtoon as a copywriter in 2019, after graduating from university with a specialized degree in marketing and business. She continues to inspire people to create incredible video content with blog posts, videos, guides, and more. Hanna's passions include reading, singing, and caring for animals (#proudvegan). Nothing makes her happier than waking up to her two black kitties who, contrary to popular belief, are good luck!
Latest posts by Hanna Abitbul (see all)